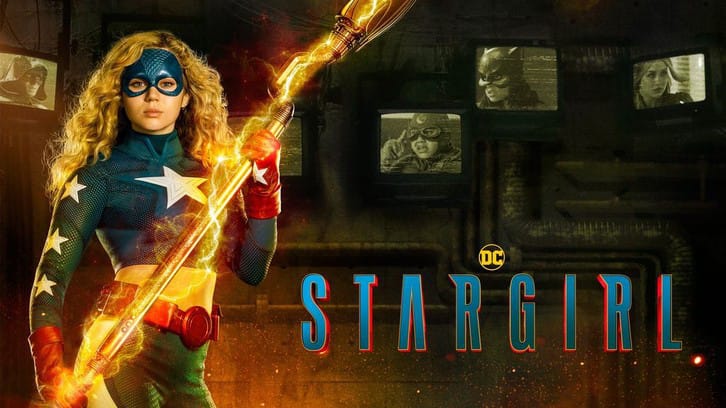 Beware of spoilers for the episode in the article. Please do not continue reading if you haven't watched the episode yet and you are not okay with being spoiled.
This episode marked the return of Jennie as well as the introduction of her brother Todd Rice.
Jennie and Todd:
One of my favorite things about the show as a whole is how it sometimes goes back to scenes we've seen before and gives us a fresh perspective on them. We've already seen the opening scene with Jennie and the ring but we hadn't seen the moment from her twin brother Todd's perspective, their powers were awakened at the same time. Jennie definitely got the better end of the superpower deal.
One of the biggest fallouts of the old JSA teams superhero lifestyle on their personal lives was how negatively their choices affected their children especially in comparison to most of the supervillains kids. Jennie and Todd ended up separated in foster care. Rick lost his parents and ended up staying with an abusive Uncle. Doctor Midnight lost his daughter. Whilst on the opposite end some of the villains' kids seem like they were dealt better cards in life. Cameron had his dad , Artemis and the Wizards son had both their parents who were/are good parents. It's completely understandable why Todd was easy for Mr Bones to manipulate. Mike , Beth and Courtney are actually two of the luckier hero kids because they have both their parents.
Courtney :
The JSA united as they staged a Blue Valley wide power outage that gave them the chance to work together to find and remove Mr Bones' cameras. I'm glad we finally had a great Pat and Courtney scene even though it took Courtney leaving the team and a JSA mandated power cut for us to get it. The Shade showing up to whisk them away on a mysterious adventure was great. This episode is probably the most consecutive screentime Courtney and Pat have had together in a very long while.
Yolanda :
I do think in her own twisted way Yolanda's Mum does care about her but it's to the point where Yolanda won't be coming home for holidays when she turns 18. The Montez house is extremely toxic. Yolanda getting kicked out of home by her mother is oddly probably the best thing for her character, she needs a break. Yolanda showing up at the Whitmore-Dugans house because she had nowhere else to go was sad but at least she is in a better home. Even though Yolanda and Courtney are fighting she still knows that Courtney's family and even Courtney will be there for her.
Sidenote :How big is the Whitmore-Dugan house? because they have a lot of space to be able to take in unannounced guests.
Rick and Beth :
Beth has been the MVP for the past two episodes by using the goggles in very useful ways to assist the team. Rick definitely needs to have his power limited to an hour , his uncontrollable rage and anger is a ticking time bomb (I predict Cameron and Rick will have a big fight). Rick and Beth were tasked with investigating ,finding and destroying the cameras at the school and Beth witnessed Rick's volatile behavior first hand and I'm sure she will tell the team when it gets too much.
What's happening with the Shade , Jennie and Todd ? :
My theory beyond the stated fact that Jennies ring absorbed some shadow energy towards the end of last season which might have connected her and the Shade together is that the Shades powers are being affected by Mr Bones experimentations on Todd since both characters share a power source (the Shadowlands). In addition to that Todd might also be drawing on Jennies powers which might be making the Shade feel worse and affecting his own powers because of her connection to her brother.
That ending :
Mr Bones has been experimenting on Todd for months and it's made his power extremely uncontrollable. He doesn't seem to be in control of what he is doing or how he is using his powers. It's kind of clear from the episode that Todd killed the Gambler on Mr Bones orders probably because the Gambler saw the cameras he wasn't supposed to see. The bigger question then becomes why is Mr Bones watching the JSA and Blue Valley's former villains ? What is his endgame ?
The Shade returned in this episode grumpy and annoyed about his loss of control over his powers due to whatever is happening with Todd and Jennie thanks to Mr Bones. For all the Shady Posh gentleman's talk about not caring about anyone, both Pat and him ran almost instinctively to protect Courtney and Jennie from Todd's shadows in the end.
It looks like next week will be the sequel to season 2's Shadowlands episode with Pat and the Shade now trapped there.
Additional Notes :
1. The intentional bad acting from Pat during the dinner scene was funny.Pat was doing way too much.
2. It was great to watch the team work together on a joint mission throughout the episode, I've really missed that.
3. Two part episodes are always memorable on the show, I'm so excited for next week.
4. Cindy was missing this episode but that was to be expected considering what happened in last weeks episode.
5. The camera work on this show is like a streaming show especially when compared to other CW shows and that's even without including the fight scenes.
6. Mr Bones assistant Nurse Love looked unnerved at seeing Todd in pain and having to hurt him even more. Could she be a potential defector ?
7. Zeek has kind of become the shows loveable Uncle always willing to tell a interesting story or two.
Join me weekly for more reviews of Stargirl season 3 on the CW.
"What is Mr Bones Endgame in Blue Valley ?"
"What did you think of the episode ?"
Let us know in the comments below.