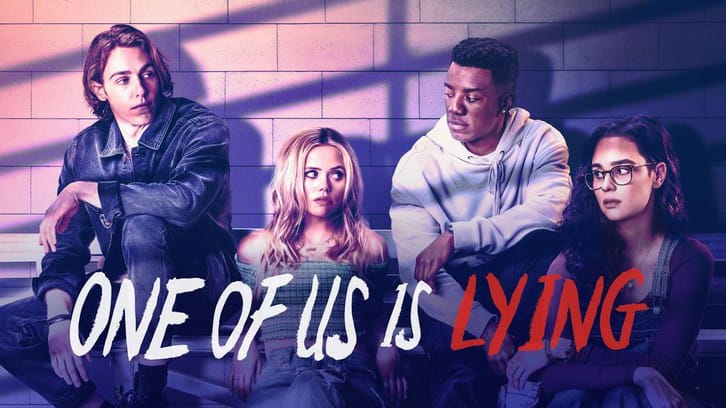 Class is back in session, Bayview! One Of Us Is Lying Season 2 premieres October 20th on Peacock and I have your spoiler-free review of the upcoming season. As a fan of Season 1, I was so excited to see what the Murder Club was up to after the death of Jake Riordan (Barrett Carnahan). We left off with Bronwyn Rojas (Marianly Tejada), Nate Macauley (Cooper van Grootel), Addy Prentiss (Annalisa Cochrane), Cooper Clay (Chibuikem Uche), and Janae Matthews (Jess McLeod) receiving a text message from an unknown person who calls themself "Simon Says." Fans of Pretty Little Liars will find themselves loving this season. But don't mistake that as the show being a repeat of the hit teen drama. Season 2 of One Of Us Is Lying is modern, fresh, and filled with such an enthralling storyline.
The writing of Season 2 blows Season 1 out of the water. The characters are funny and well rounded, something that Season 1 lacked in some places. They really build up relationships with each other (Murder Club Christmas Party, anyone?) and the dialogue is genuinely funny when it's meant to be (Episode 6,
Simon Says You Better Pray
, I'm looking at you). While Season 1 focused mainly on the Bayview Four, Season 2 includes more of fan favorites Janae, Maeve Rojas (Melissa Collazo) and Vanessa Merriman (Sara Thompson). With these three in the mix, there was more of a story surrounding the characters and their lives. There was a much more realistic sense of high school life, and not a sole focus on high schoolers solving a mystery. But don't get me wrong, there's a ton of that too.
If you loved the romantic aspects of Season 1, then you're in for a treat with Season 2. Now I won't say much, but fans of Nate and Bronwyn will not want to miss out on this season. From Nate cheering on Bronwyn during her big karaoke moment to an iconic Troy and Gabriella
High School Musical
-esque moment, Natewyn shippers won't be let down. But this doesn't mean their relationship comes easily. The addition of Nate's new tutor, Fiona Jennings (Doralynn Mui), causes some pretty serious issues for the two. While on the topic of romance, Janae and Maeve's relationship is also explored - even if it doesn't start out on the best of terms. While their relationship was very new and underdeveloped in Season 1, Season 2 really builds it up and gives viewers a look into both Janae and Maeve as individuals. As for Cooper and Kris Greene (Karim Diane), their relationship faces serious complications. But can they make it work? You'll have to watch to find out!

You can tell the actors all have such amazing chemistry, and it reflects in all of their scenes together. Some of my personal favorite moments were the ones that focused on the friendships between the characters and slowly becoming each other's support system. No matter if it was Janae and Bronwyn completing what ends up being a funny Simon Says dare together or Janae and Addy having a heart-to-heart conversation, the Murder Club comes together this season to take down Simon Says and reveal their identity for once and for all.

Overall, Season 2 was phenomenal, with outstanding performances. Marianly Tejada, Jess McLeod, and Doralynn Mui were some of the top talents this year, but the whole cast really brought it all to the table. You do not want to skip this season, it proves the "Sophomore Slump" theory wrong and leaves viewers only wanting more.
Can't wait until Thursday? Here are some fun tidbits for you!
- Sometimes it does snow in Bayview.
- Yale Early Decision letters are typically sent in December.
- Sometimes we all need a good wine night.
- Everyone loves parallels to iconic moments in previous seasons.
Are you planning on watching Season 2 of One Of Us Is Lying? Let me know in the comments! And if you're planning on watching, what are you hoping to see this season?