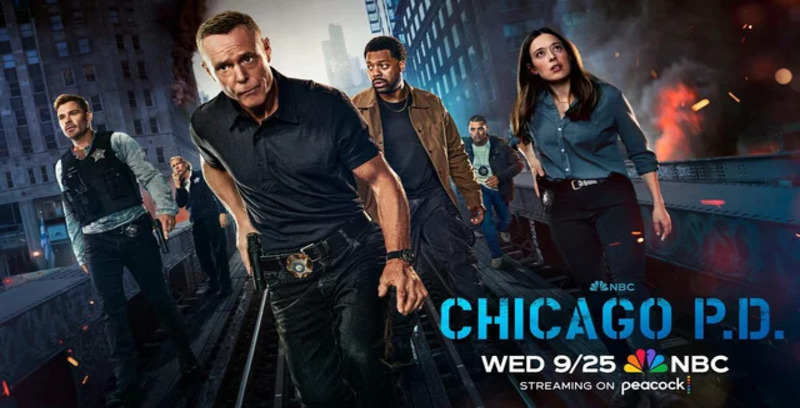 After ten years, fans of Chicago PD said goodbye to Jay Halstead last week. It was an emotional one to say the least and I have quite a few thoughts on it, so let's just get right into it.
Losing a character from a TV show is never easy, especially when it's one you've loved since day one, and fans of Halstead have been preparing for it as best they can, but it's been a hard pill to swallow. Even more so with the way the build-up for his exit has been written. An exit that still doesn't make a whole lot of sense to the fans, but Jesse Lee Soffer laid it all out there and gave one of his best performances of the series in his last episode. That's just what he does though.
Jay has been slinking around for weeks not acting like himself, following after Voight, and lying to his wife and avoiding her, but as much it has hurt to see it all play out the way it has, this episode did reaffirm one thing...that he IS a good man. One of the best.
The case in this episode hits a little too close to home for Jay when an Army vet is involved in a string of robberies, and throughout the hour he becomes more involved than he should. He's hiding evidence, not following procedure, and by the end he goes off book entirely and ends up killing a man in a warehouse in self-defense. Sound familiar? While it was self-defense, he wasn't supposed to be there in the first place, and what follows is a sight too similar to how we saw Hailey and Voight during the Roy Walton fiasco.
Voight intervenes, and he and Hailey concoct as good a story as they can with the time they have to protect Jay. Under any other circumstances, that level of loyalty would be appreciated, even admired, but these circumstances are too heavy, too familiar, too unsettling. They lie, cover up another crime, and it is not exactly shocking, but it is exhausting to see the same thing happening all over again. It's a storyline we've seen countless times now.
Almost a year ago Jay was punching Voight for the very same thing the man did to his wife and now, he's letting it happen to himself. It's as if he's become a clone of the very person he spent so long trying not to be, and in no universe, with even the best script or any length of build-up does any of this make sense. It makes me feel a little uneasy too, that if this could be done to Jay's character, what is in store for the remaining members of Intelligence? Will they be written in a way that is untrue to themselves too? Will their integrity be jeopardized? I'm all too curious and a little on edge about what the future of PD will become if this is the route they take for someone as good as Jay.



The only thing that does make any kind of sense aside from Hailey's obvious worry for her husband and the choices he's making is the team taking notice of Jay's behavior too. Kim calls him out, voicing her concern when he makes a promise to someone that can't be honored. Kevin too, when Jay busts down a door without announcing their office. They can see how this version of Jay isn't the one they're used to. He isn't the same man they've all followed before, the one they've looked to for sound leadership when their own Sergeant has been unable to provide it time and time again.
This build-up just doesn't click. All the off-putting behavior is such a stark contrast to the Jay we've come to know over the last ten years. It doesn't feel like him at all and it feels wrong.
So, so wrong
.
But the out of character atrocities aren't even the biggest shock of the episode, not when we've seen them three weeks in a row now. The real shock comes when Jay resigns and lays down his badge. We knew he would end up leaving Intelligence, go somewhere new, do something else, but what no one could have expected was him telling Hailey he's taking a job with the Army. Taking a job that he didn't even talk to her about beforehand, throwing away years of a perfect slow burn and a foundation built on trust and communication, using her love for him to try and make the blow of him leaving feel less painful…yeah, that was rough. Talk about a slap in the face.
He's leaving to lead a group of soldiers to take down the cartel in Bolivia. And while it's not a war zone halfway across the globe, it is a similar environment with bad guys and too much danger and an undeniable possibility for him to be triggered by the same demons of his past he spent so long trying to overcome. I can't say it enough...it just feels wrong, and off and incredibly insensitive to the growth Jay has had over the course of this series, to the work he's put in to deal with his PTSD. His character development has been one of my favorites, and to see that shattered in such a short amount of time…well, I just don't like it at all.
And while we're losing Jay, the cop, we're also losing Jay, the husband, putting an onscreen end to Upstead. Only for now though, because they are the loves of each other's lives and I have to believe he'll be back someday. I can't say I don't have concerns for Hailey though with Jay being gone. He's always been an anchor for her. Someone to ground her and pull her back when she gets too close to the edge, and it'll be interesting to see how she navigates the reality of not having him there — he's her partner, her best friend, her husband. It's such a huge and unexpected change to have to adapt to, and as nervous as I am to see it play out, I am also excited too because Tracy Spiridakos is one heck of an actress. She delivers every single time and I have no doubt she will now with whatever the writers throw at Hailey throughout the rest of this season.
I'm curious to see how the rest of the team manages with Jay's departure as well. They've been this tight-knit unit for years, displaying a sense of found family that is always lovely to see onscreen, and now that they've lost a member of that family, I'm really hoping we see others in the unit step up in Jay's absence. Maybe we'll finally see someone else become a detective since it's been dangled in front of us for so long now. I'm hoping the loss brings them all closer. Well, all of them except Voight, but that family dynamic, the camaraderie we've seen here and there throughout past seasons is something that has sorely been lacking and it has been missed.
Having to say goodbye to Jay Halstead is not something I ever thought I'd have to do before the end of this series. It feels oddly similar to that of losing a loved one in a very weird, but also very real way. Like a friend you've watched and loved and cheered on over the span of a decade, and now they're just not gonna be there anymore.
While the door was left open for a possible return, Jay is gone for now. Left to try and get back to the person he truly is, to reaffirm what is black and white, right and wrong for him. And even if it's not what we would have chosen for him, he does the right thing in the end for himself. Admitting he's changed, become someone he doesn't want to be. It's a sliver of comfort in a way.
Whether you're a fan of Halstead or Upstead or you have no feelings either way on the matter at all, it's certain that things won't be the same without Jay Halstead around. The show must go on, and it will, but it will be different. And as heartbroken as some of us are over Jesse Lee Soffer leaving PD, we must thank him for bringing to life a character many have loved throughout this series. He's given it his all time and time again, made us laugh and cry. He dedicated a decade of his life to this show, to the cast and crew, to the fans, and we should be grateful for that.
I hope we see you again someday Jay Halstead.
Chicago PD airs on Wednesdays on NBC.