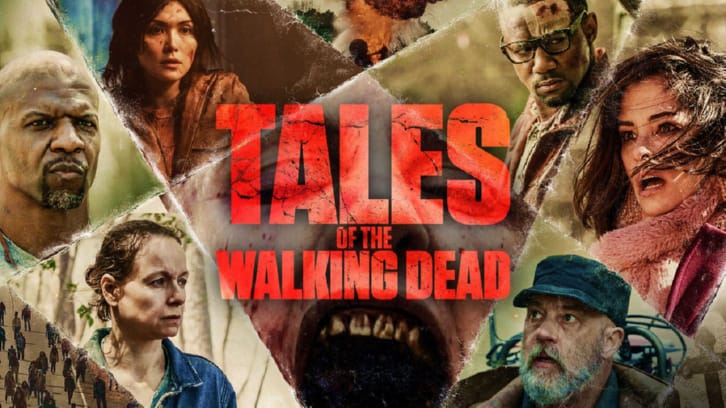 Tales of the Walking Dead comes to an end with "La Doña" written by Lindsey Villarreal (Resident Evil, The Purge) and directed by Deborah Kampmeier, whose other credits include Star Trek: Discovery, FBI: International, and Clarice. There's no news on a second season renewal, and I have to say that while I give them credit for doing something different, I'm in no hurry for another season of this. This would have been better as a simple horror anthology – there was absolutely no reason to tie it to The Walking Dead.
In this episode, we take a detour into supernatural horror, and perhaps, if we squint, we can see a tie in to the many characters who went temporarily insane… Idalia (Daniella Pineda) and Eric ( Danny Ramirez) show up at La Doña Alma's (Julie Carmen) house unannounced and definitely NOT invited. There's never any explanation in the episode as to why/how she has electricity and hot running water. I suppose we chalk it up to magic.
Idalia convinces her to let them at least stay for dinner. While having dinner, Eric antagonizes her so much that she starts to choke, and then falls and hits her head, killing herself, virtually instantly (although, Spoiler Alert) she appears to be back by the end of the episode… And then the episode is filled with a bunch of the haunted house tropes everyone is familiar with. Ghosts appearing while sleeping and blasting the candle out. Bleeding walls. Killing the pet. And of course, Idalia and Eric end up at each other's throats.
The one "haunting" that I did really, really love, was when the Christs all came alive, got off their crucifixes and attacked Idalia! Hilarious! The religious overtones are everywhere, although when they are on their way there, Eric asks if La Doña Alma is a good witch or bad witch, and we all know witches associate with demons, right? The religious iconography is significant, however, as both Eric and Idalia are severely guilty about what they've done in the past.
Was that Maria (Iris Almario) as a 'sleepwalker' following the two at the beginning? Why did La Doña Alma have an altar to her? Was she actually the walker at the gate that Idalia kills who Eric thought was Maria alive?
When La Doña Alma drags herself out of her grave, everything comes to a head. This felt reminiscent of T
he Ring
or
The Grudge
. Eric's killing spree, sort of seen in flashbacks, seemed like something out of
The Purge
- not surprising as Villarreal wrote that too. Both Eric and Idalia are both hallucinating now – maybe? Alma blasts both of them before her into the basement. Are the people they've killed really there in the walls, trying to kill them? Is this just a manifestation of their guilt? The two stabbing each other in the crypt is oddly reminiscent of Romeo and Juliet – or at least it was to me.
Once again, they've tried to capture a particular horror trope/genre, and I'm not sure they quite got there. The story felt very muddled – and yes, I get that it was supposed to be unclear who was seeing what, but a lot more was quite unclear. And what was with the parrot? What did you think of the episode? What did you think of the series? Are you wanting more or had enough? Let me know your thoughts in the comments below!