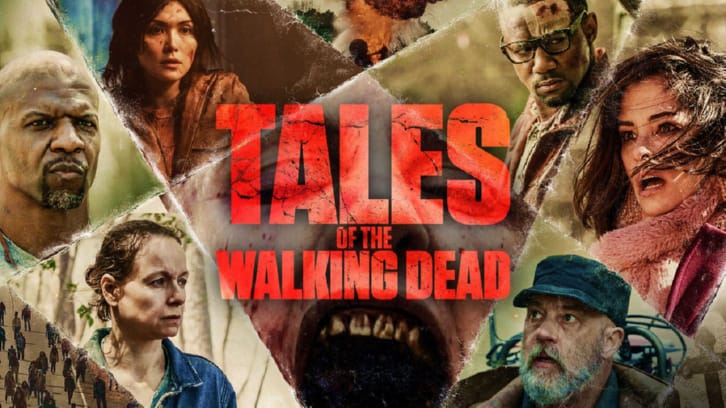 Tales of the Walking Dead "Davon" was written by Channing Power and was directed by Michael E Satrazemis, both of whom should be very familiar to The Walking Dead fans. Frankly, the non-linear narrative as Davon (Jessie T Usher) slowly regained his memory and the murder mystery is unraveled just seemed confused and not compelling. And then it seemed like this episode really didn't know what kind of "horror movie" of the week it was trying to be. It seemed to have shades of Get Out – Davon is the only black, non-French person in the community, having stumbled into it after being attacked on his way to Montreal. Or maybe a take on Midsommer? Then it seemed to be a sort of It with a monster taking and killing children… and then it turned into what might have happened to Lizzie if Carol hadn't done the merciful thing and killed her – a choice apparently favored by Amanda (Embeth Davidtz).
I have to admit to not even recognizing Jessie T Usher at first! And I also review
The Boys
– on which he plays A-Train! I thought his performance was solid given what he had to work with. There were some clues to what had happened but then there were flashes of incidents that in hindsight were meant to create a picture of what was going on, but the story was often too disjointed to really know what was going on. For instance, it wasn't until pretty much the end that I even figured out the relationship between all the people who had brought Davon in and looked after him.
One look at the walker that Davon is chained to (Amanda, played here by Chelsea Reuter) and who is trying to eat him, and you could tell that something had melted her face – though I'm not sure that that is actually what would really happen…. The way that Davon looked after the body had to mean that either he was exceptionally decent or that he had a personal connection with the deceased.
There is a good reveal at the end, and Garen does receive the type of retributive justice the community seems to favor when he's dumped in the pit with two of his victims. I suppose in being related to the Lizzie storyline in theme, this episode does somewhat fit into the TWD universe, but overall, this episode just didn't work for me narratively. What did you think? Was this episode successful for you? Do you want to see more of this anthology series? Next week is the last episode of this series… Let me know your thoughts in the comments below!