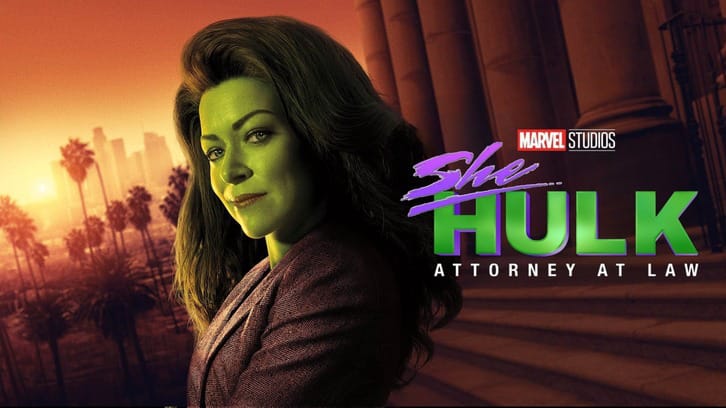 After the courtroom fight that exposed Jen's hulk form, things are not looking so well for Jen the lawyer. The opposing counsel got the judge to declare a mistrial since she saved the jury members. Then, she got fired from her DA job since her new "condition" is considered a liability. Therefore, it is no longer She-Hulk: Attorney For Law, and the show has become ...
On the bright side, the general public has been really catching on to having a new superhero (to Jen's annoyance). After a few unsuccessful job interviews, she finds herself at a family dinner. If there's one thing I loved about these Marvel shows, it's the moments with meaningful yet small characters that are often glossed over in movies. We get a chance to see where Jen comes from. It's not about the law or Hulk, and it's just Jen having an earnest conversation with her father.
When Jen is having another drink at the bar, she is approached by Holden Holliway (Steve Coulter), a partner at GLK&H, the opposing firm of her previous case. He says he was impressed by Jen's work and offers her a job. Without any other options, she unwillingly accepted.
Turns out, GLK&H is opening a new division of superhuman law, and Holliway wants Jen to be the head of it while doing everything in her hulk form. Her first case? Representing Emil Blonsky, the Abomination, at his parole hearing. There's just one little problem - this man tried to kill Bruce.
Holliway insists that it's a "take it or no job" situation. After consulting with Bruce (who is revealed to be in space taking care of "business") she decides to take the case. However, she soon learned that Emil has been seen participating at an underground fight club, referencing a scene from Shang-Chi and the Legend of Ten Rings.
How will things turn out? I guess we'll be getting the answer soon. This episode was still setting a few more things up and definitely felt like part two of the pilot. Regardless, I found it an enjoyable episode and I'm looking forward to the next.