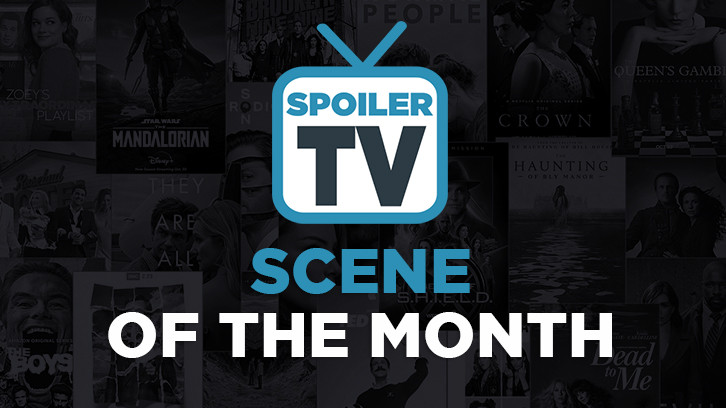 A monthly feature in which we're trying to find the most compelling, best acted, written, directed and just generally great, memorable scenes that we've seen in the past month.
AMERICAN HORROR STORIES, "Bloody Mary", August 18th, 2022, Actors: Quvenzhané Wallis, Raven Scott, The Scene: Elise reveals her truth
Marko:
In a truly unbelievable turn of events Elise turned out to have a pact with Bloody Mary and was going around killing her friends for a bit of prosperity. The shock Bianca experienced when she realized her sister was the evil mastermind sent shivvers down my spine.
BETTER CALL SAUL, "Saul Gone", August 15th, 2022, Actors: Bob Odenkirk, Rhea Seehorn
The Scene: Prison visit
Natalie:
It was beautiful to watch these two characters one last time, as Kim visits Jimmy in prison and the two share a cigarette in a way that parallels the first time they met. I will miss seeing this duo on my screen.
EVIL, "The Demon of the End", August 14th, 2022, Actors: Katja Herbers, Christine Lahti, Michael Emerson, The Scene: Kristen discovers the truth
Natalie:
Kristen finds out where Sheryl works and discovers Leland's surrogate pregnant with her stolen egg. The horror on Kristen's face as Leland locks eyes with her during the announcement will stay with me until season 4, and I feel Katja Herbers deserves way more recognition than she gets for this role.
FOR ALL MANKIND, "Coming Home", August 5th, 2022, Actors: Krys Marshall, Lev Gorn
The Scene: Poole and Kuznetsov discover they're not alone on Mars
Jimmy:
A simply stunning turn of events that laid the foundations for a scintillating second season finale.
GOOD TROUBLE, "Mama Told Me", August 18th, 2022, Actors: Emma Hunton, Reagan Pasternak, The Scene: Davia confronts her mother at the funeral
Luana:
This storyline has been wonderfully written and this scene was a long time coming, I'm so happy that Davia is getting better and learning to love and defend herself. And Hunton gave an incredible performance as per usual.
HOUSE OF THE DRAGON, "The Heirs of the Dragon" & "The Rogue Prince", August 21st & 28th, 2022, Actors: Paddy Considine, Matt Smith, Milly Alcock, Sian Brooke, The Scenes: The birth & Rhaenyra confronts Daemon Justyna:

It's too early for me to tell how I feel about this show and its characters but so far it has certainly been engaging. I wanted to highlight a moment when Rhaenyra confronts Daemon after he steals a dragon egg and takes up residence on Dragonstone. These two are probably the most interesting characters on the show for me, at least after the first couple of episodes. Milly Alcock and Matt Smith are both doing an excellent job in the series and I look forward to more of their interactions in the future. I'm very curious to explore the dynamics between Rhaenyra and Daemon. Despite being on the opposite sides of the heir debate there doesn't seem to be any animosity between them. In fact, they seem to respect and maybe even trust each other. Which is something I didn't see coming. I can definitely think of some characters in the Game of Thrones universe that would use this confrontation as an opportunity to attack but that's not what happens here. Rhaenyra essentially calls her uncle's bluff and walks away with the stolen egg. Interested to see what's next. Kudos to cast & crew for all their work on the show.

Luana:

The birth – This scene was hard to watch but it definitely made an impression and gave so much weight to the issue of heirs. I don't think I could ever be as in love with this as I was with GOT but it's still an interesting watch.

IN THE DARK, "Center of Gravity", August 8th, 2022, Actors: Perry Mattfeld, Casey Deidrick
The Scene: The love confession
Marko:

In a highly tense "bottle" episode the actors played through all the issues of their toxic relationship. The pull and push between the actors who delivered every line with passion, anger and love, peaked with them unraveling their souls to each other and recognizing that despite all of it they are soulmates.

A LEAGUE OF THEIR OWN, "Stealing Home", August 12th, 2022, Actors: Abbi Jacobson, D'Arcy Carden, Melanie Field, Rosie O'Donnell, The Scene: Dancing in the Bar
Natalie:

The women enjoy a moment of happiness in the bar before the raid. D'Arcy Carden stands out here as Greta panics at losing Jo in the chaos. Rosie O'Donnell also does an excellent job as bartender Vi, struggling to hold off the police. The fear and terror on Greta's face after she and Carson escape the raid broke my heart.
LOCKE AND KEY, "Farewell", August 10th, 2022, Actors: Bill Heck, Jackson Robert Scott, Darby Stanchfield and more, The Scene: The goodbye visit
Justyna:
I watched the entirety of the show last month for the first time. I loved season one, but sadly can't say the same for the other two, even though they certainly have their moments. Speaking of, despite my problems with some aspects of the ending, Bode's one last wish really got me. If you had all the magic in the world at your disposal you could do almost anything, but considering where the show started it seemed like a perfect full circle moment to use the keys one final time and say goodbye to Rendell Locke. While Tyler, Kinsey and Nina spent a lot of time back in season one trying to come to terms with his death, it feels like Bode never gets a conclusion or farewell until this scene. The Locke family finally gets a chance to spend some time together and talk about all the secrets and magic they explored thanks to the keys. In the end letting go of the keys feels less painful in comparison to saying goodbye to a loved one. Beautiful and sorrowful moment. Kudos to cast & crew for all their hard work.
MOTHERLAND: FORT SALEM, "Revolution, Part 2", August 23rd, 2022, Actors: Taylor Hickson, Ashley Nicole Williams, The Scene: The final scene
Luana:
This was one hell of a journey and this scene was a great way to give the girls one special moment together looking at the future. And though I would have loved to have more, I'm glad we got this far and that they gave us a proper ending. This show will be missed but I'm looking forward to seeing what these performers do next.
ONLY MURDERS IN THE BUILDING, "I Know Who Did It", August 23rd, 2022, Actors: Steve Martin and more, The Scene: Charles getting stabbed
Marko:
In a true and true hilarious outing, blessed with laughs and good plot development the episode peaked with Charles fake stabbing. It was obviously fake but it just hit straight into the feels.
RESIDENT ALIEN, "The Ghost of Bobby Smallwood", August 17th, 2022, Actors: Alan Tudyk, John Innes, The Scene: Harry talks to Gerard about his fear of death
Prpleight:
When the scene started I was expecting it to go in a more irreverent direction, mainly because of the way Harry tends toward unkind bluntness. But after talking to Asta about his fear of death, he decides to reveal his vulnerabilities. Asta told him not to let his fear stop him from living. Gerard faced it without fear. Between the two of them, Harry seemed to get past the paralyzing fear and denial. He's got to fight to save the planet after all.
ROSWELL, NEW MEXICO, "Wild Wild West", August 8th, 2022, Actors: Jeanine Mason, Nathan Parsons, The Scene: Liz struggles with her fear
Luana:
Jeanine Mason is an incredible actress, and this scene was the perfect way to show off her acting chops. Liz's face-off with herself was emotional and heartbreaking, and I especially liked the outcome.
THE SANDMAN, "The Sound of Her Wings" & "Calliope", August 5th & 19th, 2022, Actors: Tom Sturridge, Kirby Howell-Baptiste, Melissanthi Mahut, The Scenes: Death talks about her gift & Calliope asks for Morpheus' help
Justyna:
One of my favorite shows of the year. It feels like almost an impossible task to select a single moment to highlight. I've considered all the visually stunning and dream-like battles (against Lucifer, John and Corinthian) but in the end decided to go with a more thoughtful and moving scene. Episode six is my favorite for sure and a big part of it is the introduction of Death, and watching her interactions with Morpheus. I'd love to see more of this duo, since Tom Sturridge and Kirby Howell-Baptiste are truly mesmerizing to watch. In addition to the wonderful acting, the Death itself is the most memorable character I've seen in a while. I loved the way Death helps Dream find his way by sharing her own experiences. Watching Death work feels like going through a never-ending series of heartbreaking moments, especially the ones with a child and the swimmer on his honeymoon. But when Morpheus asks about her job and Death talks about her past feelings, choices and finally her understanding of her purpose, we begin to notice something comforting about her gift. "Eventually, I learned that all they really need is a kind word and a friendly face." With a beautiful music playing in the background we watch a montage of Death using her gift to bring comfort to everyone at the end of their journey. And a company of a friend. Beautifully done. Kudos to the entire cast & crew for all their wonderful work on this series.
Luana:
Calliope asks for Morpheus' help – The chemistry between these two is off the charts, it was an incredibly heavy scene filled with subtext, and I particularly loved that Morpheus asks for her consent to help her. I hope we get to see more of them together, but for now, I'm good with this amazing episode.
WESTWORLD, "Que Será, Será", August 14th, 2022, Actor: Evan Rachel Wood, The Scene: Dolores returns
Chris C:
Despite being separated from most of the characters for the entirety of the season, Evan Rachel Wood's Christina/Dolores brought so much emotion in the finale's closing moments as she reveals she is in charge now, potentially replacing Hale as the park mastermind. The twist is delivered along with a beautiful recreation of the wild west theme park being brought back to life, making for a truly jaw-dropping ending of a spectacular season.