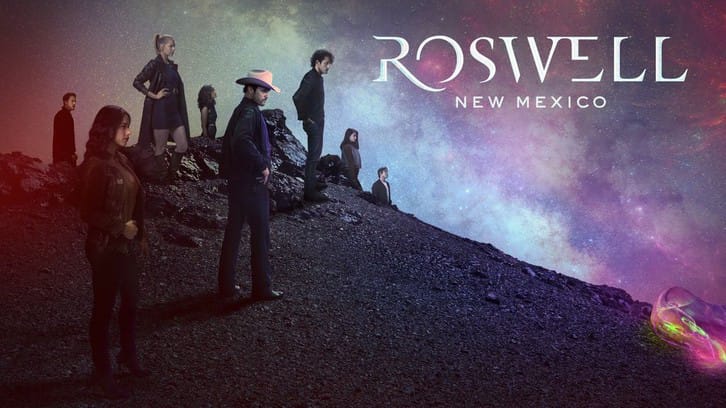 Sometimes it's hard to say goodbye. Other times you're itching to say goodbye, scooching ever closer to the door, waiting for the right moment to make an unseen escape. My relationship with Roswell, New Mexico lives in that space between. Will I miss Roswell, New Mexico? Yes . . . No.
Last week, I couldn't bring myself to finish writing my review. My love for Alex, Michael, Rosa, Kyle, and sometimes Isobel wasn't enough to turn scattered vitriol into organized annoyance. I'd hit a wall. I needed a break. What terrible timing.
The end came both too soon and right on time, at least for me. I'll miss watching a show that in the original eight characters had exactly the cast they needed. I won't miss watching a show that was cursed with showrunners and writers that never knew what to do with what they had.
Yes, they gave the world Malex, but they also treated them from time to time like a bag of discarded dog poop, still warm to the touch, that missed the trashcan and burst at the seams when it hit the pavement. Max and Liz were the main couple, but Michael and Alex were the fire. The show should have leaned hard into the fire. The showrunners and writers wasted an opportunity. They wasted the gift of chemistry, community, and fans.

Tyler Blackburn
and
Michael Vlamis
brought to their portrayals of Alex Manes and Michael Guerin, together and apart, and saw exactly who they needed. I'll miss that. I'll miss them. Together and apart. Michael and Alex . . .
Malex
was a delicious thing.
For the last time, let's do this—short and
sweetish
Like Stepping on LEGOs Without Shoes
All along, I thought
Roswell, New Mexico
was a show about Liz Oretcho returning home, after years away, still grappling with the death of her sister. The final episode showed me that it was actually about a bartender named Maria. She was everywhere in this episode. I tried to avoid her, but I couldn't. Need to locate Rosa. Here's Maria. Kyle walking to and fro doing doctor stuff. There's Maria. Michael, Dallas, and Bonnie standing around the desert. Look, Maria. Max staring like a cowboy in front of a rock arch. Damn, it's Maria. Looking for someone to make your brother missing your wedding about them. Hey there, Maria. Your father succumbed to patricide, and you need someone to walk you down the aisle. Oh good, Maria. Preacher man needs a dancing and kissing partner. Take me to church, Maria.
I wanted to stab myself in the thigh. Writers, we get it. You want viewers to believe she was integral to the plot, to the show, to the story, so you shoved and pushed until we gagged. And in the end, as usual, you showed your hand, freshly tainted with a bit of that warm dog poop. And still, I do not want, but way to stand your shaky ground and go out swinging even if you still failed. By the way, the you get an alien, you get an alien, you get an alien, you get an alien mentality was worth so many eyerolls.
Quick rhetorical question: Maria needed Dallas to see a church in or near Roswell, but she just needed Maria power to see across universes, galaxies, and black holes?
Howdy Doody
Clyde is the lamest villain the show has ever had. He may be the lamest villain in CW history. Unclear. It's truly a shame that he'll be Roswell, New Mexico's final villain. I'm not counting Shivani. She was just a sad mother who couldn't untangle herself from grief. Plus, she was never a threat to the aliens. Liz was a bigger threat this season.
After 12 episodes of Clyde and his subpar Jones imitation, he was vanquished by the old needle up the sleeve trick. In fact, by the time he burns out of existence, we have half an episode left. Let it be known, I spent this time wondering when viewers would get to see Alex. In case you were wondering, it took a little over 30 minutes before we first saw him.
Alex and Michael Guerin
Edwin McCain
played? Yes, it did. Did part of Alex and Michael Guerin's dance get hijacked by a bartender and a preacher man? It certainly did. But you know what? I'll take it. The show has done Michael and Alex so dirty that up until they drove away there was the chance that a
Kaiju
would arrive in town and eat Alex. I'm happy for the fans that have wanted this moment since the pilot kiss. It doesn't make up for the mess and manipulation, but in the end, you won, even if part of Michael and Alex's wedding flashback was Liz and Max holding hands. Couldn't have a moment that only belonged to the queer high school sweethearts.
Alex's three brothers and his mother missed the wedding. In my mind, Clay is part of a private militia group somewhere in the jungle; Gregory made up an excuse because he didn't want to see Maria; Flint is probably in a coma at Roswell General, but no one remembers he's there; Mindy is on a cougar cruise with her besties. Insert your own stories.
Writerly Moves
The series ends with Max leaving Liz behind in Roswell. As you'll remember, it was Liz that left Max behind all those years ago. Should I call Max's decision noble? I won't, but it is. He leaves Roswell, his family, his friends, and Liz to save Oasis, which has been on the verge of destruction for 80 long years. He has to go power up the Oasian cave crystals with his blue flame powers, which is why he's the savior. I'm not mad about this even if I felt stupid typing that last sentence. I'm not mad that he left. I'm not mad that Liz stayed behind. I'm not mad that they ended the series engaged but separated by galaxies. But, I am mad.
Let me tell you why. We all know Clyde received Max's blue flame powers on accident. Yes, I said on accident. It was Shivani's mist mind that found a way to remove the brand, which conveniently required Bonnie's blood. So . . . what was Clyde's plan? Return to the doomed Oasis and be lame until the apocalypse?
Let me tell you why else I'm mad. Remember when Tezca declared that she was going to save the children of her allies? Why didn't she start by revealing this bit of juicy information sooner rather than saving it until right before she was eaten by the upside down alien sand pit?
And one more thing. The turquoise was never a Max and Liz thing. Also, the necklace was an abomination.
Bad writing is bad until the very end.
Other Stuff
Dallas went with Max for because.
Bonnie is a bartender.
Isobel and Kyle weren't really given a moment, but let's assume.
Top Three Moments
1.
Shiri Appleby
putting on the antenna.
2. Michael and Alex getting married.
3. Sanders showing up for Michael.
It's been a blast writing for you these last two years. Whether you loved me or hated me, we'll always be connected by
Roswell, New Mexico
. And now that the show has ended, whatever happens next to Liz, Max, Michael, Alex, Isobel, Kyle, Rosa, and Maria belongs to you.
And I'm not finished with them just yet. I'll see you.