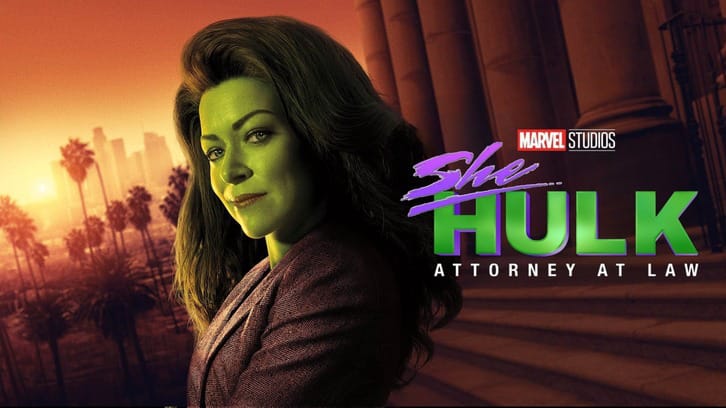 She-Hulk was my most anticipated Marvel show. As a fan of fourth wall breaks and Tatiana Maslany in Orphan Black, it seems like this would be the perfect show for me. But after being disappointed at the multiple Marvel TV shows that came before her, I knew not to get my hopes up too much.
On to the first episode. The show opens up with Jennifer Walters (Tatiana Maslany) giving a speech directly to us. "What is the responsibility of those with power?" she asks.
It's clear that it is the "big" question that Jen will be answering herself as the show goes on, but for now, it is just the closing statements she'll be making for the case her firm is currently working on. As they tidy up, her best friend Nikki (Ginger Gonzaga) jokes that Jen can just hulk out if things don't work out. That's when Jen breaks the fourth wall for the first time and fills us in on what we missed so we can put our minds back into this "fun lawyer show."
So, we're back to a few months prior in classic TV pilot fashion. Jen and Bruce are on a road trip together, and they get into a car accident. Instead of using her comic origin of getting a blood transfusion from bruce, Jen comes in contact with Bruce's blood from the accident, which immediately transforms her and a scared hulk-Jen runs away.
After an incident at a bar, a human-Jen wakes up in a remote Mexico beach house built by Tony Stark. Bruce, who is now in smart hulk form, explains that it's where he spends his blip years working on integrating his hulk-Banner identity.
As he runs different tests, they concluded that Jen retains her human identity while in Hulk form, instead of a separate entity. The episode does a great job of establishing the relationship between Jen and Bruce, along with their polarizing viewpoints on what it means to be a hulk.
After getting the basics of her new hulk form, Jen would very much prefer to return home and continue her life as a lawyer. On the other hand, Bruce believes she should be more careful about her emotion and protect herself as she is now a superhero. Through their conversations, we also learn a lot more about Bruce, which was a plus considering he had the least development as an OG Avenger by far.
Back in the present day, a woman bust into the courtroom and Jen reluctantly transform to save the day. It was Titania (Jameela Jamil) who will later become a rival of Jen. This was my least favourite part of the episode. I knew about Titania from reading promotion materials but still felt the scene was misplaced and awkward. Sure, it was necessary to make Jen's hulk identity public, but we need some context!
At last, I would consider this a very average pilot. It's got a few jokes, gives us the origin story, and introduced us to Jen. I enjoyed the story and performance, but it was not as comedic or fun as I expected. But with the pilot out of the way, I hope the rest of the show can be more exciting and stands out from the rest of the Marvel shows.