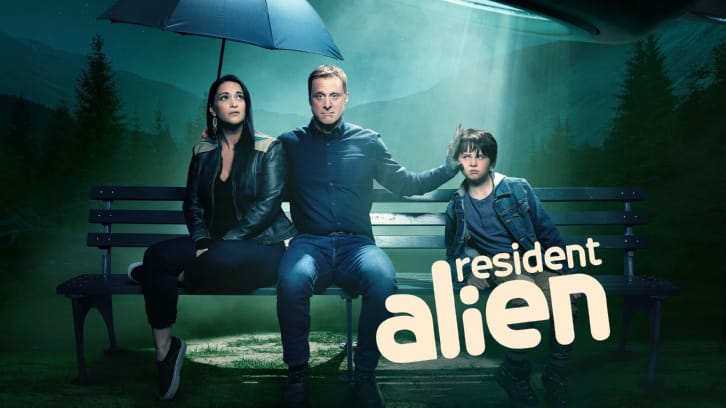 If you heard Cary Grant's voice while reading the review title, you're my kinda people. (If I can find a clip I'll include the link in the comments.)

I did the whole binging thing trying to get the story fresh in my mind in preparation for tonight's episode.

We return to moments after Asta shots and kills the man who just tried to kill Harry.

Is it just small towns where you tell people the most outrageous tale and they believe you?

The sheriff comes running when he hears the gunfire. He's astute enough to be aware there were two different weapons involved and yet he accepts the trios bizarre owl hunting story.

In any other show that would be ridiculous and completely unbelievable.

Here, the only thing I can think of is that he he's been drinking, knows these people to be pretty weird on a good day. Also, let's face it. It was Harry and D'Arcy. Their normal is pretty off the charts.


In the dictionary, under the definition of "ride or die", is a picture of D'Arcy Bloom.
Before Harry began to spin the tale about why Corrington was trying to kill him, D'Arcy was ready to put the body into a wood-chipper.
For a woman who endeavors to spend most of her time drunk, D'Arcy was logical and thinking like a chess player.
She realized that the wood-chipper wasn't the best option, because there was a record of him being in Patience.
Having this guy disappear into thin air would mean more questions. (Especially once we learned that he was an exec at Galvan/Powell Group.)
See what I mean about D'Arcy thinking like a chess player?
So, she came up with a plan to plant the body elsewhere, burn the rifle, and get rid of everything that would connect the body to Harry's place or to Asta.
Melting the rifle was a great touch. Point CSI.
Harry's version of events and plan to plant those files in Corrington's car should work like a charm. I mean, legally speaking, Corrington could be charged with Sam's murder since he ordered it. Point Law & Order.
Pretty solid plan, right?
Enter one of the most irritating people to walk the streets of Patience, Colorado.
Mayor Ben Hawthorne.
Is "irritating" too harsh? I have wanted to smack the man upside the head since he broke into Harry's house to throw a (rather self serving) birthday party for him.
Anyway, Ben cannot abide another murder in Patience.
The last thing he wants is to hear about it in another Jessup commercial. In an effort to have this "murder" on Jessup's books and not Patience's books, he anonymously reports the murder to the Jessup police.
On the up side, that stunt seems to have netted us another great character to spend the season with.
Hopefully, between Detective Torres (AKA Medium Brown) and Deputy Liv, we'll find out the reason for Sam's murder in the first place and what Galvan/Powell Group wanted with a doctor in a small Colorado town.
As much as Harry cares about Asta, he was so completely deaf to the pain Asta was in. He had to see her fall completely apart before he could see it.
Of course he had to try and relieve her pain as best he could. A rare selfless moment for Harry.
Unfortunately, the easy solution is almost never the best solution. Almost immediately we ran into an unexpected consequence.
When Jay invited Asta to share her birthday, I wondered what was going to happen to spoil it. Even though I expected something to go wrong this broke my heart.
I think there are going to be more consequences to Harry wiping that night from Asta's mind.
This leads me to the one element that didn't land as solidly for me as just about everything else in the episode.
Harry kept telling himself that coming so close to death didn't bother him. I was fine with that. I wanted was to
see
the lie. I wanted a moment, something that showed us he was lying to himself rather than just listening to him tell himself the lie.
And now… Judy. Judy. Judy.
First, the audiobook. I could barely breathe.
SyFy, if you want to upload the first chapter of
Frankenstein
as read by Judy, I will definitely give it a listen.
Second, good citizenship. Watching her help Harry demonstrate his theory that Corrington was killed by a bullet fired from the Patience side of the border was…one of the more odd things I've seen in a while.
As um... as, I can't even think of an adequate adjective, as Judy is I did not expect her to take her death scene into the hot tub.
Even
Harry
was caught off guard by that bit of weird.
The smartest thing Sheriff Thompson has ever done was to stay clear of Judy?
As awesome as it was to watch Judy contend with those un-refrigerated deviled eggs, I missed Max and Sahar!
I am doing a dance of joy that D'Arcy got a make-up date with the guy she stood up after that scene with her parents. I still have my fingers crossed that this relationship goes somewhere. I am really hoping her story is on an upward trajectory.
So, the General is on her way back to Patience, a different alien species is on its way to Patience, and the alien hunter is on his way to Patience. Season 2B is going to be fun.
What did you guys think of the episode?