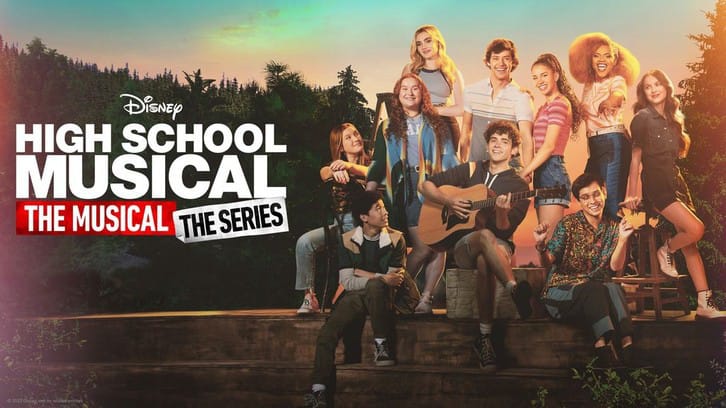 Another week, another day at Camp Shallow Lake. This time, the Wildcats prepare to audition for Frozen. Let's jump into the unknown and see what they're up to!
Into The Old
Nini's story is arguably the strongest part of the episode. Her moms take her to visit a family friend, Marvin, who turns out to be Nini's biological father. After an awkward start, they end up finding some common ground and manage to bond a little. And while Nini thought she had to get out of the old to go into the new all the way back in season 1, it turns out that her roots may actually have more use for her than she thought. After struggling with her muse for a while, it's Marvin who helps her find her voice again.

While I enjoyed all the songs this episode, You Never Know was the highlight for me. It summed up Nini's headspace really well and reflected her journey in this episode perfectly. Unlike Balance, it felt like Nini's arc had been building up to this moment, and I'm excited to see where Nini goes next, for however long she remains on the show.

It's Gina's Time

The Wildcats are getting ready for audition day and it's Gina's time to shine. The episode starts off with an adorable EJ and Gina scene, in which we get to see how much pressure EJ already feels as the director of the show. But Gina successfully lifts his spirits, and in that moment we get to see why these two are such a good fit. The mugs from their East High Morning Show were a cute touch. However, their bliss doesn't last long, as Gina dodges a question about Ricky, which hints that she's not entirely over him. And that's where my frustration with this episode starts.
Season 2 made a point of telling a story in which Gina moved on from her feelings for Ricky and fell for EJ unexpectedly. She struggled with allowing herself to fall for someone new, as she'd been hurt so badly before. But while she slowly fell for EJ in the back half of the season, at no point did we see any lingering feelings for Ricky. Lingering effects of her heartbreak and insecurity, sure, but no shots that indicated she was still pining after him. So for Gina to suddenly be pining after Ricky, even if it's more subtly, feels like a retcon.

Speaking of retcons, I also found it more than a little confusing that Balance implied that Gina considered her "2.0" self to be only half of her. At no point during season 2 did she express feeling that way, and it felt like there was no real build up to her suddenly expressing that during this song. While I could always follow characters' emotional journeys from point A to B in previous seasons, this season I feel like the writers are skipping steps at times in order to tell the story they want to tell, which makes said story not feel organic. On top of that, it feels like Gina is suddenly regressing this season. Ashlyn rightfully called her Gina 1.0 a few times, and Gina's advice to Emmy and Alex sounded all too similar to Lily's words to Gina in 2x02. Ironically, it were those words that made Gina decide to audition with Ashlyn and Kourtney, because Lily held up a mirror to her and she didn't like what she saw. There's nothing wrong with Gina's ambition, but she learned that this doesn't mean she has to see others as her competition. So why are we suddenly going back on that character development?
While Gina's insecurities about Val feel understandable given what happened to her with Ricky and Nini's history, it also feels a bit unwarranted given that Gina is kind of pining after Ricky at the same time. Especially when EJ has given her no reasons to feel insecure and Maddox told her that EJ and Val once played siblings, which is what bonded them. While I'm not opposed to characters regressing as part of their arc, it all does feel a little out of nowhere for Gina, and I'm not sure I trust the writers to do her justice. Because when it came to the start of her rebuilding her friendship with Ricky, the writers still didn't allow Ricky to show any initiave. His lack thereof is a large part of what made their dynamic so unappealing to me in season 2, and it's disappointing to see that this continues into season 3. If I'm to be sold on Ricky and Gina's friendship, let alone a potential romance, Ricky has to do better.

New Faces
This episode, we get to know Maddox and Jet a little bit better, and we're introduced to Val, Emmy, and Alex. Maddox and Val's friendships with EJ are fun to watch, and from their interactions it's immediately clear that there's a history there, which works very organically. It was nice to see them have EJ's back when he was feeling anxious about directing.
During auditions, we get the sense that there's also some history between Jet and Maddox, though they don't seem to be on good terms. Ashlyn and Kourtney also aren't Maddox' biggest fans, but it seems that Gina likes her. With them disagreeing on Maddox and Ashlyn's "Gina 1.0" comments, I can't help but wonder if we're headed for a bit of angst between the three friends.

Speaking of angst, two characters who are also getting off on the wrong foot are Val and Carlos. Carlos used to be very involved in shaping the musicals at East High, but when Val rejects his offer to help her post the cast list, it becomes clear that Carlos has a hard time letting go of his former position. Whatever he discovered and changed on that cast list, I doubt he's going to get away with his actions that easily. It'll be interesting to see if Carlos can adjust to just being on stage. And whether he got a speaking role to begin with.


Ricky really sees himself in Jet and he does his best to try and bring Jet out of his shell. Perhaps he's trying to be the person for Jet that Ricky himself needed back when he first tried out theater. It's heartwarming to see, and it feels like the right choice for Ricky to be focusing on this. It's a way for him to reflect on his own journey so far while at the same time bonding with people who he doesn't see in a romantic light. And look how far he's come: he actually put effort into his audition this time! And even knew a song from Frozen!

It feels like it's too early to have formed an opinion on Emmy and Alex, but I will say that I was very impressed with their talent during For The First Time In Forever. They sure bring two great new voices to the cast. As for their characters' arcs, right now I'm just hoping that Gina doesn't influence them for the worst.
What did you think of Into The Unknown? Let us know in the comments!