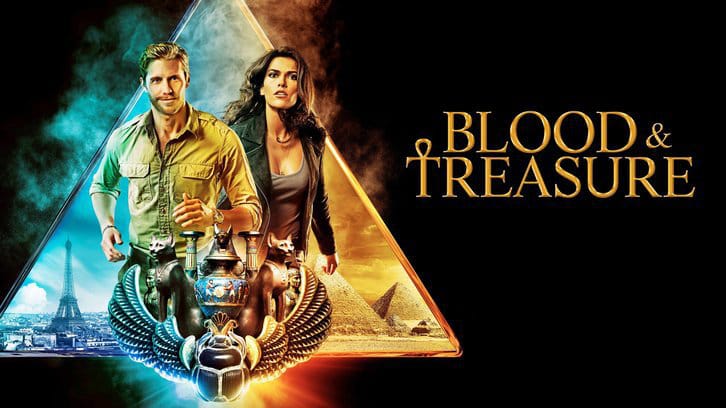 After almost three years(!) since Blood & Treasure has been missing from our screens, the long awaited season 2 has finally arrived very recently, this time in a new streaming home, so it's time to get into the matter and recap and review its first episodes.
The Soul of Genghis Khan
First of all, I have to say that even when I watched season one back in the day, I didn't have the time to revisit it all before watching the new episodes and I had forgot about some details, so it was nice that they gave us a quick summary at the beginning of episode 1, because I guess I wasn't the only one that couldn't remember everything that had happened.
I really liked to see that even when some of the episodes were shot during the pandemic, we still get to see different locations that give light and color to the story. I also liked the scene of the Vatican attack, I think it was a good start for this season's mystery and was well executed and kept the suspense to know what was happening, which was later revealed to be the quest to find an artifact known as the Spirit Banner or the Soul of Genghis Khan.
And this storyline brought Jacob Reece back, just to get him killed right before he could reveal to our main duo some important information about the people behind the attack. So this took us straight to a daughter none of us knew he had, except for Danny who happened to have been engaged to her like 10 years ago. Being the daughter of who she is, she certainly appears as a shady character, though it could be very obvious that she'd be the main villain of this season, but we have the right to feel that way, cause in this kind of stories, every time a new character appears you keep doubting if they would be a good or a bad guy, and I think they want us to keep guessing about her at least for a few more episodes, since at the end we saw Kate get kidnapped just to reveal later that she staged that and she's actually trying to get the Spirit Banner, too.
Another new face that gave me some weird vibes was Father Alonso, he may be Vatican Intelligence (or not) but there's definitely something off with him, though his chat with Father Chuck was kind of funny, but I know we still have to know more about him.
On that note, it was very nice to see Chuck back because, as we could see in season one, he completes Lexi and Danny's dynamics very well. As for them, I did buy their story at the beginning about being separated again, though giving it another thought, that would've been like going back to square one and it would've been repetitive, so I'm glad it was just a front to catch a criminal, and it was also another chance to see how well they work as a team. In this episode, we had a glimpse too about how the couple's roles had apparently changed, because now it seems like Lexi is the one who wants to settle down, and Danny is embracing more his adventurous side, and this definitely will set the tone of their story for the rest of the season.
Tales of the Golden Tiger
Moving on to the second hour that started in Hong Kong, we traveled with the duo to Vietnam were we found another familiar face, Shaw that also introduced us new characters, Vince, a private detective and Hahn, a kid that works at his bar, and that are just as colorful as everyone else that appears in this show is.
Lexi, Danny and Shaw go to a private event in their quest to get more information to find the Soul of Genghis Khan. I liked very much how Danny infiltrated with the bad guys, it seems that being with Lexi has given him new abilities, cause even Shaw was surprised by this change in him. I also liked Lexi's fight with her ex…partner…in crime, Violet, and after they solved their past issues, I ended up liking this character and I thought she would be a good addition to the team and an ally since she's trying to find the Spirit Banner too, so I hope we get to see her more often in the upcoming episodes.
Back in the Vatican, Father Alonso told Chuck that the investigation about the attack had been closed and he better stay away from anything related to that, which brought back my suspicions (and Chuck's) about him being a shady character, though it wasn't still clear if he told him that because he didn't want him sneaking around or he was just trying to protect him from something bad. Anyway, Father Chuck realized there was something off and told him that he was going to take a break, though we know that this vacation implies going to visit some friends of his.
Aside from the hunt of the treasure, it is more clear now that this season's main arc is also to know where Lexi and Danny's relationship is going and what would be the implications of the reverse roles they have now, since they keep giving us hints about what are their priorities in the present.
Something that I have noticed is that, even when the chases and the fights may seem repetitive, they keep them interesting and fun, maybe because of the different settings they have as background. I also like how they keep details as an important part of the story, for example, at the beginning of the episode, when Lexi and Danny arrive to his house, Shaw is very worried about them moving his flowers and that's how they end up discovering that the CIA has bugged the place to spy on them.
I liked too that Kate's fake kidnapping was discovered quickly for the characters since there was no need to drag it out any longer, and it was also revealed that she's actually working for the CIA, which takes the story to a new place and opens more possibilities.
Although at the beginning it was a little difficult for me to get involved in the story, the truth is that the plot is becoming more and more interesting, and I think it is well structured to keep the audience engaged. And the fact that there's more and more new and old characters included throughout the episodes, even when it makes it a bit more complicated to know who is who and who works for whom, it also makes it more fun to be discovering along with them, everything that happens around them.
Thanks for reading. I'll come back to you soon with the reviews of the remaining episodes of this season. For now, tell me what do you think of this first two episodes? Did you miss Blood and Treasure? Share your comments below.