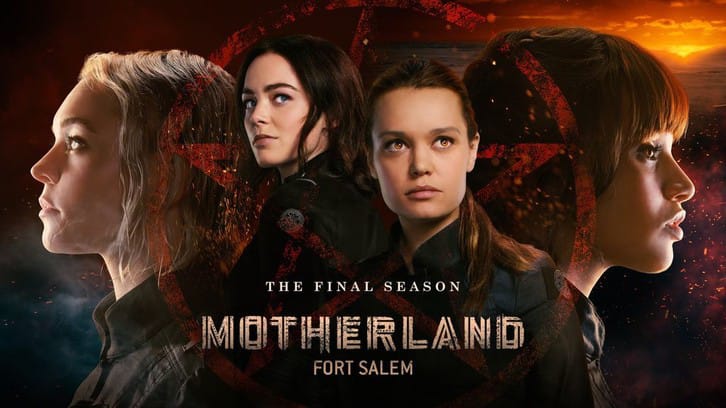 SPOILERS BEYOND THIS POINT. DO NOT CONTINUE READING UNLESS YOU HAVE FINISHED THE FULL EPISODE OR ARE OKAY BEING SPOILED.

It is a rare show that manages to never have a bad episode during a season, even rarer to never have a bad episode throughout its entire run. Yet that is exactly what Motherland: Fort Salem is on track to do. They delivered yet another densely packed episode that should work under no circumstances. Cramming this much into a single episode is unimaginable to most shows because it's hard to pull off logistically. Yet, here we are, having an episode that shouldn't work turned into a spectacular hour of television. This episode was another example of the travesty that is otherwise known as the cancellation of this series. A show capable of doing what this one does that pulls in impressive social media buzz should have been allowed several more seasons.
This episode was so extensive that it covered the entire length of the United States from California to Washington, DC. This might have been the most epic episode we have been treated to. Each character went off on their own journey giving the episode the vibe of a fantastical quest. While these characters and performers are so extraordinary together, it was nice to see the actors and characters get their own moment to shine outside of the group in an episode meant to allow all of the characters to get their lives in order before reuniting for the brewing war. That's why it worked so well.
Before discussing the story's heroes, we need to discuss the villains. Kara Brandt (Emilie Ullerup) and Blanton Silver (Victor Webster) plotted the deployment of sinister witch collars before Hearst (Bob Frazer) burst in and delivered an update. While he clearly failed his sister again, he did give them the ammunition they needed to launch an invasion of the Cession. Based on how Hearst called the Mycelium "Mother" instead of any of the other various derogatory things they've called her in the past was an interesting slip-up. Perhaps biologically altering his body with witch tissue wasn't his best idea, but it certainly makes things interesting. As much as no one really enjoys a villain's story, it'd be interesting to see a prequel series that follows Kara and Alban as kids and see what led these two to become the sinister sadistic adults they have become. There feels like there is an entire history we don't know and, with dwindling episodes, may never know, and that's sort of sad.
Moving on to our heroes, with the Cession in danger, Petra (Catherine Lough Haggquist) experienced several pivotal reunions. First, with Anacostia (Demetria McKinney) and Sterling (Luc Roderique), who managed to escape the Camarilla base. Even injured, Anacostia isn't one to give up on a fight to protect her people. Barely recovered, she took responsibility for the witches in the Cession and volunteered to return to play her part on that side of the fight. Next came Abigail (Ashley Nicole Williams), who found her way to Fort Salem with Adil (Tony Giroux) and Alder (Lyne Renée) so the latter could heal via the Mycelium. By being back on base, she also learned about Izadora's (Emilie Leclerc) work to restore Penelope (Mellany Barros) to her fully human form. The violent reunion between Abigail and Penelope showed just how much work still needs to be done before Penelope can serve her purpose for the group and clear their names while helping to take down her traitorous father. The longer this Penelope story goes on in conjunction with the stewards' storyline, the more one has to wonder if Penelope could end up being one of the final two remaining stewards. That would certainly be an interesting twist. For now, though, they need to save Penelope's humanity, and perhaps a reunion with Tally (Jessica Sutton) could be just what the young witch needs. The final reunion for Petra came when the whole base discovered Alder's reanimation. Despite their differences, these two women stand united in this fight and for the Camarilla that spells disaster.

The next reunion up was Tally and her mom, May (Jillian Fargey), who was seemingly a very different character than when we last saw her in the pilot. Instead of trying to avoid the fight and keeping her daughter from it, she took them both charging into the fight's core. It was fun to see that role reversal of Tally trying to convince her mom to not go on the mission to the government building with her fellow Book Club witches. It was even more fun to watch this group of seemingly innocent women rally together and take back some of the power the Camarilla was trying to steal from them. Also, kudos to May for being such a badass mom because she did not hesitate to help Tally destroy the collars meant to permanently cut witches off from their abilities. The only sad thing about their story was that May didn't leave with her daughter to join in the fight. They could use her ability. It would be nice if we see her again before the series concludes. It was also lovely to see her appreciate Tally's newfound sight and embrace it and encourage her daughter. Hopefully, when the time comes, Tally will take her mom's words to heart and know how to handle the Raelle (Taylor Hickson) situation from her vision.
That leads to a series of reunions, all centered around Raelle. We got to see Scylla's (Amalia Holm) road trip with Edwin (Hrothgar Mathews), which was honestly a highlight of this episode. Despite not sharing the screen very often, Holm and Mathews have crafted a beautiful father/daughter bond for their characters. Edwin couldn't care for Scylla more if she was his own daughter. These last two episodes have more than proven that he would do anything for both his daughter and the woman she loves. Scylla may not have any blood family left, but she certainly does still have a family, a family that includes Quinn (Sandra Ferens), who this duo was also reunited with at a pivotal time. They utilized her former friendship with Willa (Diana Pavlovská) after Scylla came clean and confessed to both her and Edwin that Willa had, in fact, only passed less than a year prior while saving Raelle. To his credit Edwin, who, after all this, certainly has to win the fictional father and husband of the century award, took it all in great stride. All of this after a very short reunion with Raelle, thanks to some crafty work by Scylla.
In the span of just a few short days, Edwin was kidnapped, helped protect his unofficial daughter-in-law and her friends, sort of reunited with his daughter, and actually reunited with his wife. The man has been put through his paces and not once failed to handle things with immense pride and honor for witches and their culture. The reunion between him and Willa was poignant and profound and did not disappoint. It was something we as an audience have needed to see since we first learned Willa was actually still alive at the end of the first season. Pavlovská and Mathews delivered a profound and heartfelt performance that showcased why their daughter has grown into such an extraordinary young woman. The love between Edwin and Willa knows no bounds. Their reunion also served to explain a lot about why the Mycelium is so determined to keep Raelle away from her loved ones. The Mycelium genuinely thinks of herself as Raelle's mother, which is likely why she came off so overbearing and scary in the lengths to which she'll go to keep Raelle isolated. Though Edwin and Scylla made extremely compelling arguments for why Raelle needs to be returned to them, it was also heartbreaking hearing Scylla beg to either get Raelle back or to go into the Mycelium herself. Being away from Raelle for so long is eating away at Scylla more than any of those that love her. It'll make their impending reunion all that more powerful. Holm yet again delivered a standout performance depicting Scylla's great need to get Raelle back.
Since this episode appears to mark Taylor Hickson's return to work after her accident, that should mean that the biggest and best reunions are soon to come. Raelle being reunited with her true love and her sisters will be a moment that is sure to tear at a lot of heartstrings. After Willa's encounter with Scylla and Edwin and Adler's reunion with almost everyone, the duo took action to secure and destroy all of the drilling sites. Their actions seemingly done to secure Raelle's future. Hopefully, that'll reassure the Mycelium that it is time to return Raelle to the others to get her back into the fight.
With Thelma's (Olivia Lucas) militia ready to fight the witch Army, Anacostia is left to figure out how to work from the inside to keep a bloodbath from occurring. Hopefully, her commanding presence will help the two sides realize their common enemy is far more of a threat than each other. Surely that is how this will all play out. Until Scylla and Tally can reunite with Anacostia, Abigail, and Adil back at the compound, it'll be up to the trio to not only help the Council figure out who the traitor is but to also prevent a full-out witch war. The big question is, who is the Council traitor that told the Camarilla where the group was? One would think Thelma should be excluded given how much she has helped, but the fact she has a militia on the ready and did seem a little bit suspicious when she previously left the group powerless means that she can't be ruled out. Pauline Marten (Michelle Thrush) is also a strong contender. She seemed to be at odds with Wade (Sheryl Lee Ralph), and perhaps allowing a war to take place that she thinks could free her people and land from any obligations to the US government could be a reason to align with foes. Though, that same argument could be made regarding any of the Council members. Pauline and Thelma, however, by the very nature they've been more deeply inserted into the story, gives them higher probabilities of being the traitor. It is also the same argument that can be made for why they aren't the traitor. They are too obvious of choices. When they make the reveal, it'll probably be a very surprising and unexpected individual, and it'll be curious to know the reasoning for going against their own people.
The time has come, with the war on the horizon the next episode is likely to depict the beginning of the final fight. The group is likely to reunite as well, maybe even with Raelle, and then we are probably in for possibly four of the best episodes this series has ever created. There is still a lot from the final season trailer we have yet to see, so we're in for some intense content. It should be a fun adventure to watch these witches slay the Camarilla and save the union of the United States and the Cession and witch cultures alike.

Make sure to not miss the next episode of Motherland: Fort Salem next Tuesday, August 2nd at 10/9c on Freeform.

Please use the comments to discuss your favorite parts of this episode.