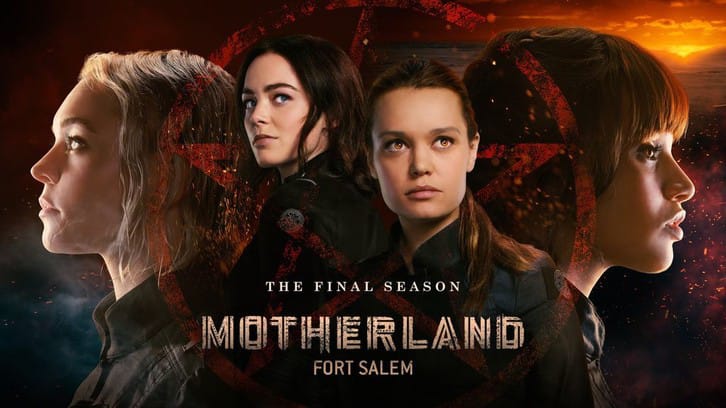 SPOILERS BEYOND THIS POINT. DO NOT CONTINUE READING UNLESS YOU HAVE FINISHED THE FULL EPISODE OR ARE OKAY BEING SPOILED.
Following the exceptional season premiere, this episode kept the story charging full steam ahead. The action was bigger, and the stakes higher than one would expect for only the second episode of the season. It appears as though the writers went into this season with a plan to cover as much ground as they could to bring this story to a premature yet satisfactory end. They are making sure each episode counts. This episode alone covered enough ground for multiple episodes yet somehow beautifully molded it into a brilliant forty minutes of well-constructed entertainment.
This episode gave a startling glimpse into how close the Camarilla are to being able to kill the Mycelium with Hearst (Bob Frazer) front and center. He really is a dark, evil, horrible excuse for a human. Sadly, he is not that unique compared to similar real-life sinister people who are determined to destroy people and entities they don't understand. As easy as it is to hate Hearst, it is hard to not complement Frazer, who, with just a slight smirk, can make viewers hate Hearst even more than they already did and has done remarkable work showing this character's multiple dark layers that provide no avenue for redemption. This character is about as evil as they come, and there will be great cheering when he is defeated. It was gratifying to see both Abigail (Ashley Nicole Williams) and Scylla (Amalia Holm) get the chance to punch him out later in the episode.
Before we can discuss the beauty of those punches, we must first look at some of the things that led to the episode's intense ending. Let's start with Petra (Catherine Lough Haggquist) and Anacostia (Demetria McKinney). They aimed to find out once and for all where President Kelly Wade's (Sheryl Lee Ralph) allegiances rested. With the help of Sterling (Luc Roderique), they got M (Ess Hödlmoser) on President Wade's detail and they proved themself a remarkable asset in undercover work. M was an uncertain question mark last season with a not overly vision of the part they played in the bigger picture, but this season is really giving M a part in the bigger story and it's great to see them really get a chance to showcase what all they can do.
Things got tricky when Blanton Silver (Victor Webster) showed up with Kara Brandt (Emilie Ullerup). The two of them aren't actually as good at playing things cool as they'd like others to think. Kara is annoying at best while playing the role of Blanton's annoying arm candy, and the fact that Sterling didn't lose his cool on both of them is a true testament to his self-restraint. Anyone having to guard those two should be awarded a medal for patience. Kara also has a big mouth announcing things about Blanton's planned legislation that he didn't appear to want to be revealed just yet. Turns out he wants to make witches second-class citizens by taking away their right to vote. This would be a big problem if it wasn't for Wade and Minerva (Liza Huget).
Despite Petra's concerns early on in the episode regarding her mom and Wade's complex history, the two women found common ground after Minerva showed up at the Washington Historical Society dinner Petra was hosting. M made the right decision to allow the two women to stay sequestered while they hashed out things from their past. While wise to Petra's plan to have Izadora (Emilie Leclerc) analyze Wade's voice to determine her allegiance, Minerva still took things into her own hands. She was convinced Wade was not Camarilla and was proven correct when Wade came out of their meeting and shut down all of Blanton's plans to enact his planned legislation. For the first time since the start of the season, really the series, it was made truly clear where Wade stands regarding witches. With Blanton and Kara both clearly upset with Wade, it'll be interesting to see how the witches manage to protect the President. This turn of events makes the fates of both Sterling and M increasingly concerning. It is a genuine possibility one or both could get caught in the crossfire.
The discord between Wade and her Vice President wasn't the only tension in this episode. While trying to get into the Cession, the rogue Bellweather unit faced problems of their own. As Scylla and Raelle (Taylor Hickson) tried to find a boat the group could use to cross the water to reach the Cession boundary, they again discussed the prospect of running away to the lighthouse they have been dreaming of since the first season. Given how frequently this elusive lighthouse has been mentioned, it must play a bigger part in the overall scheme of things and will likely be paid a visit before this season is over. But the bigger issue from this exchange was that Abigail overheard it, setting off her growing concerns about the unity of the group. Amid what she heard between Raelle and Scylla, paired with Tally (Jessica Sutton) growing increasingly closer to Nicte (Arlen Aguayo Stewart), Abigail was worried. It was lovely to see Khalida (Kylee Brown) and Adil (Tony Giroux) make it clear that they and Abigail are family now, no matter what.
That statement by Khalida was well-timed because it gave Abigail the chance to tell her what her mom had told her about the Camarilla's concern regarding Earth and Sky uniting. Adil had no idea what it meant, and Khalida acted like she didn't know either until she turned away. The look on her face made it clear that she knew perfectly well what it meant. Brown has done a fabulous job crafting Khalida's mannerisms, even when her face is being held in a stern, authoritative way, even a slight change can convey a whole array of underlying emotions. That is what she did at this moment, and the underlying concern on her face means that things are about to get extremely hard for this couple.
Abigail wasn't the only one concerned about the overall unity of the group. Both Nicte and Tally seemed restless being around so many couples, as the definition of their own bond remains murky. Their unusual bond was given several great moments to be highlighted thanks in large part to this being an impactful episode for Tally. Once they made it into the Cession – barely since Khalida tripped and Abigail had to return for her – the group made a temporary encampment in the middle of the woods. This is where the stresses threatening to divide the group's unity began to show. It feels like they cut a scene here because Scylla's declaration that Raelle wasn't feeling well seemed abrupt when she seemed fine in the first part of the episode – and wanted to take the truck to go into town to check in with Anacostia. This was when Scylla and Abigail went at it and only broke their stalemate when Tally intervened to send them each off on their own.
That whole sequence served another purpose, to show how much impact Tally actually has in the overall unit. They both listened to her and neither objected, but it's clear that constantly being caught in the middle of things is taking a toll on Tally, which only Nicte seemed to fully understand. Tally and Nicte's own moment later in the woods was a much-needed opportunity to gain great insight into both Nicte as a person and to get a better picture of the power of Tally's visions. Seeing Nicte fight to get through to Tally and make the younger witch understand the toll of magical work showed the audience a different side to the Spree leader. This woman has done horrific things and justified them away, but they haven't been without a hefty price, a price she does not want Tally to pay. In a rare moment of vulnerability, Nicte showed Tally her true face, which was haggard by thirty years of using magic without worrying about consequences. To see Nicte care that much about Tally further muddies the water as to the nature of their bond.
Each of the unit's members has a role to play in the overall group, and while Tally has struggled with defining her role, it is becoming increasingly clear. Her interaction with Nicte also served to showcase Tally's ever-growing sight. She went from barely being able to see seconds into the future to now seeing hours and even days in the future. The evolution of her sight served them extremely well in the latter half of this episode.
While the group spent the first half of the episode divided, they soon found themselves in a situation where all of their petty issues had to be put aside. Once Anacostia brought Scylla up to speed on things, it was clear what was making Raelle sick. It was heartwarming and heartbreaking that Scylla made it back in time to see Raelle being taken by the Mycelium. To see Scylla struggling so hard to hang onto Raelle and to hear the desperation in her voice was gut-wrenching. But, from that horrible moment came unity as the group rallied around getting Raelle back. It was also nice to see Tally offer strong support to comfort Scylla and metaphorically and physically embrace her as one of them. Raelle certainly would have approved.
That unity came in handy as the group followed Anacostia's orders to do recon on the pesticide plant in the Cession, which they feared was producing the poison being used against the Mycelium. Once they saw the tanker truck and Hearst, they decided without discussion or argument to disobey orders to not engage the enemy. As a united front, they delivered a devastating blow to the Camarilla and even briefly captured Hearst. We also got a front-row seat to not only how powerful Tally's ability is in a fight but also to why the Camarilla are so afraid of the unity of Earth and Sky. The power generated when Adil and Abigail unleashed their abilities on the Camarilla guards simultaneously was astounding making it clear why the Camarilla do not want those two united.
While the group couldn't hold Hearst for long, it was long enough for them to know that there is more to the drilling than they or the audience may yet realize and that Hearst is desperate to get his hands on the first song. It was also long enough for Abigail to hit him with a cathartic punch to make up for what she witnessed him do last season. It also gave Scylla a moment to punch him for making a quip about Raelle not being with them. They lost him when they returned for Khalida, who had stayed behind at camp in case Raelle returned and discovered the Marshalls that Raelle had warned them about were both very real and enormously powerful. The Marshalls saw through Adil's ability to cloak himself and sent the group scurrying for their lives while Khalida remained missing. While appearing a bit sinister now, the vibe was also present that there is more to the Marshalls than initially appears to meet the eye. They are clearly Native Americans and possess some sort of ancient ability all their own. While they seem like a threat now, and very well may be, they also have the potential to be an ally should the two sides work out their issues. Hearst escaped as the group was dealing with the Marshalls, and with any luck, the Marshalls will realize he presents a much larger threat than the witches.
That leads to the end of the episode, where two big reveals happened. The first is that Izadora used the black rain she captured earlier in the episode and a unique tone to restore Penelope (Mellany Barros) to a human form. Despite the hostile way in with which Penelope lashed out and then dissipated back into a black mist, Izadora seemed quite pleased. Penelope may still yet be the answer to stopping her sinister father.
The other big reveal was the revelation of Raelle's fate. Much like Scylla theorized, the Mycelium consumed Raelle and brought her into a reality where it feels like they are both safe. Though, this version of the Mycelium seemed different, menacing almost, in the way it used the image of Willa (Diana Pavlovská) to try to keep Raelle. Though, as usual for Raelle and Scylla, the latter used the magical symbol that connects them to send Raelle the S to tell her that she is looking for her. Not even the presence of Willa or the Mycelium's magic is enough to keep Scylla and Raelle from connecting. Whatever the Mycelium has planned, one can rest assured that Scylla and the rest of the unit won't stop until they get Raelle back.
That brings us to the end of what was an extraordinary episode. The dreaded yet anticipated separation of Scylla and Raelle happened far sooner than most wanted, but hopefully, won't last long. The unit finally found a way to unite and work together, illustrating exactly why the Camarilla fear them so much. Definitive answers were finally revealed regarding Wade's allegiance. Yet so much is still left at play. The stakes are higher than ever. It will be exciting to see how things play out in the next few episodes.