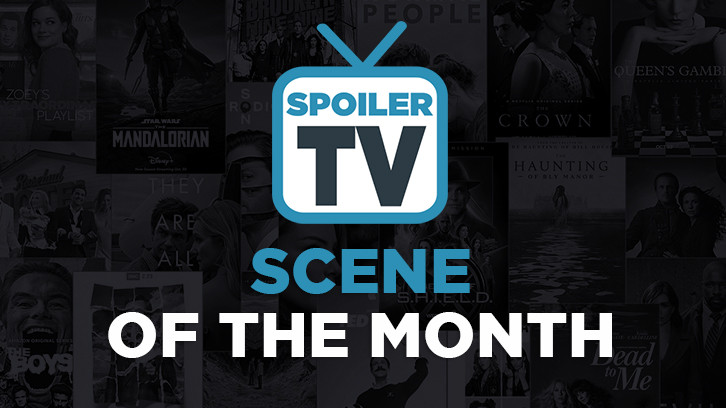 A monthly feature in which we're trying to find the most compelling, best acted, written, directed and just generally great, memorable scenes that we've seen in the past month.
A MILLION LITTLE THINGS, "60 Minutes", April 27, 2022, Actors: James Roday Rodriguez, Lizzy Greene, The Scene: Gary and Sophie talk in the car
Luana:
There was so much in this moment, Sophie telling Gary she couldn't imagine a life without him there to support her, him stopping his plans to listen to what was going on with her, and the advice he gave her proving once again he would be an amazing dad.
ABBOTT ELEMENTARY, "Ava vs. Superintendent", April 5, 2022, Actors: Janelle James and more, The Scene: Ava stands up for the school and her teachers
Folie-lex:
It is no secret I've had a hard time warming up to Ava all season. But the way she pulled through in that presentation by praising and acknowledging the gang that lay it all on the line for the school and the kids was enough for me to reconsider everything I've ever held against her. She might not "like school" but she cares for the people who are in her school. And that counts for quite a lot.
BLACK-ISH, "Homegoing", April 19, 2022, Actors: Anthony Anderson and more
The Scene: The ending
Luana:
It is more of a symbolical pick to appreciate the whole journey this show has taken us all, the Johnson family will be missed, even if we still get to see some of them, which I'm very happy about. I don't think I can properly explain what this show has done for the TV landscape but it deserves to be acknowledged.
BRIDGERTON, "Harmony" & "The Viscount Who Loved Me", March 25, 2022, Actors: Jonathan Bailey, Simone Ashley, Ruth Gemmell and more, The Scenes: The family dance & Anthony proposes to Kate & Anthony and Kate's final dance & Violet tells Anthony that Kate is okay
Justyna:
There were two scenes that I really wanted to highlight in the article - the family dance and Anthony's conversation with Gregory. In the end, I decided to go with the first one, but still - a shoutout to that wonderful exchange and both actors. While season two is a significant improvement for me in terms of the overall quality of the show, my favorite aspect of it remains the same. It's the Bridgerton family itself and the bond between all the siblings. The moments when they support, stand up for and comfort each other are often episode highlights in my book. Which is probably why I truly loved this dance scene. When the Bridgerton and the Sharma families (along with Lady Danbury) are ostracized by the ton and nobody arrives at their ball, it would be easy for them to start worrying or get upset, or angry, but instead Anthony proposes a night of harmony and celebration for all. That even includes his youngest siblings, normally not allowed to attend. It's such a sweet moment when Anthony invites his sister Hyacinth to dance. Hyacinth and Gregory seem so genuinely happy to be included that their joy lifts everyone's spirits and the whole group joins together for a dance. There are so many brief but significant interactions between different duos, exchanging partners during the dance. And every time I rewatch the scene there's a new duo that catches my attention. Just a wonderfully joyful and peaceful moment in the middle of the chaos. Kudos to cast & crew for all their work on the series so far.
Folie-lex:
Anthony proposes to Kate beneath the fireworks. There is something about the way proud and unyielding Anthony humbly and timidly approaches Kate without any expectations, merely with the intent to profess his love, just wanting her to know how he really feels about her. And after an overcome (and for the first time rendered speechless) Kate too admits her own feelings the courage he musters up to attempt another marriage proposal, finding this time the right words...? Not a poet my a** Lord Bridgerton.
Marko:
Their finale dance. It just came perfectly together. The chemistry between Simone and Jonathan was off the chart throughout the season. You rarely see intimacy like this between two characters on screen, their dance accompanied by the classic version of "Wrecking Ball" added just that much more substance to their journey in this season.
Luana:
Anthony's mom tells him Kate is okay and convinces him to go see her. The performances were just brilliant, two heartbroken people talking about love. Jonathan Bailey was especially great here in his every reaction.
CHARMED, "The Tallyman Cometh", April 15, 2022, Actors: Sarah Jeffery, Felix Solis
The Scene: Maggie confesses her guilt to Ray
Marko:
Sarah Jeffery truly excels in Maggie's grief this season. Her performance is so complex and wholesome and at the end relatable. Losing someone and thinking that you could've saved him is a burden no one should carry and Sarah brought all of Maggie's pain to light.
CHICAGO FIRE, "Keep You Safe", April 6, 2022, Actors: Hanako Greensmith, Jimmy Nicholas, The Scene: Evan and Violet can't stay away from each other
Beth:
When Evan Hawkins was introduced, I thought he was the standard thorn in ambo 61's side that needed to be defeated. But then the show put Violet and Evan in the same orbit and magic happened. After Evan is almost found out by the CFD brass he makes the painful decision that he and Violet should stay away from each other for the sake of their careers… But he just couldn't. When he showed up at Violet's door, their magnetic connection couldn't be denied and they realized that some things are worth taking a risk for. I truly hope the show's writers understand how amazing the chemistry that these two share is, and they decide to make Jimmy a regular.
CHICAGO PD, "Fool's Gold", April 20, 2022, Actors: LaRoyce Hawkins and more
The Scene: Atwater finds the home invasion victim hiding in the crawl space
Joanna:
This was such a beautiful scene that really showed LaRoyce Hawkins' skill as an actor and showed the kindness and how gentle and responsive Atwater is to victims and how he can make them feel calm and safe in terrible circumstances... Loved this scene so much. Definitely a fave for the season.
GOOD TROUBLE, "I Don't Belong Here", April 27, 2022, Actor: Emma Hunton
The Scene: Davia holds her own anti-intervention
Luana:
I love the way she handled it, and how she talked about all the difficulties that come with eating disorders even when they get better, Hunton is always simply wonderful.
GRACE AND FRANKIE, "The Beginning", April 29, 2022, Actors: Jane Fonda, Lily Tomlin
The Scene: Frankie paints with Grace's hands
Alejandra:
Do I need to say more?
HALO, "Solace", April 28, 2022, Actors: Pablo Schreiber, Jen Taylor, Natascha McElhone, The Scene: John tests Cortana's limits
Justyna:
I've been really enjoying this show so far. It's been one of the best surprises of the year for me, especially since it was never on my to-watch list, only checked it because of a random recommendation. I had a hard time choosing a scene to highlight for the article. The entire sequence of the Covenant attacking Eridanus II was fantastic. In fact, the action on the show so far has certainly been one of its biggest strengths. But in the end, I decided to choose one of the most intense, though relatively quiet, moments on the show - John testing Cortana's limits. After being instantly stopped from killing Halsey in the previous episode, John being the Master Chief with significant military experience decides to test his future options. He puts Halsey's life in immediate danger, but does it slowly, in a clever and strategic way, without stating his intentions at the start. Mainly to check how much control Cortana truly has over him, but possibly to also let Halsey know exactly where they stand, even punish her in a way by showing her a glimpse of fear a child might feel when trapped and alone, without anyone to offer help. Though I didn't expect Halsey to die in this moment I still got caught up in this tense sequence with the clock quickly running out of time. Not that I feel much sympathy for Halsey, especially after the next interaction between her and John in the same episode. At least the truth is finally revealed, not that it makes things any easier or better. Really enjoyed all of the performances in this scene. Pablo Schreiber is getting better with each hour in his portrayal of the Master Chief. Can't wait to see what happens next.
HEARTSTOPPER, "Secret", April 22, 2022, Actors: Kit Connor, Joe Locke, The Scenes: Nick asks Charlie for some time to figure things out & Charlie and Nick kiss in the rain
Chlöe:
Nick asks Charlie for some time to figure things out. This show thrives on its honest and heartfelt moments made all the more stronger by Kit Connor's earnest performance that tugs on the heartstrings constantly over the course of the show. Nick's confusion after his first kiss with Charlie is beautifully played and Charlie comforting him stands out as one of the show's quietest and heartwarming moments as we watch Nick's journey to realising his sexuality unfold.
Lucas:
Charlie and Nick kiss in the rain. This show is full of memorable moments, and there's a beautiful and electric innocence in this particular scene, when Charlie and Nick get to experience the love they share for each other more openly for the first time.
HOME ECONOMICS, "Animatronic Gorilla, $2,200", April 13, 2022, Actors: Topher Grace, Karla Souza, The Scene: Marina tells Tom "Home Economics" is the best thing he's ever writen
Folie-lex:
Tom's lovely wife has just the right words to say to calm him down over all his concerns about his book (that have only been amplified by his looming 40th birthday and some lukewarm reviews from the students in his class) proving yet again that Tom and Marina are simply "marriage goals".
JULIA, "Crepes Suzette", April 14, 2022, Actors: Sarah Lancashire, Sam Brackley
The Scene: Julia sings with drag queen Coco Van
DJRiter:
It was a pure delight watching Sara Lancashire as Julia Child experience her first taste of fame when her friend James Beard takes her to a drag club in San Francisco, where she delighted the audience by joining drag queen Coco Van on stage for a delightful duet of "I Had To Be You."
LEGACIES, "Everything That Can Be Lost May Also Be Found", April 14, 2022, Actors: Danielle Rose Russell, Claire Holt, The Scene: Hope decides what to do with Klaus' ashes
Luana:
The Mikaelson family reunion was pretty great, I always want more of this cast but Danielle Rose Russell is a stand-out. I'm happy to get to see her every week, and she showed those acting chops once again in this emotional scene where she could not avoid shedding tears as she spoke.
MOON KNIGHT, "Asylum", April 27, 2022, Actor: Oscar Isaac, The Scenes: Steven and Marc visit the memory of their mother's shiva & Steven saves Marc
Justyna:
"Asylum" was easily the best episode of the series for me. So many memorable scenes to highlight as we learn the true reason behind Steven's creation and discover the many traumatic events of Marc's past. I could probably select any moment from the hour and still have so much to say about it. And yet I knew immediately which scene I wanted to highlight in the article. It's one of the first memories that Steven and Marc pass in the asylum's corridor, one that Marc clearly tries to keep away from Steven. But throughout the episode the truth about Steven's origins and Marc's family comes to light and eventually Steven realizes that their mother is dead, opening the door to this memory. Marc shows up in front of his family's house, to join the shiva after his mother's death but can't bring himself to actually get through the door. Instead he walks away and slowly breaks down in the middle of the street, with pain, guilt and grief flooding him to his breaking point. That's when he lets go or rather Steven takes over and it's the saddest thing to suddenly have him "calling" his mom, completely unaware of his surroundings. Oscar Isaac's switch from devastated Marc to lost and confused Steven was absolutely brilliant, probably my favorite one in the series. But that's not where the scene ends. From there our viewing perspective moves towards the Marc and Steven that are revisiting the memory. Marc reveals that this was the moment when their lives started bleeding into each other. Because he couldn't face it alone. This is also the scene where Steven finally sees Marc, or rather truly understands him. He doesn't judge, confront or criticize him, he offers comfort. And most importantly, Steven tells Marc that his brother's death wasn't his fault and that his mother was wrong, on so many levels. Absolutely love Oscar Isaac's performance in the show and this is where he shines the brightest. Kudos to the cast & crew of the series for all the work!
Folie-lex:
Steven saves Marc. The growth of Steven coming to his own, running towards danger to save Marc, especially after everything he witnessed, was the turning character moment for this very troubled man trying to find peace and balance within himself in this perilous moment. It was beautiful to see fumbly Steven take charge, make the sacrifice play and save the day.
Chlöe:
Steven tells Marc his brother's death isn't his fault. This episode was a tour de force for Oscar Isaac as we finally unfolded all the layers of Marc's trauma but the moment that stands out for me is when Steven tells him his mother was wrong to blame him for his brother's death. Marc created Steven as a way to protect himself from the abuse and in an episode filled with trauma, this small kindness Steven shows him will prove to go a long way in helping Marc begin to heal.
OUTER RANGE, "The Soil", April 29, 2022, Actors: Imogen Poots, Lili Taylor, The Scene: Cecilia confronts Autumn snooping around the house
Laura B:
Wow, Outer Range has been such a surprise so far, reminding me of a Neo Western version of Fortitude in some respects. If you are looking for something a bit "out there" and like temporal phenomenon with nuanced, albeit super weird characters, this one might be for you! I chose this scene though mostly because of Lili Taylor's Cecilia. She's a character that's been quietly coming into focus as she begins to struggle with her faith in the midst of whatever is going on here, but her dedication to her family shines through in this scene, proving that she might be force to be reckoned with when the time comes.
OZARK, "A Hard Way to Go", April 29, 2022, Actors: Julia Garner, Verónica Falcón, The Scene: Camila comes for Ruth
Laura B:
Ok, while some people may feel very disappointed with the way Ozark ended, I can't say I feel the same, despite understanding why. There is a shocking quality to not playing up the twist and have a more straight forward scenes like this one. Really Ruth's death has a secondary element to it that goes without a sense of the drama that Ozark so readily executed, fading into the background much more in favor of great acting performances. The show chose to end with us all at the edge of our seats, but proving it wasn't really about the insane plot twists alone, but with the introspection of being able to feel compelled by people who end up doing really, really bad things. Ruth couldn't accept having to figure out who she was without being Langmore and in almost an angelic fashion, she accepted dying the easy way and there is something both disturbingly liberating and poetic in that, because of the way it feeds into the series' final scenes...
SANDITON, "Episode 6", April 24, 2022, Actors: Flora Mitchell, Tom Weston-Jones, The Scene: Leonora confronts Colonel Lennox about being his daughter
Laura B:
I don't know whose idea it was to cast this fantastic child actress in Flora Mitchell, but it was a brilliant choice! One of my favorite characters! I love this scene because Leonora is so funny dressing as soldier and marching into camp, yet so emotionally fierce, but also I chose this scene, because I thought you could really see Lennox being taken aback and it begins to humanize him in a way we hadn't yet seen. I'm not saying Lennox is a good guy, but I do think without knowing who Lucy really was as a person, some truths remain to be seen. But what I really loved is that Sanditon not only brought in children to drive some of its plots forward, but also to showcase a season of non-traditional families and how they can be made. It's so rare to really see it (and not just talk about it) in an Austen-like period drama.
SEVERANCE, "The We We Are", April 8, 2022, Actors: Adam Scott, Britt Lower and more
The Scene: The ending
Lucas:
Everything that happened during this season led to these cathartic last moments where every character is facing huge and emotional challenges. I was at the edge of my seat during the whole episode, but especially during these final minutes full of excruciating, brilliant tension.
STAR TREK: PICARD, "Two of One" & "Monsters", April 7 & 14, 2022, Actors: Patrick Stewart, James Callis, Alison Pill and more, The Scenes: Therapy extrapolation scene & Jurati sings
Laura B:
It was so fun to get to see James Callis come wondering into Star Trek as some version of Picard's father, a man who seems to be rather misunderstood by Picard, adding weight to his ongoing story of not being able to let others in. Admittedly, while this story is deeply personal for Picard, I felt season two has been trying to be light and fun with the story and attribute the execution and difference in tone to perhaps new EP, Terry Matalas, making this feel a great deal more like 12 Monkeys than Star Trek. But to luck out and get James Callis was such an unexpected treat and it just kind of makes the season for me.
DJRiter:
Alison Pill is having a MVP season on the series as the dual personalities of Agnes and the Borg Queen. Never has she shined brighter than when the Queen takes over and has Agnes shed her inhibitions for a rousing performance of a Pat Benatar classic as Picard and the others try to rescue Renee.
THE EQUALIZER, "Vox Populi", April 24, 2022, Actors: Tory Kittles, Josh Drake, The Scene: Dante interviews a murder suspect
Prpleight:
This was the obligatory 'jury duty' episode. Vi is serving and her reaction to the deliberation process spurs Robyn to investigate. She, Harry and Mel, find the proof and the actual guilty party. A few episodes ago, Dante was attacked by some bad cops. His reaction to the trauma was to quit his job as a detective and re-examine why he took the job in the first place. When the jury finds the accused man innocent, his lawyer points out that the actual killer will get away with it because no one is looking for him. The system believes the guilty man got off scot-free. This is the moment when Dante realizes why being a cop is his purpose. He'll make sure the guilty person is caught and put behind bars. I loved the fact that they didn't reveal this to the audience until the last moments of the episode. This isn't how I expected Dante to make the decision to return to the police force, but I thought it was perfect.
THE GOOD DOCTOR, "Growing Pains", April 4, 2022, Actors: Fiona Gubelmann, Will Yun Lee
The Scene: Morgan challenges Park's views on the moving in together
Marko:
Morgan was often a b!tch during the course of The Good Doctor, but more than anything she was always honest. And so she is in her relationship with Park. Her setting the record straight that they shouldn't hold back on their future cause she has more money than him felt so empowering. It wasn't done out of spite, the reasoning was pure love and Fiona's Morgan had no time for Park's old school views.
THE ROOKIE, "Backstabbers", April 10, 2022, Actors: Mekia Cox, Arjay Smith
The Scene: James and Nyla's second wedding proposal
Folie-lex:
Yes, Mekia's real life pregnancy might have pushed the James/Nyla romance into overdrive. However TPTB have handled this relationship with outmost care and it is easy to root for these two to make it. And the sweet proposal in the break room, under Smitty's watchful teary eyes was proof of that.
THIS IS US, "Day of the Wedding", April 19, 2022, Actors: Mandy Moore, Justin Hartley and more, The Scenes: Rebecca sings at Kate's wedding & Kevin and Sophie get back together
Marko:
It was just another level from Mandy Moore, often underrated in the big picture of the cast Mandy is bringing her best performance week in week out. Yet, it all peaked with this performance as the lyrics brought all the feels. The way the scene carried so much emotion and the way the director let us experience the characters experience made this one exceptional scene.
Alejandra:
Kevin and Sophie finally get back together. We knew it was coming to be honest, it's been 6 years in the making but the way these two characters have me rooting for a straight couple is insane.