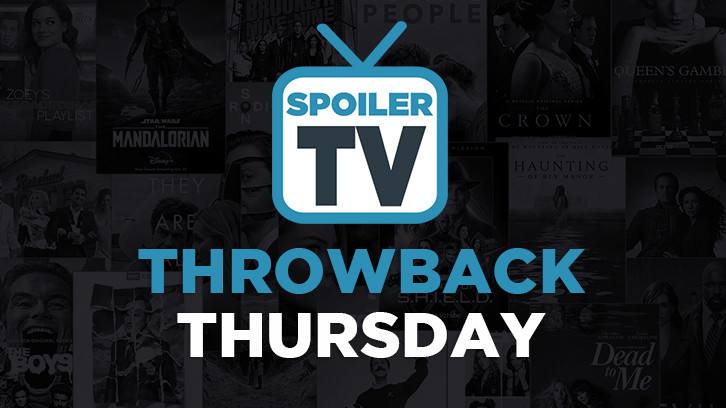 Throwback Thursday is a weekly article in which we look back at our favorite TV episodes from the past.


Original Air Date: Feb. 10, 2015
Director - Matt Barber
Writers - Matthew Miller and Phil Klemmer

Previously on Forever - Nemesis Adam left Abraham a clue to his birthparents and Abraham finds their names, which allows him to start learning about his birth family.



This Throwback Thursday is a bit different for me because I usually try to showcase a variety of tv series. Instead, this episode is a continuation of the
episode of Forever, I most recently reviewed
. While it is not a two-parter, per se, it does continue the storyline of Abraham finding his long-lost relatives and says a lot about what it means to be family and what it means to be home. Who makes up a family? Is sharing a bloodline important? Should kids be held responsible for the sins of their fathers? It's this depth of questioning that transforms a typical crime case into one of my favorite episodes of Forever and ends with one of my favorite scenes in all of television. So, please pardon me for sticking with the same show, but I hope you enjoy this trip down memory lane with me.
The episode opens in line at the fictional Urkesh embassy, where a man is trying to get a visa. When asked why, he says that he wants to go home to die. He ends up being the exiled king of Urkesh, which causes quite the stir. Later, he sits on a park bench feeding the birds, when he clutches at his chest and slumps over dead. Back at Chez Morgan, Henry and Abe are having breakfast, together? They sit at the same table but do not interact, both reading. Henry inspects the newspaper while Abe peruses the phone book. They still make those? It's good to know that it's not only phones and social media that cause people to completely ignore each other while eating. Apparently, older news sources did the same. Henry finally looks up and questions the phone book, snapping Abe out of his reverie to talk about his search for any living relatives. Abraham: "Wait a minute. No, no, no. I'm the one who's being thoughtless now." Henry: "Don't beat yourself up. I'm used to being ignored at the breakfast table." Abraham: "No, no, what I mean is I don't need a family tree to tell me who my real Pops is." Henry: "Oh, nor I, my real son." It's a sweet moment to open, causing Henry to ponder the meaning of family in a voice over. VO: "Why do we feel compelled to trace our roots? Those names in the family tree are just that, names, and yet the kinship we feel to them is powerful. Does the fact that we're rooted in history make us feel more secure in our present? But what if our family trees are more like vines, twining aimlessly throughout the ages?"
Henry is called from breakfast to inspect the dead body. Hanson and Jo think that it's a natural death and a rookie got too eager when he called it in as a homicide. Good thing the rookie did. As Henry examines the body, he sees an old, jagged scar on its torso and flashes back to his honeymoon with Abigail. They are vacationing on the Orient Express, when a knock interrupts their discussion of whether to have a baby or not. Abigail is pro-baby, but Henry feels that another child would only lead to considerable heartache since he is immortal. An imposing man is at the door and claims that a child is sick and needs a doctor. They both rush to the boy, who has appendicitis. Henry realizes that they will have to remove the appendix on the train, because the boy is in acute distress. It's the scar that leads Henry to conclude that the boy on the train and the dead body are the same person. His flashback ends when the king's wife, Zarina, rushes into the morgue to identify her husband's body. Henry offers her support in Russian, which prompts Jo's interest. Jo: "I don't get it, Henry. A person would have to live 10 lives to pick up everything you have." Henry: "Or just one very long one." Ha!
While Henry investigates if there is a crime, Abe launches his own investigation into all possible relatives. He sets up a huge board in his shop that lists everyone he's found. When Henry joins him, Abe is eager to share how far he has progressed in such a short amount of time. Abe: "Hey, what if I turned out to be related to someone really famous? You know, like Charlesmagne or…uh, Napoleon or George Washington." Henry, deadpans: "I don't believe any of those gentlemen are Jewish." Ha! It's funny so much more for the delivery than the words themselves. This doesn't dampen Abe's enthusiasm, though, until Henry starts reflecting on his flashback with the king. He questions whether Abe ever thought about having children, but he has no regrets in that department. Henry: "Do you ever think about your legacy?" Abe: "What do you mean? An heir? Now, why would I need an heir? I have you so part of me, spiritually, will go on forever." Henry: "That's very sweet of you…I think."
The mood grows somber until Abe questions why Henry pocketed a ring from his store. Abe exposits that Henry gave him the ring after Abigail and he came back from their honeymoon. Let's just say young Abe was less than pleased with his stay on the family farm. The king of Urkesh gave it to Henry for saving his son with the appendectomy. In the present, Henry takes the ring back to Zarina, explaining that he deals in antiques and thought it should go back to the original family. Zarina states that they were never able to have kids but that Armen had a happy life away from the pressures of being king. His only wish was to return to his homeland before he died. They chat some more about his cancer, but Zarina claims that he did not get radiation treatment for the disease. Alarm bells go off in Henry's head as he realizes that the king was poisoned. He races back to the lab but the body is being taken away by the Urkesh government. Getting Lucas to halt the elevator, he takes a Geiger counter to confirm the radiation. After claiming that the elevator is now irradiated, the men who came for the body are quite fine leaving it with Henry to do the autopsy. Lucas updates Jo on the new findings. Henry: "Kings aren't murdered. They're assassinated. Well, what are you waiting for? We've got work to do." Lucas: "I think I'll take the stairs." Good thinking, Lucas!