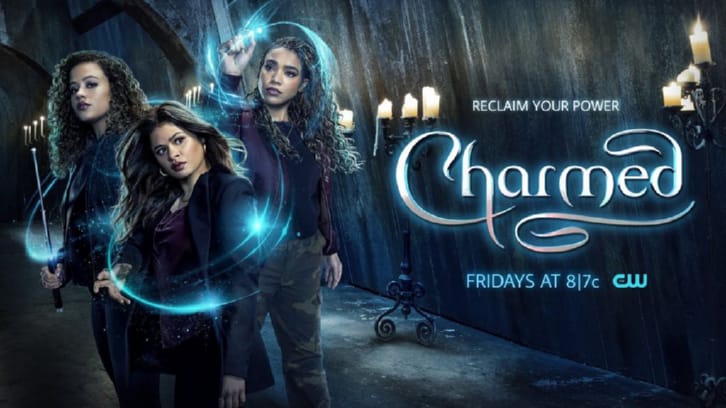 After finding Kaela in the season premiere, episode 2 had the job to get her to embrace her new path and let the remaining Charmed family accept her into their "family". The episode was directed by former Showrunner Liz Krueger, who co-wrote the episode alongside Blake Taylor.
Credit Carlos Rubio
Where this episode excelled was giving every character significant character moments and progressing the story in the proper direction. So let's start this review with my take on Kaela's journey so far. Lucy Barrett delivered another stellar performance. After her authentic reaction to magic and her new predicament in episode 1, we see her trying to walk away from the new path and return to "normality". Seeing Kaela having a life in Philly was a crucial point in the episode and her journey so far. It is tough not to compare Kaela's story to Paige's from the OG show but Kaela actually having a life and not just a job was better handled than in the OG. It provided Kaela with more substance and motivation. Mya Lowe's Brynn was a good counterpart to Kaela, their energies just worked so well together. and made the episode flow seemingly. The writers established closeness very rapidly and any concern for each other seemed legitimate and honest. Also, their connection worked well as a trigger for Kaela to use her powers properly as her powers were needed to rescue Harry and Jordan. Was it too convenient yes but most character moments work with convenience, don't they? Harry's speech to Kaela and Lucy Barrett's reaction to it was quite gripping.
On the other side of the emotional spectrum, we meet Maggie. The youngest sister is continuing her down-road spiral and it ain't looking good. There was a slight discrepancy between Maggie's initial reaction to Kaela in episode 1 and where we meet her in episode 2. At the end of the premiere, Maggie was ecstatic about Kaela being there, seeing Kaela as a saving grace for herself and her relationship with Mel. We start episode 2 in an utterly different place with Maggie, she is distant, cold, uninterested. Initially, I couldn't relate to it as a viewer so it was good to see the writers gave it some background as the episode progressed. Seeing that Maggie's apathy is born out of her pain and fear was a strong character moment and gave Macy's death even more substance. Also, I found the introduction of the Vittra very vital to Maggie's path. Showing that Maggie is vulnerable and not quite invincible contributed to deepening her fear about embracing Kaela into her life. The moment in the Command center when Maggie was confronted with the reality of Kaela staying was so powerful. Sarah Jeffery did so much with her face and made me exhale a deep sigh. The way this little moment succeeded in expressing so much was quite strong. Switching from this soft moment to slayer Maggie was executed very well. The shift in energy and tone revived the episode's final moments and reminded us that surviving grief is a marathon and not a sprint.
Kiss n' Tell Mel was in a good mode this week and it wasn't related to another hookup. Mel was a woman on a mission and if you know Mel you know she doesn't do stuff halfsies. Mel threw herself fully into recruiting Kaela as it would seemingly be the fix everything that is wrong in her life. Kaela was the bandage Mel desperately needed but she didn't understand that Kaela didn't need her and maybe isn't the perfect match. It is a complicated path for Mel, not only from her own personal point of view but also for us who watch the show. Over the seasons there was a lot of criticism about Mel and Macy's relationship and rightfully so. They were underdeveloped as sisters and barely shared any relevant scenes, so people can't relate to her grief. That is why I find it okay to keep Mel's response to Kaela on a different level than Maggie's. And Mel isn't perfect and the show embraces her overbearing nature and lets her loose on Kaela in all the adorable way. Mel not understanding Kaela's pov felt like classic Mel. The binocular spell was comedic gold, kudos to Melonie Diaz for pulling it off with a straight face. Mel realizing the mistakes of her ways was another good character-driven moment. Even if many viewers will disagree, Mel did learn so much from Macy, she also learned from the mistakes she made with Macy. So it is good to see Mel embracing Kaela, her Van, and her different nature.
And while Jordan maybe doesn't really know what type of creature he is and what his purpose is, he has a great codename for it. Bootleg Whitelighter. As usual, Jordan provides so much stability and neutrality to the show, often saying what you think as a viewer. Jordan's concern about Maggie isn't what makes Jordan so dreamy, the way he approaches and respects her feelings is what makes him perfect. Seeing the contrast between Jordan's and Harry's behavior served as a good way to show how life and trauma affect different people and how different their responses can look. Keeping up with A-hole Harry proved to be a very tedious task for Jordan, yet he found a way to push through and sort of inspire Harry as well. Harry's "edgy" response to Macy's death is an interesting take on his grief. Where will this lead Harry? Is being a Whitelighter still his purpose? A-hole Harry tricking the 6'4'' Leprechaun was a hilarious scene though. Michael Maize was a great Frank, wished we'd see a few of his lucky powers though.
Other tidbits:
- Where can I get myself a Seymour? The Vittra and Seymour were a great duo, even though it retcons a bit of the previous events of the show. Yes, there aren't many Vittra's out there but they should've appeared a couple of times during seasons 1 & 2 at least. And while Vittra was punished for the same crimes she was hunting, Seymour is still in the game.
- Also a bit curious about The Vittra's line about knowing Maggie from somewhere, is it a foreshadowing of some time-traveling?
- Sunny seems fun, even though lacking the sunshine part. Jessica Hayley's is another great addition to the season. Just as Mya Lowe's Brynn she is expected to recur this season.
- It was hard to see Chloe as depressed as she was in this episode. Emily Bader was so poignant in that scene, truly moving. Chloe is expected to appear in one more episode this season.
That is a wrap on my side of 402. What are your thoughts on the episode? Share your thoughts in the comment section below and don't forget to tune into new episodes of Charmed every Friday 8/7 central on The CW or stream the next day on the CW App.