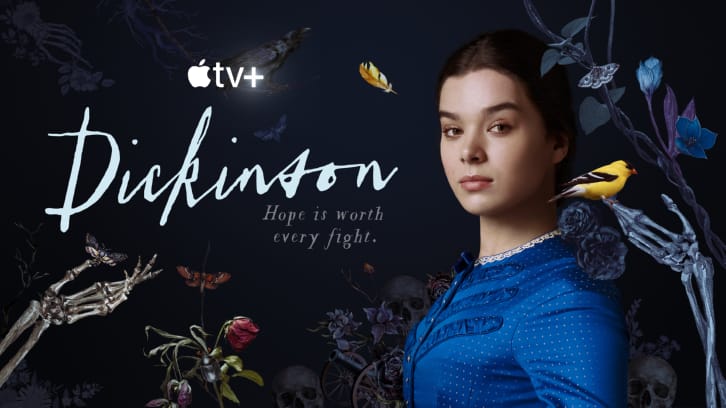 SPOILERS ABOUND BELOW. DO NOT READ UNLESS YOU HAVE SEEN ALL OF THE EPISODES THAT ENCOMPASS THE FIRST HALF OF SEASON 3.

This article was written by Aimee Hicks and Lucas Oliveira. The open and close of the article were written by Aimee Hicks. Prepared for publishing by Aimee Hicks.

Dickinson returned this month to grace our screens with the final chapter in Emily Dickinson's (Hailee Steinfeld) journey to become the poet whose legacy still endures today. For a series that will conclude after just three seasons, it has already carved out a special place within the lexicon of TV lore. The expectations coming into this season were quite high, especially given how the prior season ended. In this article, we will look back at the first half of this season and discuss if it met our expectations and discuss some of our favorite moments.

Please continue reading below to see what we felt stood out the most. After reading, please leave your own thoughts in the comments.
What were your overall thoughts about the first half of the season? Did it meet your expectations?

Aimee: The first half of this season met then preceded to blow past my expectations for it. Going into the final season of any show is bittersweet, but there is something magical about a final season where the writers have a chance to write towards an end. Everything in these episodes is pushing the narrative towards its conclusion, but they didn't stop writing new and interesting things just because the series is ending. In fact, I think they are putting some of their best material to date in this final season. The first half of this season has been everything I could have hoped for and more.

What I think has been really unique about the first half of this season is how they have incorporated the Civil War into the story. The Dickinson family tries its best to keep life going on like normal while the world around them is falling apart. Then the family itself starts to fall apart with Edward's (Toby Huss) heart attack, Austin (Adrian Enscoe) spiraling because of his failing marriage with Sue (Ella Hunt), and the growing tension between Sue and Emily (Hailee Steinfeld). It all made me feel bad for Lavinia (Anna Baryshnikov) and Mrs. Dickinson (Jane Krakowski) who were left to deal with their wild and at times untamed family, while also still navigating their own complex lives.

Even with all of the Dickinson family chaos going on the writers still took time to carve out beautiful stories for the other characters. These episodes have given Betty (Amanda Warren) and Henry (Chinaza Uche) their best material yet. Handed powerful material to work with, Warren and Uche are taking full advantage by delivering incredible performances that spanned from funny to serious. They have become surprise standouts this season. To stand out in a cast as jam-packed with talent as this cast is a noteworthy achievement in and of itself. I'm so glad they were given this storyline.

I love that the writers aren't making anything easy on any of the characters. It's when these characters struggle and have to overcome adversity that the most incredible character moments are unveiled. All of this combined to deliver a powerhouse start to this season that far exceeded any expectations for this season.

Lucas: While Ella Hunt's voice tells us about how Emily Dickinson wrote furiously in wartime, even though she isn't recognized as a war poet, real photographs related to the poet appear on the screen. Then, it's showtime. Introvert by Little Simz is playing in the background. Emily is on the battlefield fighting for her country. Men fall and rise, and Emily fights, fights, then runs. But she's not running away from the war. She is running towards it, going to her bedroom upstairs to write some poetry. War is everywhere: around the world, inside her family. Living in her mind. That's how the third and final season of Dickinson begins, proposing a fantastic journey through Emily's poems, feelings, and history.

In this first half, Emily is facing emotional turmoil, as many things are happening at the same time: a death in the family, Sue's pregnancy, Austin's decay, Lavinia and Mrs. Dickinson's grief, Edward's disease, friends leaving who may not return, the war, of course, and a house divided. This part prepares the audience for the future while also succeeding to deliver some really good moments. Each character is in position for the final act. Betty and Henry, for example, finally get some attention. While Henry is far from home, hoping to help in the war by teaching literacy to a group of soldiers, Betty is dealing with her husband's absence, coping with the fact that she didn't receive any letter from him — which might mean he's gone.

It's safe to say these five episodes exceeded my expectations. I laughed, I got emotional, I laughed again, and then I was amazed while also thinking about interesting aspects of life, death, and writing. It's also interesting that it manages to focus on Emily, her family, and everything happening with our most beloved characters in Amherst without forgetting to deal with the actual war, the one we get to see through Henry, the soldiers, and Thomas Wentworth Higginson (Gabriel Ebert). A marvelous beginning of the end, in conclusion.
What moments and episodes stood out the most for you in the first half of this season?

Aimee: All of them, honestly. Every episode had multiple standout moments and each episode was special for one reason or another. In "Hope" is the thing with feathers (3x1) it was the big family confrontation at the end of the episode that ended with Edward's heart attack. The standout moment in It feels a shame to be Alive - (3x2) was the birth of Austin and Sue's son. More specifically the moment Sue went into labor. That whole sequence between Hunt and Steinfeld was a peak example of how incredible those two are as scene partners. They played that whole scene perfectly. For The Soul has Bandaged moments (3x3) it was the heartwarming and heartbreaking conversation between Emily and Sue with Sue so desperate to make a family with Emily. Then there was This is my letter to the World (3x4) and while that is an utterly brilliant episode in its unpredictability I think the moment that most stood out was the very end with Emily declaring her love for Sue to near-strangers then just letting loose. Steinfeld and everyone else in that scene clearly had fun filming it and it is impossible to not just smile while watching that scene. That leads to Sang from the Heart, Sire (3x5) and two moments stand out in this episode, first with Austin making his big declaration to leave his family business and divorce Sue. Then there was Sue's confrontation with Emily which ended the first half of this season with a real gut-check. These episodes have paved the path for what promises to be an incredible end to this exceptional series.

Lucas: The best part for me is that almost every episode has at least one really good moment I could mention. In "Hope" is the thing with feathers, the funeral scene was shocking and unexpected; when Emily needed to escape from Mr. Conkey's (Robert Picardo) amorous advances with Betty's help, I couldn't believe what was happening — it was absurd in so many ironic ways, and every actor involved in this scene nailed it. Finally, the ending sequence, when Austin has a drastic outburst, Mr. Dickinson experiences a heart attack and almost dies, Sue feels contractions, all at once. There's also a hopeful bird. This moment ended the season opener with a promise that this would be a crazy journey.

In It feels a shame to be Alive -, when Sue is having her baby, Mrs. Dickinson is trying to help her most carelessly, and Emily has no idea what she should be doing — that was gold. Later, Emily talked to Frazer Stearns, our Nobody. In my opinion, his character was one of the most intriguing things about Season 2, so I was very moved while watching him say goodbye.

This is my letter to the World reaches a level of craziness worth every single second of it. The whole sequence involving Emily and Walt Whitman was so much fun — especially when Louisa May Alcott (Zosia Mamet) joined them. I laughed a lot but also felt inspired and moved by the things Whitman and Alcott said to Emily. Especially when I think about that ending in the bar — that scene is special to me in so many ways, and I consider it one of the most remarkable ones from the entire series.

Sang from the Heart, Sire ends this first part with a poignant and somewhat funny sequence. Austin has had enough: he wants to divorce Sue and take full custody of their child. He also wants to start a business on his own, which his father doesn't take too well. All while Emily is trying to calm the conflict, Sue is hurt by the situation, Lavinia is silent in honor of the dead soldiers, and Mrs. Dickinson... Well, she wasn't present in this scene because she wanted to show everyone her wedding dress. When she returns and interrupts the stressful situation all dressed in white, looking happy first, later realizing something is going on, I burst out laughing. The comedic timing was so good. The drama continues after Mrs. Dickinson leaves the room, and it's broken again when she falls down the stairs. After everything that happened that night, Lavinia delivers her only line in this episode:
"Okay, I'm breaking my vow of silence to say: this family is absolutely insane"
This sequence is so well-acted — every word and silence had a part in making it intense and hilarious, serious but not so much that all fun is lost. That's when the show is at its best for me, and I'm really glad we already got so many wholesome moments this season so far.
Given that this is the final season of the show, how do you think this first half of the season is doing in setting up the final episodes? Were there any big surprises you didn't see coming?
Aimee:
I think these episodes have set up what promises to be a fast-paced and intense push to the series finale. There is a real pulsing energy in these episodes with the Civil War raging around the characters while a familial Civil War is raging within the Dickinson family. Even while dealing with deep subject matter the series still hasn't lost its magic and at times eccentric nature that has made it such a special series from the start.
A few things did surprise me, starting with Sue having a baby. It wasn't a surprise that Sue had a child with Austin, that was true to the real Sue who had a total of three children with him. What surprised me the most was how Emily reacted to her nephew and how Sue wanted to raise her son with Emily. It created a multitude of issues within the family as Sue struggled to figure out how to raise her son while stuck between the man she is married to and the woman she loves. Which led to one of the other big surprises for me at the conclusion of
Sang from the Heart, Sire
where not only did Austin declare his intent to divorce Sue and take their son but also of Sue confronting Emily about her letters to Thomas Wentworth Higginson and then walking away from her. These three characters who are so complexly linked managed, in the span of a single episode, to all end up alone. I think what surprised me the most is how they held this big implosion for mid-season. With so few episodes left they have so much work to do to bring their intertwined stories to a satisfactory conclusion. Explosive performances by Steinfeld, Hunt, and Enscoe who all never fail to really tap into the wild and unpredictable emotional state of their characters to make these moments really hit.
The other big surprise for me was the introduction of Thomas Wentworth Higginson. He played such a pivotal role in the real Emily's poems being introduced to the world that it would have been a shame to not bring him in for this final season. The best part about his story is he wasn't just brought in for a quick cameo at some point in the season. They have given him an actual purpose in the overall season and that's been a really nice touch. I can't wait to find out when or if he and Emily will actually meet. It was many years of corresponding before the real Emily and Thomas met. There were many surprises in these episodes and this answer would be pages long if I went over them all, but these were the ones that stood out the most to me.
Lucas:
While there is so much going on, I feel this first part does a great job establishing new plots while paving the way for everything to wrap up. The way Emily deals with her writing, her relationship with Sue and her family, and what this means for her identity — these things were developed through the whole show, and I feel this part sets up a huge payoff that will come in the last part.
By the way, some things surprised me. First, the death of Aunt Lavinia (Jessica Hecht) was very unexpected. I was satisfied to watch how it impacted Mrs. Dickinson, whose main plot is related to facing grief and moving on. And the whole bird metaphor in episode one is very beautiful. Jane Humphrey's (Gus Birney) departure is another occurrence I didn't expect, as I was pleased by her relationship with Austin and curious to see if she would get a bigger role in the series. However, she left Amherst behind very soon; thinking now, I feel that's for the best, as this shapes Austin's spirit for what's to come. Also, as I didn't get in touch with any promo, I wasn't aware of Sojourner Truth (Ziwe Fumudoh) and Walt Whitman (Billy Eichner) appearing, as well as Louisa May Alcott's return, and I can't stress enough how much these three cameos made me surprised and happy.
Which performer do you think stood out the most in these episodes? What was their best moment?
Aimee:
This is a question I was dreading answering. Every single member of this cast always delivers which makes it incredibly hard to just pick one of them. For these first five episodes, it has to be a tie for me between Hailee Steinfeld and Adrian Enscoe. These episodes proved very challenging for Austin. He lost the love of his life when Jane left. He felt an outcast from his own family. Then in a desperate attempt to take control of his life again, he made the big bold move to divorce Sue and gain full custody of their son. Enscoe was handed some intense material as Austin fell into despair trying to find peace at the bottom of bottles of alcohol. He delivered some of his best performances of the series in these episodes. As for Steinfeld, she is always a standout in every episode of every season, in every series and movie she does. She just has this natural charisma that draws the audience's attention to her. These episodes showed Emily struggling with how to balance her writing with her love for Sue with the demands of her family. It is a balance that to this point has evaded Emily and guiding Emily through these messy situations allowed Steinfeld to deliver one incredible performance after another.
Lucas:
That's difficult to answer because I think the entire cast is amazing. They are all great in their roles, especially when led by Hailee Steinfeld and her impressive versatile power. Yet, I feel the need to write a special shoutout to Jane Krakowski's Mrs. Dickinson and Anna Baryshnikov's Lavinia. Things can get pretty messy and dramatic when Emily is dealing with her father, Austin, and Sue. This season is also approaching war and racial issues, so it can get heavy sometimes. However, whenever these two are onscreen, they shine and make everything so funny. I recognize a sarcastic nature in their characters, who also get some great genuine moments of pure emotion. The last scene in the fifth episode is a good example of this. There is drama, tension, sadness, but we get to smile and breathe again when Lavinia and Mrs. Dickinson enter the room. Honorable mention to Ziwe's Sojourner, who makes a triumphant entrance in this first part. Billy Eichner as Walt Whitman and Zosia Mamet as Louisa May Alcott are remarkable as well in every moment they appear.
The first half of this season graced us with moments of laughter mixed with dramatic turns. It hasn't been an easy journey for Emily or those she loves and cares about. With all the has happened so far the rest of this season is guaranteed to be a wild ride. Join us again after the series finale ends to read our thoughts on how the last half of the season concluded this brilliant series.
Please use the comments to discuss all your favorite parts of first half of Season 3 of Apple TV+'s Dickinson.