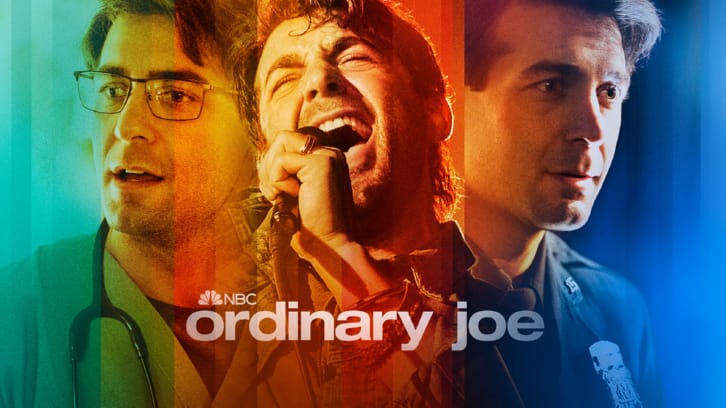 There is always an episode of a new show where it starts to set its course and reveal where things are headed. The set up is done, we know the characters and in this case, the different versions of Joe. In this episode, each timeline starts to define what it wants to be and I found it pretty fascinating. Read on for some teasers!

Cop Joe
Blue Joe
spends a lot of the episode dealing with the consequences of Coleman dying in the previous episode and it sends him to a place that he struggles with. He also spends time with both Jenny and Amy and by the close of the episode he starts to distance himself from one thanks to an outside party. As I said in the opening, we start to see what each version's story is going to be and I would say this Joe's arc is going to be a mystery to unpack. He also is the Joe that I want to just hug because he really gets a lot thrown at him here. Now on to Nurse Joe...
Nurse Joe
If Blue Joe's Arc is going to be mystery, I would classify
Green Joe's
to be family drama. He and Jenny make good on the couple's therapy coupon and it really goes in on their issues. We also get to see Eric and Amy supporting them throughout these trying times. Chris also finds out something about his father that makes him question all that his dad may have given up to raise him. There are a lot of tender moments here as always and you can always count on this version of Joe's life to pull at the heartstrings. Additionally this is the only storyline where I can somewhat tolerate Diaz. Rocker Joe is next and well....
Rocker Joe
I know I have been pretty harsh on
Red Joe and Jenny
and honestly, it is earned in my opinion. In this episode we see where this version is going and I would classify it as a bit soapy. It is also the first time I think we've spent so much continuous time on one version of Joe. He gets a lead on his son and I actually felt for both him and Jenny for the first time in this version. You get to see the toll it took on her to make her decision to place their son and it is very moving. But, as he moves closer to his son, he also starts to widen the divide with Amy and is called out for it early on. Additionally, it annoys me that he doesn't get how public big his image is and the impact it could have on Amy's fledgling political career.
That is it for me. Hit the comments with your predictions and don't forget to tune in tomorrow!