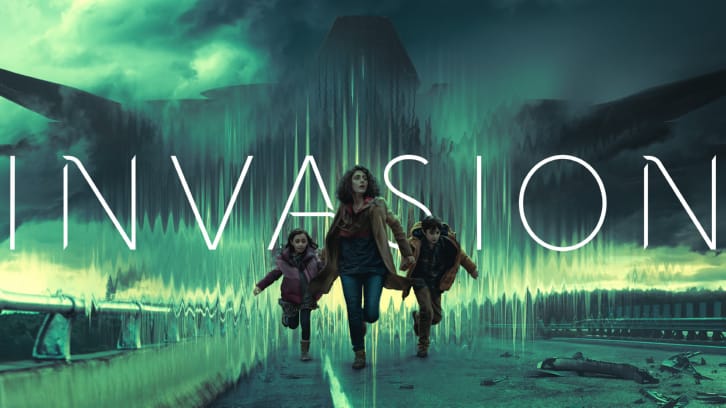 If you went into Invasion expecting a Michael Bay/Roland Emmerich-destruction fair ala Independence Day, 10 episodes of pure spectacle, one thing is very clear from the end of episode three is that it's going to be a slow burn. I like this approach – alien invasions don't always happen instantaneously, and the people of Earth are still trying to figure out what's going on. It's reminiscent of the chaos of Torchwood: Children of Earth mixed with the global narratives of Sense8 – and with AppleTV+'s unlimited budget at the helm, we're given a myriad of locations that would make even a James Bond film look jealous – Invasion feels clearly universal with its multiple storylines happening simultaneously in America, the UK, Afghanistan and Japan – most of its budget must have actually gone into getting the crew to these different locations as they show no signs of intersecting just yet.

Events are unfolding in real time across the globe under the eyes of creators David Weil (Solos, Hunters) and Simon Kinberg. Kinberg is no stranger to sci-fi epics – his experience on the X-Men franchise is testament to that, but maybe giving what is effectively a blank cheque to someone whose last major movie was X-Men: Dark Phoenix may not be the best idea, as for all its ambition, Invasion struggles to make you invested – and in an age of peak television where you can get better shows elsewhere it never really gives you a reason to make you want to stick with it.

There are promising signs – and AppleTV+ made the right call in releasing three episodes at once before switching to weekly rather than going straight into the weekly model, but its influence is reminiscent at times of The Walking Dead at its weakest – too wrapped up in grinding the pace to a halt. Whilst it's important to know who our characters are and where they stand at this stage of the season, Invasion puts the breaks on perhaps a bit too much – by the end of episode three we're no closer to where we were in episode two, and we've learnt few more things about the characters. One of the best decisions that Torchwood: Children of Earth did was keep its episode count limited to four – Invasion, unless something drastic happens soon – already looks like it's trying to pan out its episodes to increase the season length and keep AppleTV+ members subscribed.

The sense of paranoia and the unknown echoes that of H.G. Wells – three episodes in and we're still no closer to learning what the enemy is, other than that there is one, universal attacks are happening all over and the idea of the threat being alien isn't even considered yet. Why should it be, when humanity has so many problems of its own?

Instead the decision to switch the focus on the characters really does a good job at establishing who they are and where each of them stand – a school field trip in England has a bus crash in a quarry seeing their only supervising adult heavily injured, whilst Oklahoma plays host to John Bell Tyson (Sam Neill), a Sherriff on the verge of retirement, who comes across an unexplained crop-circle whilst on a case, whilst in Afghanistan, a group of Navy SEALS come under attack leaving one survivor, Trevante Ward (Shamier Anderson), from an unknown aircraft unlike anything he's seen before. In New York, there's relationship trouble as the city experiences several blackouts – Aneesha Malik (Golshifteh Farahani) must live with the fact that her husband has cheated on her, despite her sacrificing everything to be with him.

When asked why – she's told that the instagrammer he's involved with is not her. A newly launched space shuttle, Japan's pride and joy – explodes without warning and loses contact with the ground - one of its occupants has a shared connection with engineer Mitsuki (Shiori Kutsana), who risks her job and her career to find out why. Keeping track of all these storylines doesn't require excessive note-taking because the show spends so much time with these characters – it doesn't feel like it's rushing to get where its going. With so many of these storylines feeling like they're ripped straight from the basic playbook of stock characters nothing stands out as instantly a favourite or the weakest, they just feel overwhelmingly generic – but whilst Invasion may borrow from the template, its biggest strength is that it keeps things small and focused whilst reminding you of the bigger picture, something that AppleTV+'s counterpart series, Foundation has so far failed to balance – putting people first, keeping them in the dark at every turn – a Japanese engineer knows about as little as to what's going on as an American Sheriff. A more impatient filmmaker would have blown up the White House by now, and showed the aliens. We don't get that here.

You'll know pretty early on whether or not you will have the patience to stick with Invasion. It has its ups and downs – its pop-culture references range from a group of SEALS singing along to one of the songs for Moana (because, as per the unwritten rule of Hollywood, when there's a group of military personnel together on a journey from point a to point b and in the calm before the storm they must engage in a sing-along), to a kid comparing life to Fortnite, and they can feel a bit like they've come along either five years too late or are the walking equivalent of the "how do you do fellow kids" meme – meant to give you a further sense of time and place but falling short.

The sooner AppleTV+ figure out that sometimes throwing an unlimited budget and a well-established creator at a show with maybe one or two big names and pretty visuals isn't enough to make a good show, the better – multiple series have fallen by the wayside and into the category of "eh, it's fine" and – as mentioned above, in an age of peak television, that's not good enough. As a personal study of how characters react to an unknown crisis, Invasion has potential – but it can slow things down a bit too much for its own good.

See you next week for episode four, which is hopefully an improvement! It's looking like it will be hard to make a judgement call on Invasion until after it's done at this stage - we're nowhere near the "answers" part yet.