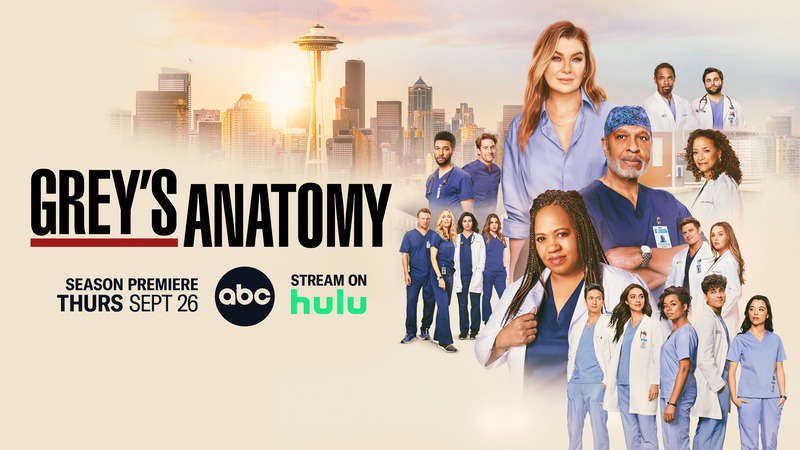 Grey's Anatomy is back for its 18th season. Grey's continues its impressive run and heading to the big 400th this season. After a Covid- and Beach-centric season 17, we enter a new era of Greys. The premiere episode was directed by Debbie Allen and written by Meg Marinis.
Overall, it was a solid premiere. It was fluffy, cuddling with decent story progression, well-paced, and with a decent amount of laughs and emotions, yet it did miss some edge. It missed that authentic Grey's mark which just takes your breath away. But those days of Grey's are a bit behind us, the show does deliver the occasional killer but it's not what it used to be. After 17 seasons finding stories and patients to tell stories that matter is certainly challenging. At this point, I am just happy they've stopped running stories in circles.
The premiere episode found Meridith in Minnesota where she was courted from multiple sides. First and foremost David Gallagher's Dr. Hamilton is building a research lab for Meridith. All that shiny sparkly equipment and promise of making history are surely tempting and you could see Meridith starting to drool a bit over the new challenges offered to her. The writers played a bit dirty here as they've once again inserted Meredith that Elis worm into her head. Be extraordinary. And Meridith fought with this thought so much and so long, but some traumas are just buried in our subconscious and wait for the right moment to resurface. It was a smart move to reintroduce Meridith's struggle at this point, she is at peace. She fought back from Covid and life is just normal. But is normalcy what Meridith wants? That is probably the question that will linger over Mer's (and our) head during this season.
Other than the temptation of making history, Mer also was tempted by a returning (and new series regular) character played by Scott Speedman. Scott Speedman played Dr. Nick Lang back in season 14 where he and our heroine formed a sizzling connection, that left an impression on quite a bunch of fans. Mer saved Nick's life back in the one episode he appeared. The interaction between them during the premiere was really satisfying, the teasing and playing were all fun and nice and we shall see how this will pan out during the season.
My favorite part of the premiere though was the interviews with the surgeons and introduction of Dr. Michelle Lin (played by Lynn Chen). Dr. Lin was such a badass and the way she radiated confidence and expressed herself was Christina Yang level of badassery. I know it is probably an exaggeration but her unapologetic energy was just such a delight. I'd prefer her as a regular than Nick to be honest. I do hope that Richard's training of his residents won't be off-screen cause we certainly deserve more of Helm and Perez who really grew on me over the last year.
Meanwhile, Teddy and Owen's circle of hurt finally ended, I hope at least. The odd couple finally tied the knot and created some work for the Hospital in the process. The push and pull between Teddy and Owen over the last couple of seasons was just immensely tedious and irritating. Owen hiding things and being seemingly only halfway into the relationship is just a pattern of his awfully written character the writers are faithful to. After all, they went through, he couldn't book the Priest? Are the writers serious with that shat? Just more of the disappointing stuff from Owen and what in the heck were those vows? Teddy nailed that, just once again proving that her love for Owen is going beyond the greater good for her. Kim Raver once again delivered so much emotion and fragility in her speech, I am just in awe with her talent.
The episode provided focus on another big Grey's couple, Amelia and Linc were extending the existing rift between them. I see both sides, both of them were burned, both of them have their deep personal issues and have a different vision of life. When they initially got together it was hot and heavy, then Amelia got pregnant, then Covid hit, they never got an opportunity to be just them and settle this topic. But somehow I can't contemplate that this love, this chemistry will burn down because of the topic of Marriage. My faith in these writers and happy endings is deeply damaged and I can't see them make this mess they made work without either character getting hit hard.
Other tidbits:
- Why did we have to separate Megan and Nathan? They had the perfect ending! Is Megan about to appear more so they've needed a reason to untie her from Nathan?
- I found Hayes really adorable this week. He was like a hurt puppy needing a good cuddle. I can relate to his son, as I felt very uncomfortable when my dad started dating. It is an interesting topic to address. Looking forward to the see the writers explore this topic and involving Miranda and her family is a great move.
- Jo really brought the necessary laughs during the episode. Camila Luddington killed it. I loved the hair though.
- Fingers crossed that Maggie will have to do more this season and not just Winston. But go and get it gurl, you deserve it.
That is a wrap on my side guys. What are your thoughts on the season 18 premiere? What do you think of the arrival of Nick Lang and Dr. Michelle Lin? Share your thoughts in the comment section below. Till next week. . .