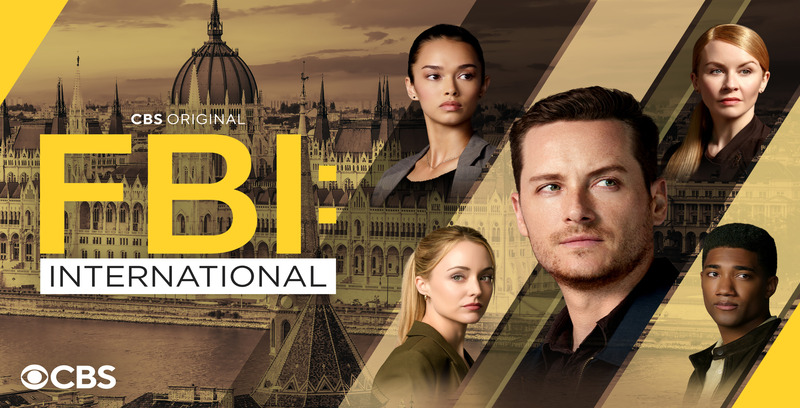 The episode opens in Spain, with a bloodied man running through the street. He runs to the American embassy, shows his passport and asks for asylum, and when he runs inside, he says "I didn't kill him".
We then shift to the office and to Raines and Vo. They are discussing their suspicions that Scott and Jamie are involved related to how they arrive to the office as they prepare to welcome Jamie back to work. They also banter back and forth about if they would ever be involved with a colleague. Raines says it would depend on who it was and Vo says she has had bad experiences and seen things go sour before. This camaraderie and how welcoming and inclusive Raines has been with Vo has been a storyline I have been enjoying, and I am curious what the plan is with the writers when it comes to the two of them.
They then interview the suspect, Drew Edmonson. He tells them that he and Raphael (the victim) met at a café six months ago. They were in a romantic relationship and Raphael had not come out to his family as they are very traditional and well connected. He tells the team that Raphael worked as a controller for a real estate company and had come out to his family a week ago and that it did not go well. He says that he went to Raphael's apartment at 9pm, and he has a key. As he was walking up the stairs, he saw a man closing his apartment door and then he walked past him. He went in and found Raphael, who had been stabbed many times, and did chest compressions and called 911, but then became afraid and ran to the embassy in order to be sure he would be treated fairly, because he knows that Raphael's family is well connected and he is a foreigner and gay, but he swears that he had nothing to do with the murder. Scott says he will be treated fairly but the crime will be investiagted fully so he needs to be honest with them.
They are interviewing the neighbor and she says that they heard 2 men fighting, and from the words it sounded like it was mostly about money but one yelled "I am not going to do this anymore". Then Katrin gets a phone call, and tells Scott he is not going to like it. Apparently the Embassy says that Drew decided to surrender to the Madrid police. Scott is very upset by this as he knows that is not the case, and he was likely pressured to do this due to the impending event at the embassy, and the Madrid police seem to have already made up their mind about Edmonson. When the team arrives at the police station, Forrester finds Diaz and says he needs to see Edmonson and Diaz says they are conducting their own interrogation. He then provides the team a tiny room to work in. They begin reviewing the photos and reports, and Raines says the Medical Examiner report doesn't even mention stab wounds. They also find that Drew has a big social media presence but few photos with Raphael and nothing that seems to show a romantic relationship except for one a few days ago.
Scott see Mrs. Delgado in the police station and goes to speak to Mrs. Delgado about her sons murder. She is very upset and she says that she and Inspector Diaz know who killed Raphael, and it was the American Homosexual who was stalking him. She says that Scott and him speaking to her is an insult she will not tolerate it and she goes to speak with Diaz.
The team consults with Jamie to hear what she has found out and she says that if Edmonson did not sign the banking documents knowingly, and he did not touch any of the money in the account, there is a chance for a defense for him. Raines pulled the bakery video and it shows Edmonson inside the bakery at 8:44pm when the neighbour heard arguing. Inspector Diaz comes in to tell the team that they are no longer on the case. Katrin is there and Delgado's mother and it looks like she pulled some strings to get rid of the team from investigating the case. This was an interesting development since we had heard from Drew that Raphael's family is very well connected, and so it certainly poses the question of whether this will make the investigation even more biased against him given how the family seems to feel about him, despite the new information the team has to provide.
We then see the questioning of Pedro and they ask why he killed Delgado. Pedro says you meet people who are smart and make smart decisions, and he presented Raphael with some good options. He says he could get him the money and he would leave him alone or if he didn't, he would hurt him and they would be surprised how many people want to get hurt. Pedro says it is Delgado's own fault that he got hurt. We find out he met Delgado at a party and Munoz said would out him if he did not get him money so he did the embezzlement, and it was supposed to be a one time thing. Eventually Pedro wanted more and when he said no, and that he had nothing over him as he had already come out to his family, Pedro went after him and killed him. Scott tells Edmonson that he doesn't think he thought anything would ever have come back to him, and Drew blames himself as he was targeted by Pedro at a party he took him to and he thinks that it is his fault he is dead.
At the ball, they see Inspector Diaz and he shakes Forrester's hand and thanks him for his help. They then meet the Prime Minister and he thanks Scott but he says it was Inspector Diaz and team that made the difference and he thanks Scott. Scott tells the team he will be at bar and Katrin explains to the team that when working in Europe, you never take credit and you will always be invited back. Raines asks Vo to dance and she says no so he dances with Katrin. Vo watches and smiles a sly smile...the way she watches Raines had to make you wonder what the plan is for these two as the season moves forward, and will it be another ship or perhaps a one-sided attraction. All I know is that I definitely want to know more.
Scott calls Jamie, and tells her it is not the same working the case with her there. She says to come over when he gets home and her scar needs another kiss or two and he says count on it. This was a very sweet way to conclude the episode, looking back at how it started and the depth of caring these two have for one another. It will be interesting to see how they choose to reveal the relationship to the rest of the team, and if there will be any reprecussions to them from the FBI once the relationship is out in the open.
Again, we were presented with a story that contained romance, excitement, mystery, good detective work and exciting chases, all wrapped up in beautiful scenery, well executed storylines and talented performances to deliver the story to our screens. FBI: International definitely is shaping up to be an excellent addition to the FBI family of shows, and I cannot wait to tune in on Tuesday each week!
Let us know what you thought about this week's episode in the comments below.