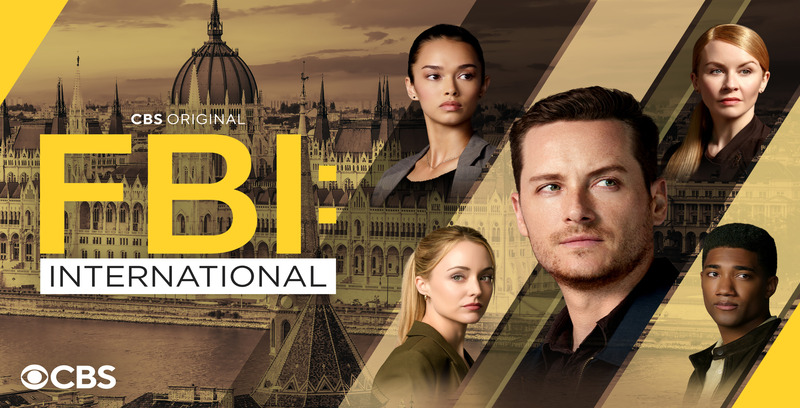 We all know that when it comes to franchise crossover episodes, Dick Wolf is the king. And for the series premiere of this new member of the FBI family, what better way to welcome them than with a 3 hour crossover event that paralleled the level of detail, intricate connections and drama of the One Chicago "Infection" marathon crossover event.
In this 3 hour event, we had the pleasure of seeing the newest members of the FBI family in action and also learning a bit about them, with some teasers of things to come, in a way that only the Wolf Entertainment team can deliver. And I for one am already hooked.
Jess (Most Wanted) and Isobel (FBI) interview Crosby's shooter, and they learn of a possible suspect in the kidnapping, and when the team go to question him, as they arrive he is falling to his death after being shot. They track down the assailant and engage in an epic shoot out as only the Wolf special effects team can deliver, and it is at this point we meet a new member of the Most Wanted team, Kristin Gaines. They track the suspects to a boat where they find many bodies of young women and realize that this is an international sex trafficking ring, and through investigation and interviewing, identify a key suspect named Colin Kent and realize that he has Sunny, whose real name is Madison. While Crosby continues to fight for his life on the operating table, Kent fleas to Croatia, and this is where we meet our FBI: International team. OA goes to Croatia to follow through with the case and try to save Sunny, as he had promised Julia at her time of death.
As we watch the team brief about the case on the plane, one cannot ignore the familiar feeling that would remind any Criminal Minds fan of how their team used to conduct briefings on the plane, including the link to tech support for information and searches, in this case the role of Garcia being filled by Jubal and Isobel. We also learn through an aside conversation how much Jubal trusts Scott Forrester, which add credibility to this new character, as who could not trust Jubal and his opinions and assessments of others.
When tracking Colin Kent to a wealthy friends home outside of Croatia, we see out first glimpse of Forrester's bad boy side as we meet Europol colleague Katrin Jaeger, who warns Forrester that they need support of local police to make any arrest and he says there is no time. After entering the home, they clash with the local police and Forrester accuses them of being in the wealthy man's pocket. So within the first 5 minutes of this new series, we are already given glimpses of Forrester's character and that he speaks his mind and may not always follow protocols when prudent. Scott speaks to one of the local police officers afterwards, and shares his experience with the number of young women from countries in Europe who are victims of these sex trafficking rings, and leaves him his card asking for his help.
We then learn a bit more about Scott Forrester when Cameron and Jaime go to a club to interview one of Jaime's informants, and Cameron asks Jaime what it takes to make it on the team. Jaime explains to her that Scott likes team members who can "do it all", and we see the first glimpse of Cameron's passion for her role as an FBI agent - something I am sure we will likely see grow and become an important part of her storyline and character moving forward, as she works to prove herself as part of the International team.
We are also able to see Scott's experience and how he works as a leader when he coaches Cameron about how to appear and act when they are completing a cell phone drop and hoping to find Kent. It is clear from this interaction that he not only cares about the job they do, but the team members themselves, which is a characteristic I am sure we could all agree is consistent with the way our leaders are portrayed in any Dick Wolf series.
We get a glimpse into who Cameron is when we learn that she has had some issues in the FBI in the past with her supervisor, and Scott indicates to her that he knew that before he approved her transfer. He shares with Cameron that he himself has been disciplined many times by bureaucrats over the years, and reassures her that as long as she does a good job as she has so far, all she needs is to keep up the good work and she will be a welcome member of the team. This conversation reaffirms our impression that Forrester is a bit of a bad boy, but also a strong and compassionate leader who I think we will all enjoy seeing in action as part of the FBI family. And based on this conversation, it is clear that there is a lot more interesting and perhaps dark secrets in Cameron's past that we will hopefully learn as the season progresses.
While we did not get to see a great deal of Andre Raines in this episode, it was clear that he had some fantastic one liners to add some comic relief to the seriousness of the show, and with the technical expertise he showed in the decrypting of the computer files, I am excited to learn more about him and see what skills he brings to the table.
We then finish the episode with a bit of a twist...in Forrester's apartment where we find Jaime naked in his bed waiting for him...I don't know about anyone else, but this was a bit of a surprise to me based on how they interacted during the case, and I think will add an interesting dynamic and added level to the plot of the show as this relationship is explored more and we see the past and future of their situation be revealed, especially since it was mentioned that they have worked together for the past five years.
Overall, I found this new installment of the FBI franchise to be engaging, action packed and in keeping with what we come to expect from Wolf Entertainment, and I am excited to continue to watch in weeks to come.
Share your thoughts about the first episode of our newest FBI show and what your hopes and predictions are in the comments below.