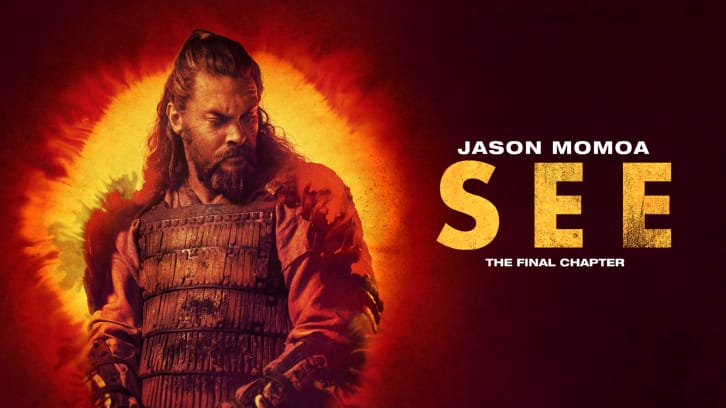 Even though the finale saw the show practically vanish from popular culture overnight, the shadow of Game of Thrones' unparalleled success at the height of its quality still hangs heavy over the heads of pretty much every streaming fantasy show regardless of any similairties or not. They all want the "next Game of Thrones". Amazon threw money at The Wheel of Time and Lord of the Rings. Netflix went for The Witcher. AppleTV+'s answer to Game of Thrones is Steven Knight's See, a post-apocalyptic dystopian fantasy where the blind rule the Earth following a massive disaster, and those few who have sight are hunted by witchfinders in a world where their very existence is outlawed.

The first season of See did not set the world alight as the three episodes sent out to critics were very introductionary heavy, and this show itself is very much a slow burner, for me, it didn't get truly interesting until the end of the first season. It's also a show that's very much not for everyone – the in-depth lore and worldbuilding that Steven Knight has clearly put plenty of attention into creating makes it almost hostile, but it's a world that feels believable, real and lived in, even if Knight takes less of a centre stage in the second season.

The second season returns with the expensive production budget that means it looks better than ever. The world and dystopian nature of a futuristic Earth set largely in the middle of woodlands and abandoned prisons at least in this first episode is gorgeous; even darkly lit furnaces have an air of light to them. This is Steven Knight territory even without Knight involvement – Taboo and Peaky Blinders both have a suitably atmospheric quality to them that director Simon Cellar-Jones (The Expanse, Years and Years, Jessica Jones) exemplifies perfectly.

The fight sequences set in the prison library are among the most well-lit and well-choreographed of the show, as you watch Jason Momoa's Baba Voss (one of the most badass character names around right now, honestly) go head-to-head against the series' villain, Jerlamarel (Joshua Henry) father of Baba's adopted children with sight, Haniwa (Nesta Cooper), and Kofun (Archie Madekwe), in an episode that calls back to mind Guardians of the Galaxy Vol. 2 with Peter warming up to Ego before being betrayed by his father and siding with his adopted father, Yondu. It's more of the same here, but that doesn't mean it's anything short of fun to watch.

The first season saw Kofun and Haniwa find their father leaving Baba Voss behind to the sanctuary of the House of Enlightenment. Jerlamarel takes them under their wing and shows them books that he spent years searching for, containing a wealth of knowledge from the ancients. But things quickly turn sour when they are betrayed and separated, with Haniwa taken hostage and Kofun left to die. But there's someone waiting for Kofun who has tracked him – Baba Voss, stepping into save the day, and father and son are reunited again with one mission: to save their family.

Jerlamarel makes a fascinating antagonist, someone who fully commits to the belief of sight in superiority. But he's quickly put out to the pasture by Baba Voss, who has been fighting for far longer that Jerlamarel that he knows his own methods and his own way better than Jerlamarel knows his, so that when, in true Don't Breathe style, Kofun cuts the power plunging the library into darkness, Baba Voss finds himself with the upper hand, and Jerlamarel meets one of the gorier ends possible in this season – having his eyes gouged out. After years of sight – he's now lost it. And the consequences will be fascinating to explore.

Jonathan Tropper lends his weight to the second series and those familiar with his work will know Tropper has experience with combat scenes – he's penned cult favoruites Banshee and Warrior, both brutal, bloody fight-heavy series. You can expect more of the same here – taking on executive producer and showrunner duties See's second series premiere has a more focused and less plot-heavy episode. With most of the worldbuilding out of the way in series one, See can get stuck in with minimal plodding necessary. It makes the COVID-delayed wait for the premiere all the more painful, it's been a long time since we've had any new episodes and since then the series has almost been forgotten.

The promise of Dave Bautista, one of the few men who can look more intimidating than Jason Momoa, going head to head with Baba Voss as his estranged brother is a work of casting genius. It's a stellar upgrade in the villain department and I can't wait to watch See get deep into the world of its post-apocalyptic future, hopefully move out from under the shadows of Game of Thrones as this premiere very much looks set to do. Its biggest asset is the cinematography – the expansive landscapes call to mind The Revenant, and the sound design, absolutely vital to its characters, is still as excellent as ever and makes a nice addition to the series.

It's a long episode too. It's over sixty minutes, almost feature-length, stretching further than the average fifty minutes and but had enough to hook me every step of the way. With Momoa at the front and centre of this world he carries everything and makes the character of Baba Voss truly his own. This is Momoa's series – and whilst the side-plot of Sylvia Hoeks' Queen Kane and Maghra Kane (Hera Hilmer), false and real heir to the throne respectively is fun, it's by no means the main focus of attention, at least not immediately - a switching of an attitudes on those who can see will no doubt play an important role going forward with the death of the Witchfinders.

If you were one of the doubters of the first series now is the perfect time to get back on board, See and give it another shot. Its premiere is utterly compelling and by the end of the premiere, you'll almost certainly be back for more episodes. The fact that there are only eight in this season is almost cruel, as I could quite happily spend 10-13 in this rich, perfectly drawn world.