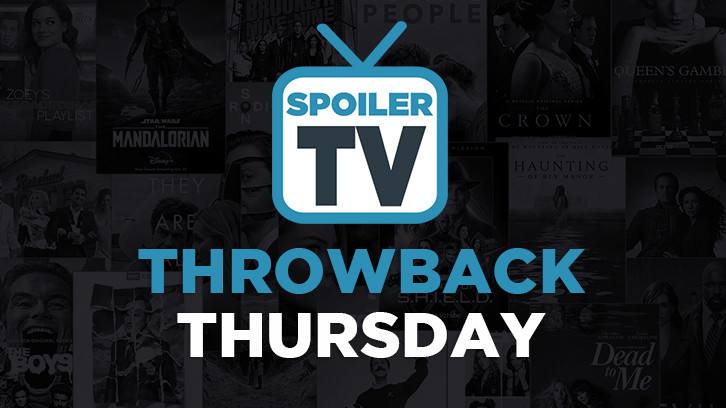 Throwback Thursday is a weekly article in which we look back at our favorite TV episodes from the past.
Brothers and Sisters
premiered September 24, 2006 on ABC with the episode "Patriarchy". Watching the very first episode again made remember how much I loved this show and how much I miss the Walkers.
"Patriarchy" revolves around Kitty (Calista Flockhart) coming back home to California after living in New York away from her family. It's clear that she and her mom, Nora, (played by the amazing Sally Field) have unresolved issues and have barely spoken to each other in the last three years. This adds some intrigue to the episode as we wonder what's going on between them.
We're introduced to the other siblings right away as they all call Kitty and talk about their mother. There's Sarah, the oldest, Tommy, Kevin, and Justin. Justin picks Kitty up from the airport, and it's clear that these two are extremely close. Calista Flockhart and Dave Annable had great chemistry on screen. While I loved the Walkers and all of their relationships, Justin and Kitty's relationship was always my favorite.
When Kitty comes home she's greeted by her parents and her Uncle Saul. Kitty's mom tries her best to seem happy about her being home, but there's something definitely wrong. The other Walkers join them and they discuss Kitty's radio show. Not all of her family is thrilled about the fact that she's a Republican, especially Nora and Kevin.
There's no shortage of drama in this family. Besides Kitty and Nora's issues, Sarah and her husband are having problems and are in counseling, and Justin shows up completely high with his girl, Fawn, and apparently they were recently in jail. William, their dad, is unhappy that Justin's still unemployed and orders Justin to come to his office to discuss the situation. This is where things get really interesting.
Sarah, Tommy, and Saul all work with William at Ojai Foods. They're having cashflow problems, and Sarah discovers there are accounts that are locked accounts. When confronted about it, Saul pretty much sidesteps the issue so she asks her dad. William blames Saul for the company's problems. But then we see William on the phone with Saul telling him they "need something that makes sense." Also, Justin sees his dad talking with a blonde lady, and it seems like they have a secret. Tommy assures him that their dad and Holly are just friends. Justin still thinks there's something strange going on, and I don't blame him. Something is definitely going on with William and Ojai foods.
Back at the Walker house Kitty and Nora finally have it out. Nora blames Kitty for Justin enlisting in the military and going to war, and she's still very angry. Nora tells her Justin asked Kitty for her advice and listened to her. Kitty says she's proud of Justin for going to war, and she talks about being in New York on September 11. Nora's also unhappy with Kitty considering taking a job on TV where she would talk about her conservative views. Kitty's very upset and starts crying. She knows that her dad and Tommy are conservative and her mom still loves them. She can't understand why her mom doesn't love her.
Near the end of the episode, Sarah discovers on her laptop that the money in the company's pension fund is gone. At that time William is out by the pool with Sarah's daughter, and he starts having chest pains. He collapses and falls into the pool. "Patriarchy" ends with the Walkers running outside and trying to get William out of the pool and rescue him.
This episode set up the drama and storylines for the rest of the season and beyond. The Walkers discover that William was hiding things from them about both Ojai foods and things about his personal life. Brothers and Sisters was one of my favorite shows when it first aired. It had the right amount of drama to be interesting but the relationships between the siblings made it amazing television. The Walkers may not have gotten along all of the time, but they loved each other very much.
This pilot was one of the better pilots I've watched. The issues about the war and September 11 were very relevant in 2006, and I think people could relate to having family members or friends that had different politics than they did. I think Kitty was also very relatable because of how much she wanted her mom to love her and how hurt she was by their lack of a relationship.
Other Thoughts:
- I can't believe how young some of these actors, especially Balthazar Getty, looked in this episode. I guess I have to accept that 2006 was a long time ago, and I'm getting old.
- Justin and Kitty's relationship was my favorite, but I also loved Kitty and Sarah's. Those two were always there for each other and had a special sister bond.
Favorite Quotes:
Justin: "Can I ask you a question?"
Tommy: "The answer is no. You can't borrow my surfboard. No, I don't have any money to lend you, and, yes, girls still think you're cute."
Kitty: "Who's the girl?"
Justin: "Her name's Fawn and she's unbelievably hot."
Kitty: "You just don't want to be there when I see mom."
Justin: "That, too."
Sarah: "It's not easy having these two parents that have this absurd iconic romance."
Kitty: "I know. They're so Ron and Nancy."
Nora: "You could use a little sun. Maybe some raisins or something."
Did you watch Brothers and Sisters? Did you like "Patriarchy"? I would love to hear your thoughts!