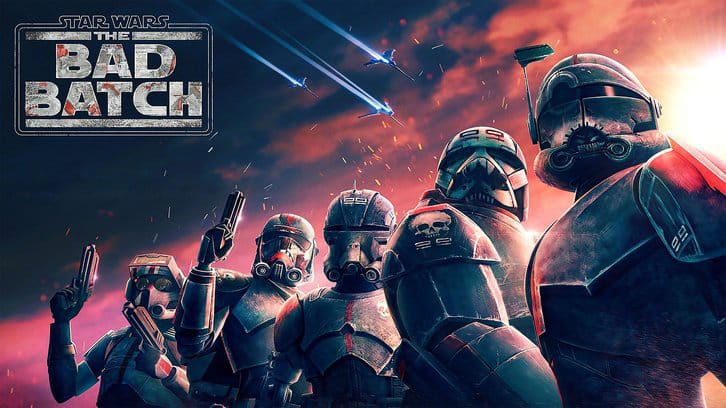 The Bad Batch delivered, once again, an episode that summed up my issues with its problems of its own as a series in that the Batch rarely feature themselves and the show spends far much time setting up characters that are best saved in parts, for other shows when their story has been told. It's more interested in being a sequel for The Clone Wars and a prequel for Rebels than its own thing, and that's why, eleven episodes in, everything feels overwhelmingly lacklustre with no real agency for the Batch. They can't do anything to outsmart the established characters – a Tech episode for example, should have happened by now and even Hunter's fallen by the wayside, Wrecker had that one where he fell under the spell of Order 66 but aside from the first episode, I'm failing to think of that many big character moments for the team – even Omega feels paper-thin so far and that's because of this show's endless devotion to cameos. There's even time for Chopper, Cham, Gobi and even a Senator from the prequels – given the fact that this episode is about the Twi'leks, that's no surprise.

I love Hera in Rebels – she's one of the best characters in the Star Wars universe, but I practically groaned when she showed up here as a younger self on Ryloth, always the adventurer and a dreamer for the stars. We get to see another planet under Imperial occupation, and Ryloth looks set to be a key location for the back-end of the season which we're now in with five episodes to go. The location is brilliant and it gives depth to Cham, a Clone Wars veteran – but if anything, this episode feels less of a typical Bad Batch episode and more one where they're the guest stars rather than anything else. After sitting on the side-lines Cham is pulled into action when Hera ends up smuggling for the Batch, and we get to see a clash of dynamics between the two – Hera is more rebellious, whilst Cham is more willing to work with the Empire in favour of peace. The Clone Wars went on for a long time, and most in the galaxy are tired of them. And they still don't know how dangerous the Empire truly is.

A lot of the episode has been slowly setting up the very days of the Rebellion and putting the pieces together. I do like a lot of the early character work that we get with Hera, her dynamic with Omega works for the most part and I wonder if we'll see Hera meet Kanan at some point in the show given how the show is insistent on cameos I'm surprised Kanan hasn't returned yet, and at this point a cameo in the finale is all but a given. "She's kinda strange, I like her," Omega sums up Hera nicely.

Crosshair too comes back into play here as a sinister operator in the shadows. I'm a bit mixed on him and you kind of know what he can do by now. Like the Batch themselves, he doesn't really have much of a purpose and there's not a real sense of mystery around any of them robbing me of a reason to keep watching. As soon as The Bad Batch learns to stop relying on cameos or keep a consistent group of characters around I'm sure it will turn good and they've done impressive work with Omega so far. But it just feels like it's taking its time – time that it's rapidly running out of.