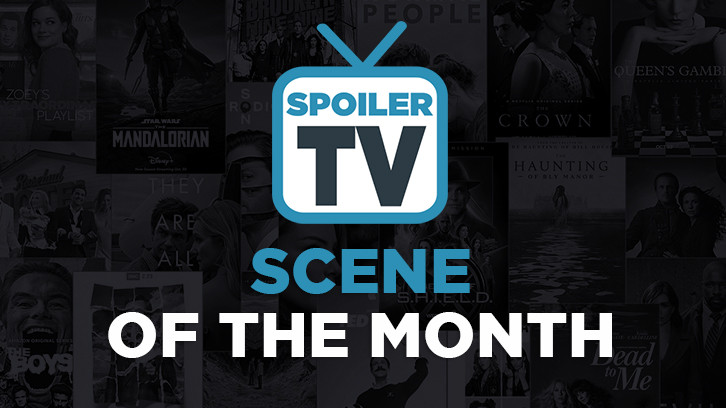 A monthly feature in which we're trying to find the most compelling, best acted, written, directed and just generally great, memorable scenes that we've seen in the past month on TV.
A MILLION LITTLE THINGS, "Justice Part 2", June 9, 2021, Actors: James Roday Rodriguez, Andrew Leeds, The Scene: The ending
Luana:
I loved the way Sophie decided to tell her story on Maggie's podcast but it was such a twist to see Gary go that route, he seemed so unlike the Gary we know, but not like it was out of character, more like something he will have to deal with in the future and I'm definitely looking forward to seeing more of this character's complexity.
BATWOMAN, "Kane, Kate", June 20, 2021, Actors: Rachel Skarsten, Nicole Kang
The Scene: Mary asks Alice for help
Marko
: I don't know who hurt the Batwoman writers but the moment they address pain and loss the show excels beyond imaginable. Alice being at the losing end and being faced with her and Mary's pain just elevated the way Alice interpreted her own pain. The tears felt so real and honest, from both actressess.
BLOODS, "Childbirth", June 9, 2021, Actors: Jane Horrocks, Samson Kayo, Nathan Foad, The Scene: Wendy runs away from her son again
Sandi
: This gem of a show surprised me, I fell for it after only an episode. It has so much heart to it, and sticks close to keeping the narrative revolve around the characters rather than wandering off too far into what's going on around them. Horrocks has been missing from the small screen for some time, so this teaming up with current hot talent Kayo is a welcome return for her. Watching the two of them easily banter through each episode has been a joy, so I am keeping an eager eye out for a season two renewal. This scene at the end of the series turned much of what we learnt about one of the duo on its head during the closing moments. It made me realise that Wendy had actually been drip feeding very little information about herself through the series, and what little she had revealed was now possibly untrue? She gives the impression that she talks nonstop too, so this is one heck of a bombshell to be dropped as a cliffhanger in the finale. Maleek's interrogation of his partner as they speed off through London in the ambulance away from her son was far more humorous than I think I could have mustered in his situation.
CHARMED, "Perfecti Is the Enemy of Good", June 11, 2021, Actors: Melonie Diaz, Madeleine Mantock, Sarah Jeffery, The Scene: Mel reveals that she is pregnant
Marko:
Mel reveals to her sisters that she is pregnant with her future child. Actress Melonie Diaz being pregnant was handled obscurely till the airing of this episode. The future Child twist is a move the OG show executed fairly well, but the reboot writers went a bit overboard setting the bar for future storytelling high. The amount of honor and pride Mel took as she revealed her baby bump to her sisters was radiating. The shock on her sisters' faces was impactful.
CLARICE, "Family is Freedom", June 24, 2021, Actors: Rebecca Breeds, Douglas Smith
The Scene: Clarice talks to Ty
Luana:
It was an intense scene, not only because of how well she manipulated him and freed herself with words alone but also because she did not hesitate in egging Ty on to kill himself, she knew exactly what to say to him and she was merciless, something I didn't exactly expect from her. I really enjoy the show and I am sad to see it go.
CRUEL SUMMER, "Hostile Witness", June 15, 2021, Actors: Olivia Holt, Chiara Aurelia
The Scene: The ending
Jamie:
I haven't gotten this worked up over a scene in a while. The reveal that after everything that happened, Jeanette did actually know Kate was there... Brilliantly done from the writers. I can't wait to see what happens next.
EVIL, "A Is for Angel", June 27, 2021, Actors: Mike Colter, Andrea Martin, The Scene: David meets a new Nun Ally
Laura B:
There are a lot of things going on in the first two episodes of the new season, but one of the greatest pleasures is when fan favorite secondary characters from Robert and Michelle's previous series turn up again as equally intriguing or fantastic new characters. Andrea Martin is such an actress, previously playing Colin Morello's mother, Francesca, on the first few seasons of The Good Fight. Now she's back as a nun when she finds David delirious on the floor and where shortly there after, David follows her and asks her for advice, leading to a rather odd exchange between the pair. It's one of those weird, but super fun things the Kings have been doing more and more of and all I can do is eat it up!
FEAR THE WALKING DEAD, "The Beginning", June 13, 2021, Actor: Zoe Colletti, The Scene: The nuclear explosion
Elvis:
One would wonder how can you spice up the decade long lasting zombie apocalypse, well, Fear The Walking Dead has an answer: launch a missile with nuclear warheads. As each of the warheads land on the ground many of the characters were hiding in the bunkers, shelters, under the truck (like that's going to help), Dakota decided to see the end with her own eyes. The massive blast from the nuclear warhead hitting the ground incinerated Dakota right on the spot leaving nothing more than crisped to ash body for few seconds before the wind scattered the ashes. Definitely one of the coolest death scenes on the series, so far.
FEEL GOOD, "Episode 6", June 4, 2021, Actors: Mae Martin, Charlotte Ritchie
The Scene: Mae and George get in a car outside of her old home
Alejandra:
I love the way this was written, Mae crumbles and George is just the perfect support system for her, it shows how much both of them have grown.
HACKS, "I Think She Will", June 10, 2021, Actors: Jean Smart, Hannah Einbinder, The Scene: Deborah and Ava's conversation after the funeral
Julia:
After Deborah unexpectedly shows up at Ava's father's funeral, the two women find themselves in Ava's old room, away from the crowd. Ava has been so busy looking after her mother that she hasn't even had time yet to realize that her dad really is gone. The young woman tells Deborah she finds it odd that she hasn't been able to cry yet. She proceeds her confession by admitting that she feels lonely in her childhood home. She always has, even as a child. Deborah understands. Even though the two women have entirely different personalities this is one of the few things they have in common: loneliness. When Ava's tears finally start falling Deborah manages to make her laugh out loud within seconds. Ava asks about Deborah's big last show at the Palmetto and the comedian admits that she bombed. The new material, which is very much based on her own (often miserable) life, did not work. However, Deborah knows she is on the right track. Her new program can be a success if she and Ava keep working on it, together. Deborah wants to go on tour again and asks Ava to come along. Both women seem relieved when Ava agrees. They hold onto each others hands longer than necessary as they shake on their deal. This scene is incredibly well written and so exceptionally well acted it gave me goosebumps. Jean Smart's and Hannah Einbinder's characters have a truly unique connection which is palpable in every single scene but especially in this one. This moment also perfectly showcases how really good comedy usually roots in drama.
Alejandra:
It was a very powerful scene in my opinion, we see Deborah in a full circle moment supporting Ava when she needs her the most and Ava embraces it.
KEVIN CAN F**K HIMSELF, "Living the Dream", June 20, 2021, Actors: Annie Murphy, Mary Hollis Inboden, The Scene: Allison realizes the truth
Jessica C:
With Patty's help, Allison wakes up to the truth that all of her dreams for a better life were shattered years ago when Kevin burned through their entire savings. He'd been frivolously taking advantage of Allison, their finances and had manipulated her into believing that she was bad with money. It's difficult to watch her discover that she was being fed empty promises and that things were never going to change. But more importantly, it spurred her to take matters into her own hands.
KUNG FU, "Destiny", June 2, 2021, Actors: Tzi Ma, Eddie Liu, The Scene: Jin talks to his son
Prpleight:
Jin talks to his son about his reaction when Ryan came out to his parents. We all want to hear that our parents love us, are proud of us, accept us for who we are. We found out in the pilot that Ryan has been walking on egg shells since he told his parents he's gay. Under the cover of talking about his mother's secrets, Ryan finally tells his father that he's been hiding a part of himself; keeping it safe from the possibility that his parents can't love or accept that part of him. Jin is wise enough to read between the lines and finally says what he should have said when Ryan first came out. Jin apologizes and, for me, more importantly, doesn't let Ryan let him off the hook. Jin apologizes for not letting his son know that he loves him and he thinks his son is brave. Hearing the words of acceptance and love caused Ryan to break down. There was, for me, relief in those tears; a sense that he finally released a breath he'd been holding since first telling his parents. It was a small scene but really beautiful.
LEGENDS OF TOMORROW, "Back to the Finale: Part II", June 20, 2021, Actors: Caity Lotz, Jes Macallan and more, The Scene: The proposal
Marko:
Sara proposes to Ava. A beautiful love story takes it to another level, when Ava and Sara are finally reunited and Sara decides to finally propose. There is something so pure and honest between these two lovebirds and their path to each other was filled with so much love and empathy. Sara pouring her heart out to Ava in front of their family/friends just made this moment too endearing.
Alejandra:
We finally see Sara propose to Ava in a beautiful and spectacular way in front of the whole team, it was perfect.
Jamie:
I have been waiting for this scene all season while they were separated and it was absolutely worth the wait. It doesn't matter that it was in a parking lot. It was just such a great and emotional moment.
LOKI, "Glorious Purpose" & "The Nexus Event", June 9 & 30, 2021, Actors: Tom Hiddleston and more, The Scenes: Loki watches "his" future & Loki awakens at the end
Justyna:
So much of the first hour of the show is deeply connected to Loki's memories. The past and the future of Loki we've been watching for the last ten years. We've been learning more and more about this character in each of the movies he's a part of, but never quite like this. I love the fact that thanks to these Disney+ shows we're getting a chance to watch a character study, a deep dive of sorts and see the heart and soul of someone like Loki that we never could explore during any of the movies. It's such an interesting concept and a wonderful opportunity to see things from his perspective. His reaction to learning of his mother's death speaks volumes about Loki, more than he would be willing to admit. The part that hit me the most in this premiere was his response to the realization that TVA might just be the greatest power in the universe. He stops running and comes back to the Time Theater, to see what his life would have become in the "Sacred Timeline". He gets to watch just bits and pieces of his arc from the movies, saying goodbye to Odin, making peace and fighting side by side with Thor and finally - his death. There's so much that he has "missed" - the good and the bad. And he never gets to see what happens next, it's the end of the tape for him and he doesn't get any answer he might be looking for in the moment. The emotional reaction from Loki, as he watches his life and death, reveals another side of him we haven't seen much of in the past. The entire scene is wonderfully acted by Tom Hiddleston. It made me truly feel for Loki, something I haven't really expected, to be honest. Finally, the music is perfect for the moment. The instrumental score of the series so far has been excellent. Looking forward to seeing how this story ends. Kudos to cast & crew for all their fantastic work on the show!
Luana
: The ending of episode four - It was a shocking moment for sure, but then there was a new scenario altogether and I'm so curious to see where they'll go next. And more of Tom Hiddleston is always good.
LOVE, VICTOR, "Close Your Eyes", June 11, 2021, Actors: Bebe Wood, Ava Capri
The Scene: Lucy asks Lake to hang out
Jamie:
Honestly, I haven't gotten this obsessed with a potential couple in a while and they only had three scenes. But there was just so much chemistry in this scene. It made me so excited for a third season.
LUCIFER, "Is This Really How It's Going To End?!", May 28, 2021, Actors: Lauren German, Tom Ellis, Scarlett Estevez, Aimee Garcia and more, The Scenes: Dan's death & Dan's funeral
Justyna:
There are so many memorable moments in the last four episodes of the season. The finale alone was an emotional rollercoaster, with both Chloe and Lucifer dying and coming back to life at one point. I've been wondering which scene I wanted to higlight the most and ultimately decided that it's the hour before this battle and season conclusion that changed everything for me. Dan's death took me completely by surprise. He was at the center of some of the funniest moments of the season (such as meeting Lucifer's dad), so to see his story take such a dark turn was especially powerful and heartbreaking. For a second there it seemed like he could actually save himself, right until we hear the gunshots and he collapses to the ground. Chloe finding Dan and his final words were hard enough to watch, but I was still in denial right until that hospital scene when the doctors pronounce him dead. Seeing everyone's reactions was painful, but it was nothing compared to the part where Trixie shows up and wants to see her dad. I can't imagine how difficult it must be for Chloe to tell her daughter that her father is gone. Trixie's denial and desperate requests for Maze not to cry and for Lucifer to tell her the truth, to tell her that her dad is still alive, but him not being able to do so, was truly one of the saddest scenes I've seen in a while. All the actors delivered powerful performances, especially Scarlett Estevez, Lauren German and Lesley-Ann Brandt. This one broke my heart for a bit. Daniel Espinoza, deserved so much better than this. Hopefully we will at least get to see him find peace in the final season. He will certainly be missed. Kudos to cast & crew for all their great work.
Alejandra:
Trixie arrives at the hospital and finds out her dad is dead, the whole scene had me in tears, the acting was intense and the song choice was perfect.
Prpleight
: I never, not once, believed they were really going to kill off Dan. I refused to believe it. Right up until they told Trixie her father was dead. It could be that I was still in shock the first time I watched it. The funeral sequence included some really great moments. Lucifer's reaction to learning that Dan was in hell, Amenadiel lying and telling everyone that Dan's in a better place. But what pushed the scene over the top for me was the contrast between the pained stillness at the funeral as Lucifer and Ella sing and the fury flowing off Lucifer and Maze as they moved through that warehouse getting their vengeance. I expected Maze to be let loose; to essentially do her job, but, somehow the melancholy of the song, amplified the pain she and Lucifer were in.
MOTHERLAND: FORT SALEM, "Of the Blood", June 22, 2021, Actors: Taylor Hickson, Jessica Sutton, Ashley Nicole Williams, The Scene: The girls reunite
Luana:
I've missed them and it was great to see all three together again catching up. This show is truly enjoyable and a big part of that is definitely thanks to these performers. Can't wait to see what they get up to next.
MYTHIC QUEST, "Backstory!", June 4, 2021, Actors: F. Murray Abraham, Rob McElhenney, Charlotte Nicdao, The Scene: C.W. makes his dream a reality
Pascal
: CW's 1970's fever dream finally becomes a reality. Though the whole episode is a flashback to the 1970's, the ending flashes back to more recent times, a couple of years before the show takes place. The episode tells the origins of CW Longbottom, writer for the game Mythic Quest, and like the episode "A Dark Quiet Death" last season it's a poignant one. Halfway through the episode, with his work as a writer going unrecognized, he makes his way to the office in a drunken stupor and passes by an electronics store he sees Pong playing on a TV. He realizes the future of branching narratives and the player agency of telling a story in video games. Of course he's laughed out of the office and ultimately unrecognized again. But he's actually ahead of his time. Then when the episode flashes back to more recent times and CW is living a pretty abysmal life probably mostly in a drunken state. But then he's approached by Ian and Poppy to write for the video game they're going to make, and he flashes back to that moment 40 years ago where he saw Pong playing in the electronics store. Not only did this play to emotions I've experienced as a writer, the anxiety of sharing my work, how people would feel about it, or what if it's actually trash? But it also played into my love for video games and how I feel that the interactivity of video game storytelling with branching narratives and player agency is actually something we might see more of in the future! It was a perfect cap on an otherwise quite dramatic episode for a workplace sitcom.
POSE, "Series Finale", June 6, 2021, Actors: Indya Moore, Angel Bismark Curiel
The Scene: The wedding scene
Alejandra:
Angel and Papi's wedding. Just perfect.
STAR WARS: THE BAD BATCH, "Battle Scars", June 11, 2021, Voiced by: Dee Bradley Baker, Michelle Ang, The Scene: Wrecker's chip gets activated
Chlöe:
There were so many good scenes and moments in this episode thanks to the much anticipated return of Captain Rex, but the scene where Wrecker is activated stands out a mile for how truly chilling it was. It was made even more stark by how different the 'good soldier' is to Wrecker's fun, light-hearted personality. Even though we knew it would be okay what with Rex's experience and knowledge, Wrecker still felt like a tangible threat, especially when he was hunting down Omega in a cruel contrast to their fun scenes earlier in the episode.
SUPERMAN AND LOIS, "Holding the Wrench", June 1, 2021, Actors: Elizabeth Tulloch, Wendy Crewson, The Scene: Lois' therapy session
Justyna:
Since the beginning of the series things have been drastically changing around Lois - her home, her job, Jordan's powers, her kids knowing the truth about Superman. It's a lot to take in, no matter how strong you might be. Everyone needs time to process and deal with the challenges in their own way. That is why it wasn't much of a surprise to have Lois lose her patience and let her anger out at one point. Jonathan almost died because he chose not to listen to Lois' request to stay away from the RV. The therapy session turned out to be exactly what Lois needed to open up about her feelings and the reason why she reached her breaking point. The tragic reveal that years ago Lois suffered a miscarriage was something I didn't see coming. It was heartbreaking to watch her admit that she still blames herself for losing the baby and is now blaming herself for almost losing Jonathan. The therapist comforts Lois by reassuring her that the miscarriage was not her fault, it was a painful experience that happened to her, and it's something she must allow herself to process. While Lois talks about all the steps she took to let herself grieve, it's clear that her wound is still open and the events with Jonathan have made the pain resurface. Elizabeth Tulloch is truly wonderful in this scene and the episode overall. She steals the show with her beautiful performance and I love her acting choices in this specific moment. Lois could easily break down here, but she doesn't. Her emotions are a part of her, but she displays strength through vulnerability. Such an incredibly hard thing to do. This hour has made me remember why Lois Lane has been one of my favorite female characters of all-time ever since I was a kid. The show continues to be excellent and I'm excited to see where the story goes next.
THE BOLD TYPE, "I Expect You to Have Adventures", June 30, 2021, Actors: Aisha Dee, Melora Hardin, The Scene: Kat takes over Jacqueline's role
Luana
: I love this decision, exactly as Jacqueline said, the future cannot be someone just like her, it has to be someone willing to shake things up, someone with a different perspective. I think this was the perfect choice. I'm glad they got these final episodes to write past wrongs and wrap things up properly, and though I would like to see Jane's future, we all know she'll probably be just fine.
THE GOOD FIGHT, "Previously On...", June 24, 2021, Actors: Nyambi Nyambi, Delroy Lindo
The Scene: Jay is taken to the hospital
Laura B:
Jay experiences severe Covid symptoms and is taken to the hospital. I wish I could choose ALL of Nyambi's scenes in this episode, because they were so scary--good, but even just the start of his symptoms and the delirious way he contacts Adrian, was just too close to home and truly scary sequence from that to the ambulance ride. It's rare to see TV characters REALLY look so sick on screen too. The Kings even gave their own Evil David-hospital episode a run for their money with these scenes.
THE HANDMAID'S TALE, "Progress" & "The Wilderness", June 9 & 16, 2021, Actors: Elisabeth Moss, Max Minghella, Joseph Fiennes and more, The Scenes: The chase through the forest & June and Nick reunite

Lisa:
Commander Waterford thinks he's going to Geneva to get off scot-free for his crimes, but instead, he ends up back in Gilead. He's handed over to Commander Lawrence who is happy to make him pay for the damage Waterford did to his wife. Lawrence passes him on to Nick who happily leaves Fred in the wilderness with June, who wants Fred to feel the helpless terror that she felt when Hannah was ripped from her arms. She gives him a choice - she can shoot him or he can run. He decides to run and that's when the former handmaids all come out of the trees... I loved how this was shot in woods at night. It was satisfying to see Waterford's power taken away from him at the moment he seems about to triumph. I also loved how the show returned again and again to the same imagery. The killing of Waterford is the inevitable result of the particutions that the handmaids were forced to participate in - presumably to release the pent up anger of their captivity and abuse. This was the final major event of the season, so it remains to be seen what will happen to the women and June - will this revenge be enough?

Jamie:
This moment was just so satisfying to watch. The fight is far from over but they've gotten just a little bit of justice.

Laura B:
June and Nick reunite. While it might be better to pick a certain scene in the season finale, I felt like that scene (and/or the accumulation to it) owes a great deal to this one, as June and Nick reunite and Nick spends some time with Nicole. A truly intimate, quiet, and spiritual scene that only makes the results of one particular character in the finale so much more intense.
TIME, "Episode 3", June 6, 2021, Actors: Sean Bean and more, The Scene: Mark's confession at the conference
Sandi:
You know what you're going to get with a Jimmy McGovern's drama, each story is crafted to deliver the stark reality of whatever subject matter he has chosen to cover, in this case the penal system. Its sudden violence, gangs, and plethora of rules and regulations to follow are one side which many of us can easily imagine already from the numerous other prison sagas we've seen, but McGovern brings in to focus some of the other less seen, yet often harsher sides to life inside with some of his characters here. Especially when it comes to Bean's Mark Cobden, on whose shoulders bears the weight of his crime so heavily that it's almost a character in its own right. Through the preceding two episodes we have been shown glimpses of the night in question, when Mark killed a cyclist while driving home. Through that we have felt the psychological effect it's had on Mark; how his conscience plays with his mind during those long, boring times when prisoners are locked up with nothing to do. In keeping the confession back until this scene in the final episode, and finally showing us exactly what happened in full as a flashback during it, McGovern has given Mark's character the growth to talk about how it will always effect him, and the family of the man whose life he took. Sean Bean was simply astonishing as Mark, though I have to say that there wasn't a bad performance by anyone throughout the whole show. It was difficult to pick just one scene from the three episodes, it is easily one of the best things I have seen so far this year.