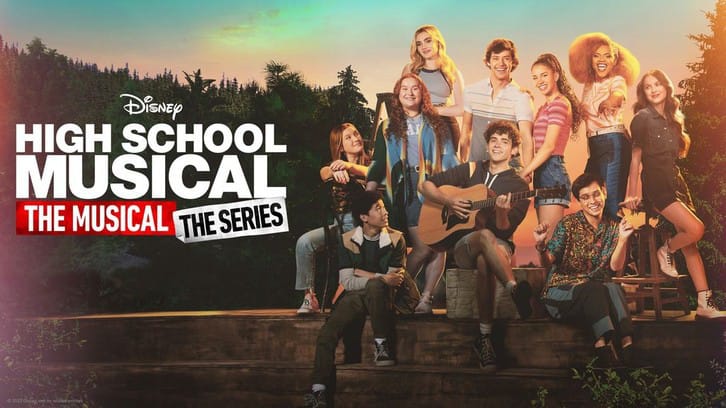 After an eventful spring break, it's time for the Wildcats to start rehearsing for Beauty and the Beast again. Which doesn't go as smoothly as they hoped. As the cast struggle with the Beast's transformation, several characters go through a transformation of their own. Let's dive in!
Boys vs Girls Slumber Parties
The Wildcats' low-tech Beast transformation doesn't go well during rehearsals, which leads Miss Jenn into a spiral as she realises that they can't win the Menkies unless they seriously up their game in technical achievements. The Wildcasts decide to split up into two groups to brainstorm: the boys vs the girls.
Kourtney's designer skills really get to shine this episode. She offers a solution to the group while multitasking at work, comes up with a new design for the Beast's cape that will turn the cape from beastly to princely, and instructs the boys on what to make. Kourtney's confidence has always been a joy to watch, and I love it when she gets some of the spotlight in an episode.
There's some tension between Nini and Gina when Ashlyn brings up the chocolate box incident from Valentines Day.
The episode left this plotline unresolved, so it remains unclear what the purpose of the reveal was, aside from showing that Nini still has feelings for Ricky. Hopefully this tension between her and Gina won't last beyond the next episode. While I understand Nini's initial reaction, it would be unfair to hold this against Gina, who just made an honest mistake.
On top of that, the two slumber parties also bring up some insecurities Seb, Gina and EJ are feeling in regards to their relationships. This leads to a big moment between Seb and Carlos, as well as EJ and Gina.
I'd Choose You
After several episodes of tension between Carlos and Seb, we finally delve into at least one of the issues between them. Seb feels like Carlos is only dating him because of the limited dating pool for guys like them at East High. Which is a very valid and realistic concern to have, especially for a teenager like Seb, and I really like that the show addressed it. It also felt very realistic to hear Carlos say that he and Seb find it difficult to talk about their feelings for each other. And of course, the solution to that problem is to sing about those feelings.
Before moving on to In A Heartbeat, I just want to take a moment and talk about the Ricky and Carlos aspect of this storyline. While Ricky sang about letting Nini go last episode, The Transformation makes it clear he still has some growing to do in that regard. EJ saying that he was proud of letting Nini go gets Ricky thinking about what he should do. This leads to Ricky admitting to Carlos that he was initially planning on singing his song about letting go to Nini, which would defeat the whole purpose of it. But after EJ's words, he has decided not to do it, which is a huge step forward for him.
Ricky takes another big step forward by deciding to focus on helping a friend, instead of being wrapped up in his own world, as he has been for most of the season. He takes inspiration from Nini, who worked through her heartbreak by writing a song with Ashlyn, and offers Carlos to help him put his feelings for Seb into words through song. This whole scene is just so moving, and it was wonderful to see Ricky being so selfless and to see Carlos' reaction to being called "bro". This show really knows how to write realistic and supportive friendships between its characters.
In A Heartbeat, the result of Carlos and Ricky's efforts, is a beautiful song that does justice to the love between Carlos and Seb and addresses their issue and reassures Seb in a sweet way. Ricky already talked about Seb and Carlos as being a couple that others could take inspiration from, and Seb and Carlos' dance scene proved Ricky correct. They were both glowing and you could feel the love between them. Disney doesn't have the best track record with LGBTQ+ rep, so it's wonderful and meaningful to see HSMTMTS put Seb and Carlos front and center in episodes like this.
For Real This Time
At the slumber parties, EJ and Gina both indicate that they're hesitant to make a move with the other because of their own romantic history. They have been rejected before, and neither of them is ready for that kind of heartbreak again. But, as Carlos so wisely points out, just because letting Nini go was the right choice for EJ, that doesn't mean he shouldn't even try with Gina before letting her go.
EJ approaches Gina when the two groups come together at the theatre. Gina is still guarding her own heart and starts acting distant. EJ's transformation comes when he bravely makes the first move and asks Gina out on a risotto date. This was a really sweet callback to when EJ and Gina pretended to be a couple earlier this season. And Gina goes through her own transformation when she goes from doubting that he would ask her out on his own accord to realising that's exactly what's happening, and that her feelings for him are reciprocated. After the heartbreak both of these characters went through, it's so rewarding to see them both be this giddy and excited about their crush liking them back.
Benjamin Gives Miss Jenn A Therapy Session
Miss Jenn is feeling the pressure of the Menkies, so she asks Benjamin for help. He's exactly the level-headed person she needs right now. She's spiralling over whether her students will be able to face defeat at the Menkies, but Benjamin helps her see that she's projecting her own fears onto them. Which he can relate to doing at times. The writers have created such a wonderful and understanding relationship between these two, and I love seeing their connection deepen more and more with every interaction. They may be different in many ways, but they have more in common than they think and can support each other when necessary. And isn't that exactly what all of us want to see in a good slowburn ship?
Additional thought:
- Lily calling Ricky was an unexpected twist. Her attempt at flattering Ricky and finding a connection with him felt like part of her ongoing plan to beat East High. What her exact plan is though, I have no clue. But I'm looking forward to find out more!
What did you think of The Transformation? Let us know in the comments!