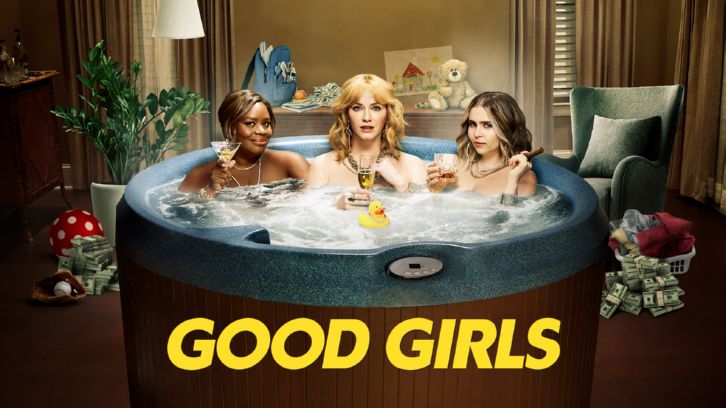 Last week the news of the Good Girls cancellation broke hearts all over the globe. It is a bit odd that the show delivers one of its best outings just after getting sent to broadcast graveyard. "Family First" is well-paced, with great character moments and actor performances and one draggy storyline.
As revealed in the promo, after last week*s Canadian conundrum, Rio makes a move and pushes against Beth in a way she certainly didn't expect. And as proved over the last 4 seasons Beth is best when she is pushed against a wall. Borderline reckless, but perfectly unapologetic Beth made moves this episode that eventually put her on the right track. The episode provides us with perfectly tuned moments between Beth and her fellow "good" girls proving why this show got such a wide and devoted fanbase. Christina as usually taps in her mad protective self and nothing comes in the way of her. The writers did a great job in making the story escalate as they are heading towards the final stretch of the season, hopefully giving us enough resolution with only a couple more episodes to go before the show wraps its season. On the other hand, Annie had to work through some intense situations.
With Rio using her as a bargaining chip Annie had to prove how resourceful she is on her own. Mae is a versatile and reactive actress and this episode allowed her to show a broad spectrum of emotions, from comedy to drama, from fear to fearless she nailed it all. Her interactions with Carlos Aviles' Mick were simply on point. The writers used their abstract alienated selves and delivered proper character development for both sides.
While Ruby mostly run along with Beth this week, Stan was pulled into a specific scheme. Dean and his biker Possy were going full force in their pursuit of Beth. At this moment things are surely about to get messy, but I don't think that the biker Possy is in for it out of the good of their hearts. While there isn't much time for the other shoe to drop, the setup suggests it will sooner rather than later. I do appreciate Matthew Lillard's goofy self trying to be something more than the failure he is. I am though excited to see how Beth's wrath will unfold when she finds out.
Other tidbits:
- A surprising guest star is slay-ing in her first appearance, she chose the wrong girls to mess with.
- After this episode, we really need more Beth-Ben moments.
That's a wrap on my side Good Fans! I hope you are still sticking around for the remainder of the season, cause it seems like a huge falling out is about to hit us full frontal. Good Girls' Family First premieres on the 1st July at 10/9 central on NBC.