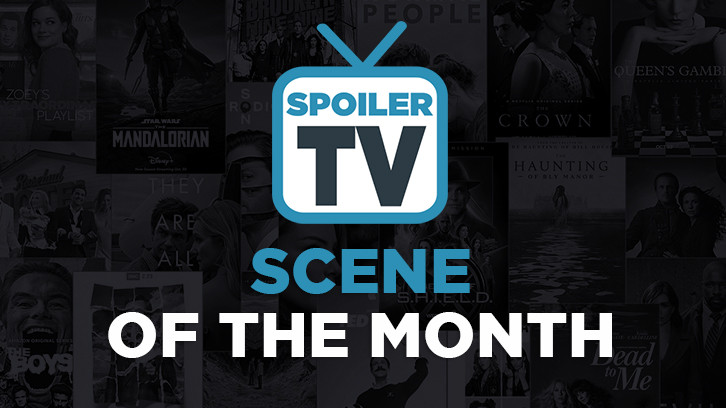 A monthly feature in which we're trying to find the most compelling, best acted, written, directed and just generally great, memorable scenes that we've seen in the past month on TV.
9-1-1, "Survivors", May 24, 2021, Actors: Oliver Stark, Ryan Guzman, The Scene: Eddie tells Buck he made him Christopher's legal guardian in case of his death
Prpleight
: After Buck once again apologizes for not being enough, Eddie tells Buck he wants Buck to be Christopher's guardian if it's ever necessary. Buck has come a long way since the show started. I did not like him when the show started. He was shallow and annoying. But again and again we've seen the depth and insight in the character in the way he steps up to take care of the people he loves. Not just battling a tsunami, but in the way he emotionally supported Abby as she struggled with her mother's illness and eventual loss. His thank you, in that situation, was to have his heart broken. So it was easy to understand how Buck could miss the importance of what he did for her. Eddie made it clear, after the tsunami, that he trusted Buck with his son more than anyone else in the world, but Buck still seems to undervalue himself. Hopefully, the knowledge that Eddie put his feelings in writing, so to speak, will help Buck finally start to value himself. It was a quiet, beautiful scene, especially recalling the other moments that Buck has fought for the people he cares about.
Beth
: Eddie making the decision that Buck should take care of Chris should something happen to him is a no brainer. As Eddie said, outside of him, no one would fight for his son like Buck. It was also a beautiful way to show Buck that he is not expendable and that his presence matters to so many people.
BATWOMAN, "I'll Give You a Clue", May 9, 2021, Actors: Rachel Skarsten, Wallis Day
The Scene: Alice recognizes Kate
DJRiter:
After restoring her captor's face Alice is shocked to realize that this woman is her presumed dead sister, Kate. A great moment where fans get the first look at the face of Wallis Day as Kate Kane. Rachel Skarsten, who has been a standout since the series began played the moment with the perfect amount of shock and emotion.
BIG SKY, "Love is a Strange and Dangerous Thing", May 18, 2021, Actors: Katheryn Winnick, Kylie Bunbury, The Scene: Jenny gets shot
Lip:
I think everyone stopped breathing for a second. Great scene and great acting in this shocking season finale.
CHICAGO FIRE, "No Survivors", May 26, 2021, Actors: Jesse Spencer, Kara Killmer
The Scene: Brett tells Casey they belong together
Beth:
After so much work and false starts, Casey and Brett are not denying it anymore, they love each other. The backdrop of Chicago was perfect for the moment and this buildup was well worth all the angst.
CHICAGO PD, "The Other Side", May 26, 2021, Actors: Tracy Spiridakos, Jason Beghe, The Scene: Upton stands against Voight
Jessica C:
Voight may be a lost cause, but Hailey Upton knows who she is and who she wants to be. When she found Voight crossing lines he couldn't come back from, Hailey pleaded with him to do the right thing anyway. He pushed back telling her that she knew what she was getting into showing up there and, at one point, had wanted it for herself. But Voight severely underestimates Hailey and she firmly stands her ground, making it very clear that she's not him. Hailey is a great cop and an even stronger woman and she's made the choice to be better. She proved in this scene that she doesn't need anyone's approval--least of all Hank Voight.
DEBRIS, "Celestial Body", May 24, 2021, Actors: Jonathan Tucker, John Noble
The Scene: Otto realizes that Bryan is important
Laura B:
It was such a GREAT surprise to see John Noble snag a role in J.H. Wyman's new series. One that seems to be important to series going forward (should we be so lucky). But to have such an interesting scene between two top notch actors was just so exciting, as Otto recognized Bryan as an important component to the debris at large.
GREY'S ANATOMY, "Look Up Child", May 6, 2021, Actors: Jesse Williams, Sarah Drew, The Scene: April says "yes"
Luana:
I don't love that the previous "back with the ex" exit was forced and takes a little away from this moment, but I can't help being happy about these two finally getting the time they deserved, perhaps these characters could never be fully happy on screen for drama's sake but I'm glad this is what they chose to do for Jackson and April. Drew and Williams always light up the screen together and this was no exception, I would love to see them together on anything else because this would've never worked if it wasn't for them.
HACKS, "A Gig's A Gig", May 20, 2021, Actors: Jean Smart, Hannah Einbinder
The Scene: Deborah Vance performs an impromptu stand-up routine
DJRiter:
This show is on fire and this episode that sees Jean Smart's stand-up diva, Deborah Vance perform an impromptu stand-up routine from atop a Las Vegas tour bus that delivers sharp barbs toward Hannah Einbinder's Ava is a master class in comedy and is why the show is Emmy bound.
HOME ECONOMICS, "The Triangle Shirtwaist Fire: An Oral History (Used), $11", May 12, 2021, Actors: Topher Grace, Karla Souza, The Scene: Tom flirts with Marina at the party
Folie-lex:
Marina spent the whole party teasing Tom about how he has no game, but when she too realises she's in the same boat she understandably sits dejected and pouting seriously contemplating eating some "floorcake". Tom comes over and introduces himself to his wife anew. It's cute and flirty and the best example of spousal support. If they keep this up these two might be one of those "marriage goals" TV couples...
LUCIFER, "Bloody Celestial Karaoke Jam", May 28, 2021, Actors: Tom Ellis, Dennis Haysbert, The Scene: Lucifer confronts his father and learns of the problem with his powers
Justyna:
First of all, choosing just one scene to highlight from the first four out of the eight episodes released at the end of May was a real challenge. Second half of season five proved to be such an entertaining and emotional journey. The addition of Dennis Haysbert to the cast turned out to be a brilliant move as I loved every single one of his scenes. Everyone being introduced to Lucifer's father was especially worth watching. Dan's first meeting with him might just be one of the funniest things I've seen in a long time. After a longer consideration I decided to highlight the moment at the end of the musical episode, where Lucifer's dad waits for him at his apartment and their long-awaited confrontation is expressed through both a conversation and a song. It's clear that there's so many things that these two would like to say to each other. A lot of their conflict comes from lack of open communication and the internal struggle with how much they can truly express, especially on the father's side. He doesn't know how or simply chooses not to show how much he cares and worries about his son. Lucifer, on the other hand, uses this moment to show his frustration, anger, hopelessness and heartbreak. And following the theme of the hour - he reveals his emotions and thoughts in a song. I was both surprised and happy about the selection of the song for this exchange. I never expected "I Dreamed a Dream" to work on "Lucifer" and yet it fit perfectly with everything our main character was trying to say. Beautifully acted and performed by Tom Ellis. Lucifer breaks down as he realizes that there's no easy fix for his situation, but it's his father's emotional response that took me by surprise. Despite their problems, Lucifer's the one he confides in when he tells his son he's losing control of his powers, with tears running down his face. Seeing him so vulnerable is a new experience for our titular character. In this moment Lucifer sees his dad from a completely different perspective and it's a step towards building a better relationship between them. Such an important and memorable scene at the end of the hour that I didn't expect to enjoy as much as I did. Musical standalone episodes don't often work for me but this one was a nice surprise with how the creators chose to portray the reason behind all the songs. Kudos to the cast & crew! Wonderful job overall.
MARE OF EASTTOWN, "Sacrament", May 30, 2021, Actor: Kate Winslet
The Scene: Mare finds out who the killer is
Laura W:
At absolutely no point was I sure of who the killer was, but when Mare finds out, and all it takes is one look for him to realize she's got him, I could feel my heart breaking. The music in this scene, the directing knowing just where to hit, and Kate Winslet as Mare knows exactly what to do, exactly how to react. It's a beautifully tragic scene that may be the best of the series.
NANCY DREW, "The Purloined Keys", May 19, 2021, Actors: Kennedy McMann, Andrew Airlie, The Scene: Nancy takes control
Prpleight:
Nancy's constant certainty that she's got everything under control and that she's always right often makes her seem self-centered and arrogant. After walking headlong into the discovery that Everett Hudson is way more dangerous than she thought (her grandmother is dead and hanging on the wall) and that she actually has nothing under control, Nancy, once again, faces that realization that she can be wrong. After a well deserved breakdown Nancy decides to exercise that old adage: the best defense is a good offense. I was expecting her to run to Carson, nearly hysterical, and tell him he was right. But nope. Nancy didn't need that much time to regroup. Nancy is waiting for Everett and informs him that she's his granddaughter, hits him with a stun gun, puts a bag over his head and drives off into the sunset. It's not clear if this was smart or not, but Nancy is back on offense. A completely unexpected ending to the episode.
NEW AMSTERDAM, "Things Fall Apart", May 18, 2021, Actors: Freema Agyeman, Ryan Eggold, The Scene: Helen races to save Max
DJRiter:
Helen and Max's attraction to one another can no longer be ignored after Helen's frantic race to get Max through the decontamination shower after he is contaminated. Every ounce of what Helen Sharpe feels for Max shone through Freema Agyeman's expressive face and acting in this wordless scene of her trying to save Max.
POSE, "Take Me To Church", May 16, 2021, Actor: Billy Porter
The Scene: Pray Tell sings at church
Laura W:
Whenever Billy Porter sings, the scene that was happening gets 10x better, but this scene, in particular, was emotional in so many ways. Pray Tell was experiencing love he thought he lost, acceptance, grief for himself, and growth for the future.
PRODIGAL SON, "You Can Run..." & "The Last Weekend", May 4 & 18, 2021, Actors: Catherine Zeta-Jones, Bellamy Young, Tom Payne, Michael Sheen, The Scenes: Martin's escape details are revealed to be cosmic justice & Jessica and Capshaw bond over Martin and vodka & The ending
Dahne:
Jessica and Capshaw bond over Martin and vodka. I love how Jessica shows a bit of vulnerability here to help Capshaw feel better about her experience with Martin. It's a nice female bonding experience. Of course, no one knows quite yet that Capshaw is a psychopath, too. Poor Jessica. They come out of the woodwork around her.
Luana:
The ending - I love this show and I'm sad to see it go, I love these characters and this show has, in my opinion, some of the best actors working today. I would love to see more of this crazy show but if this is where it ends I can live with that. Not only the final adventure but especially the final moment of the son stabbing the father was a perfect way to end this crazy ride, reminding us how amazing it all was.
Prpleight:
Heading into this episode I was assuming that Martin turned left when the other two escapees turned right. I just thought he had a different plan that would involve making Ainsley his protégé. I did NOT expect to find him stuffed in the trunk of a car. I am a believer in Cosmic Justice. This was one of the most satisfying examples of Cosmic Justice I've seen in fiction in a long time. I knew they hadn't hired Catherine Zeta-Jones to play a weepy victim.
QUEEN OF THE SOUTH, "Plata o Plomo (Silver or Lead)", May 12, 2021, Actors: Peter Gadiot, Molly Burnett, The Scene: James misses the girl from Culiacan
Folie-lex:
James and Kelly Anne scenes are few and far between. And while filled with emotional exposition which can be tiring and redundant there was something very narratively cathartic to have James, who's seen Teresa through it all, comment on her transformation. Giving him Kelly Anne for a sounding board was the best choice seeing as she would be the most empathetic and atune to how and why Teresa has changed. And it's maybe something James needed to hear, even if her input didn't tell the audience anything we didn't already know.
STATION 19, "Comfortably Numb", May 20, 2021, Actors: Danielle Savre, Stefania Spampinato, The Scene: The proposal
Jamie:
I really thought they'd break up there for a moment but then this moment happened. It was absolutely perfect. From the acting to the song choice.
SUPERGIRL, "Fear Knot", May 11, 2021, Actors: Melissa Benoist, Chyler Leigh, The Scene: Danvers sisters are reunited
DJRiter:
Danvers Sisters are reunited after Supergirl is rescued from the Phantom Zone. Seeing Supergirl rush into her sister's arms for a hug after being rescued from the Phantom Zone made that entire episode even if it happened at the very end and only lasted for 7 seconds. What made the moment even more special was the revelation by Chyler Leigh that the reunion hug was not only the first scene she'd filmed with Melissa Benoist in Season 6, but it was also the first time she'd seen her co-star physically in over a year since the pandemic. It was heartwarming to watch and try to decide where Alex and Kara ended and Chyler and Melissa began.
SUPERMAN & LOIS, "Broken Trust", May 18, 2021, Actors: Tyler Hoechlin and more, The Scene: Superman protects Tag from the DOD
Justyna:
Superman saving people is hardly an unexpected view. In fact, it's exactly what you would expect him to do. That is not the reason why I wanted to highlight this scene. It's the parallel between Superman and his sons, their struggle with anger and the choices they make, the effort it takes to control the most human of emotions all the time - that's what hit me the most about this moment. Clark follows his instinct to protect Tag but he doesn't know that the DOD is planning to shoot him with actual kryptonite bullets. Superman has to fight through the pain, remove the kryptonite from his wound and confront the DOD soldiers without causing anyone harm, despite their clear intentions to hurt him and the kid. The visuals are beautifully done - everything from removing the bullets from his chest to Superman standing right in front of the man who shot him, with heat vision ready to use if needed. It's a very memorable view - seeing Superman so powerful, intimidating and even scary. But also fully in control of his emotions and actions, choosing to de-escalate the situation. On the other hand, at the same moment Jordan runs out of patience and uses his strength to go after a bully, only to be stopped by his brother who steps in and takes the full force of the punch, breaking his wrist but saving the other kid (and his brother) in the process. Such a stark difference between these decisions to use or not to use one's powers. Also, Jonathan being a hero without them. Really loving the show so far. And scenes like this one are quickly making it one of my favorite superhero shows. Kudos to cast & crew for the great acting, editing choices, direction and visuals.
THE BOLD TYPE, "Trust Fall", May 26, 2021, Actors: Aisha Dee, Alex Paxton-Beesley, The Scene: Kat tells Eva why it's over
Luana:
I'm so glad they heard the fans and the cast, this storyline was so ridiculous and I feel like they found the perfect way to say what so many of us were thinking. That no matter the chemistry, sometimes it's too hard to look past someone's beliefs, especially when they have influence and they use it in a way that either directly or indirectly hurts people. And you could see the shame in Kat's face, her awkwardness about having to say it out loud but at the same time the certainty of her words. Great work by Aisha Dee both on and off the screen.
THE EQUALIZER, "Lifeline", May 9, 2021, Actors: Laya DeLeon Hayes, Lorraine Toussaint and more, The Scenes: Vi covers for Robyn & Robyn tells Aunt Vi what she really does
Dahne
: Robyn finally tells Aunt Vi what she really does. Aunt Vi has had enough of the lies and finally lays it on the line for Robyn, forcing her to admit that she used to work for the CIA. Then Robyn tells Vi about all the people she's helping. I am glad that the secret is out for at least one of the main characters, because it gives Robyn another sympathetic ear to sound off around. I think this development happening sooner rather than later is smart.
Prpleight
: This was a fun scene that, for a change, had Delilah feeling like a 14 year old. She and her friend Niki decide to search Robyn's room for evidence of her non-profit company. The theories ramp up to the realm of International Woman of Mystery when Delilah finds Robyn's pristine passport. Vi discovers them, as they are trying to pry up a floorboard and gives them the simplest logical explanation. Vi's delivery was so smooth that I assumed Robyn told Vi the same lie. It's actually never proven one way or the other. One of the more fun home scenes on the show so far.
THE GOLDBERGS, "The Proposal", May 19, 2021, Actors: Sam Lerner, Hayley Orrantia
The Scene: Geoff proposes to Erica
Beth:
A heartwarming and sweet scene, that is all that really needs to be said because it was perfection.
THE HANDMAID'S TALE, "Chicago", May 12, 2021, Actors: Elisabeth Moss, Madeline Brewer, Samira Wiley, The Scenes: Janine follows June deeper into Chicago & June and Moira are reunited
Jamie:
June and Moira are reunited. It wasn't a very large moment but it was definitely a long awaited one.
Laura B:
Janine is one of my favorite characters, and while I almost picked the scene before where the two parted, it was Janine changing her mind and following June that gave weight to that departure in diametrically opposing ways. A lot of the season has been about the consequences of June's actions and Janine is really the only person willing to confront June about it, even though the truth is, it's not all June's fault. And while Janine says coming with her this time was her choice, it probably isn't going to feel that way to June, given what happens by the end of the episode and how June reacts in the following episodes.
THE ROOKIE, "Threshold", May 16, 2021, Actor: Melissa O'Neil
The Scene: Lucy's undercover montage
Folie-lex:
Maybe the scene hit a little too close to home seeing as that montage was probably all done during quarantine. But seeing Lucy kick ass, even if it meant being bored out of her mind with Nyla's voiceover walking us through the process step by step was very interesting.
THIS IS US, "The Adirondacks", May 25, 2021, Actors: Chrissy Metz, Justin Hartley, Caitlin Thompson, The Scenes: Madison calls off the wedding & The flash-forward
Luana:
Madison calls off the wedding - It would've been easy to make this a cliché moment, but this show is incredible at dancing around them gracefully, and this was no exception. You could see Madison's internal struggle, waiting for Kevin to tell her he loves her the way she deserves to be loved, though she knows that he doesn't, and him trying his best not to break the spell, not to ruin the picture-perfect family he has built just because he's not in love with Madison, but it's in part because of him and his family, that she knows she deserves better. And he does too, let's hope they both find happiness next season. I'm so excited to see where this show ends, and I'll be sure to keep some tissues around.
Jamie:
The flash-forward. There isn't much that surprises me anymore in TV shows but this was the first "what the hell" moment I've had in a while. This show has always done flash forwards well. I'm glad we'll finally get to see the full picture next season.
ZOEY'S EXTRAORDINARY PLAYLIST, "Zoey's Extraordinary Goodbye", May 16, 2021, Actors: Jane Levy, Skylar Astin, The Scene: Zoey sings a heart song
Luana:
I just love this show and I love these characters and the amazing performers that bring them to life, there are so many avenues this could open if the show continues, but if it's sadly cut short I'm okay with this being where we leave them. I will just miss them.