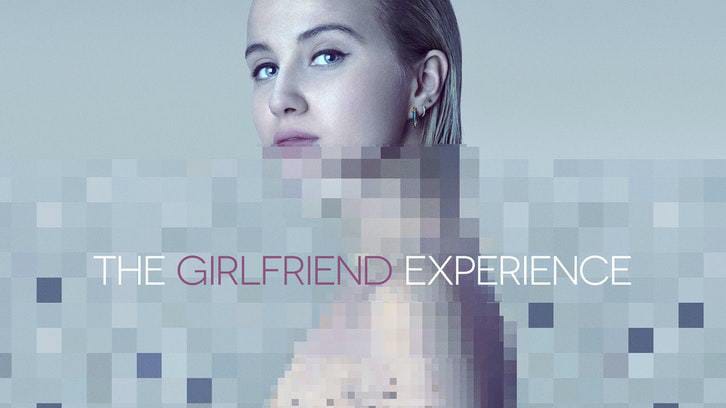 Please don't read until you've watched The Girlfriend Experience 3x01 and 3x02.
For those that aren't in the Starz loop, The Girlfriend Experience is an anthology series that originated as a 2009 Stephen Soderbergh digital feature (back when that actually meant something) starring porn star Sasha Grey. Acclaimed filmmakers Lodge Kerrigan and Amy Seimetz eventually came up with the idea of adapting the concept of TGE as a premium cable series at a time when every network wanted their own version of an American Horror Story-like anthology with Soderbergh overseeing as executive producer. Each episode was either written and/or directed by Kerrigan and Seimetz.
The series version debuted in 2016 to critical acclaim. It was quickly renewed for season 2, which debuted in 2017 with two unrelated stories about two different female protagonists. It received much acclaim, but the ratings went down significantly, creating doubt if it would even receive a renewal. Thankfully, it eventually did. After 5 long years of silence, season 3 has quietly debuted with 2 new episodes back-to-back.
For this season, the producers have decided to bring on award-winning writer/director Anja Marquardt (She's Lost Control) and go the sci-fi route. The visual aspect of the story is obviously quite different from the previous seasons, what remains the same is the theme of desire. Here, we are introduced to the idea of quantifying desire. The Affair's Julia Goldani Telles stars as Iris, a beautiful and intelligent young woman who is introduced to the audience in a quite timely video conferencing scene where she is being interviewed for a position in London. She explains that she is leaving her formal education at a prestigious university behind and is looking for a fresh start in London. She even comments that she is good at reading people. Considering her name, she ought to be.
Pretty soon, Iris is living a double life, working for both an AI company called, "NGM," by day and an exclusive escort service called, "The V," at night and calling herself Cassie. We can see that she is using her acquired skills at neuroscience and behavioral psychology to research basic sexual attraction. We see that she gathers audio recordings of powerful people who she can use her heightened analytical abilities to tailor her behavior to suit their individual tastes. So far, it seems that this sexy sci-fi allegory is not so much about when a dating app can ruin your life as it is more about how the creation of such apps came to be. We have an intriguing protagonist whose job is basically to learn how to talk to anyone and figure out how to get past their societal mask to discover what they really want, sexually-speaking.
Where any of this going isn't quite clear yet. I have read it is going to take until about the mid-way point of this season to really get the story rolling, so I am trying to give these early episodes the benefit of the doubt. I have to say I was a little let down by this start after waiting so long for another season of this series. I can definitely say that it already reminds me more of the first season than either story of the second. I am sure this is by design. One major difference is that the two careers the protagonist is balancing here are meant to complement each other and form a holistic, beneficial work/life balance for her, not just juxtaposing between a conventional career of law or politics until one wins out over the other. I actually got confused watching these two episodes and thought NGM and The V could actually be connected in some co-dependent way (which they could still hypothetically be).
Stylistically, this seems to be one series that may have benefitted from the new COVID-19 precautions. Everything from the set design to performances feels stoic, distant, and oppressively inhumane at times. Considering the new times we are now living in, that is actually more of a complement than critique. We are left staring at the rather empty rooms and blank expressions and wonder if either of these companies are just going to take everything from Iris just to advance themselves. Is she using them in her search of personal empowerment, or are they just using her talents selfishly with no intention of any kind of reciprocity? Like the previous seasons, I am willing to ignore the uncomfortable aesthetic and heavy-handed social commentary about how "corrupt" the "legit" professions really are to find out. Sometimes the most inhumane story needs some basic humanity to make its points.