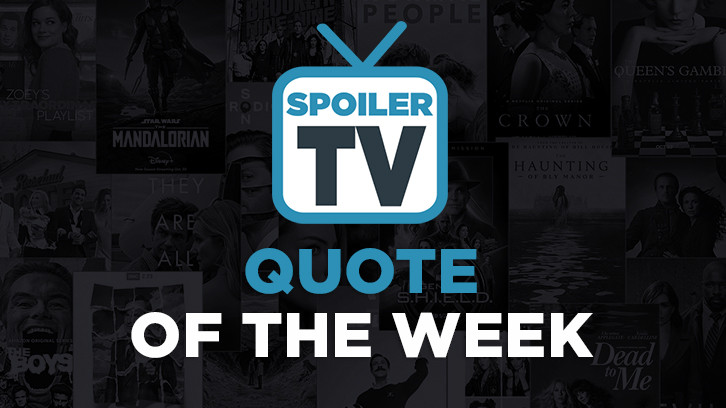 A weekly feature highlighting the best quotes on TV as picked by the Spoiler TV team. We'd love to hear your picks too so please sound off in the comments below.
Chicago Fire -
1. Brett: "Wanna hear something weird?" Casey: "Always." Brett: "I'm kind of missing Veronicat." Casey: "No." Brett: "Yes. She was terrifying, but she was also very entertaining." Casey: "I think you need to find a less dangerous form of entertainment. Cockfighting, maybe." (KathM)


Chicago PD -
1. Samantha Miller: "You think I don't believe what I preach? I am who I say I am, who I said I was since the day I met you."
2. Hank Voight: "What are you doing? This is not reform. This isn't why people are marching in the street. Why you moved to Chicago to change it. This is about doing what needs to be done to save your kid."
3. Samantha Miller: "You can say it, Hank." Hank Voight: "Say what?" Samantha Miller: "I killed my son. And those girls. Say it. I was trying to do the right thing and I killed him." (Jessica C)


The Equalizer -
1. Robyn
[discussing the death of the social media site that facilitated communication for a radical hate group Truth Trappers]

: "It's just a Band-Aid. There'll be another Squakist, another Truth Trappers. Take down one cell." Mel: "Another one pops up. It's Whac-A-Mole." Robyn: "Yeah, until we take care of the greater social issues." (Prpleight)


Hacks -
1. Ava: "I may have been lucky, but I'm also good". Deborah: "Well, I should hope so. Good is the minimum. It's the baseline. You have to be so much more than good. And even if you're great and lucky, you still have to work really fucking hard and even that is not enough. You have to scratch and claw and it never fucking ends. And it doesn't get better. It just gets harder". (Giulia Del Buono)


Home Economics -
1. Tom: "I don't know how to sign off. It's like: Sincerely? Fondly? Humbly yours! What am I doing? Might as well just send back like a heart emoji." Marina: "Wow. You are nervous, even for you."
2. Tom: "The thing is Amanda these characters that you're talking about... I mean, I love them. You say that Sarah is too angry, but I see a woman who stands up so fiercely for what she believes in. And yeah, she's a tendency to leave places, or be asked to leave places, but that's just 'cause she cares so much. I wish I cared about anything as much as Sarah cares about... everything." Sarah: "I do care." Tom: "And yeah I can see where it looks like Connor lives his life like Tom Hanks in Big but where you see that as immature and impulsive I see his childlike optimism. Connor believes anything is possible." Connor: "I dream impossible dreams." Tom: "And yeah your version might sell more copies, but I want everyone to see their family in this. Everything that's flawed and everything that's wonderful about them. If you're not okay with that then... you know what I'm not the author for you." (Folie-lex)


Legends of Tomorrow -
1. Gideon: "Lord Knoxicrillion's superior technology is...superior." (Prpleight)


Mare of Easttown -
1. Mare [attending a funeral]: "Do you think there's a part of Mr. Carroll that's relieved? I'm just saying..." Helen: "Jesus, Mare!" Mare: "She seemed to drive him nuts all the time, you said as much yourself." Helen: "You're allowed to say that when a person's alive. After they die, everyone's a saint." [crosses herself] (KathM)

NCIS -
1. Knight: "I killed a stapler." Torres: "Oh, I been there."
2. Gibbs: "Some things, Bishop, have a cost. They still have to be done." (KathM)
3. Jessica Knight: "I'm kind of in the middle of a prison break here."
4. Eleanor Bishop: "Was it worth losing...us?" Gibbs: "I don't know."
5. Nick Torres: "Oh, she's a bad influence." (Jessica C)

NCIS: Los Angeles -
1. [How does Admiral Kilbride chill? Inquiring minds want to know.] Nell: "You meditate, sir?" Kilbride: "Do you think I meditate, Ms. Jones? Nell: "I think you might meditate to relax or..." Kilbride: "I do do not meditate. I drink alcohol to relax, like normal people." (KathM)

Pose -
1. Pray Tell: "Ain't no man in a lab coat and cheap shoes gonna tell me that I gotta throw in the towel."
2. Pray
[signing power of attorney over to his Aunt Jada, letting her know his final wishes]

: "I...want to die peacefully at home. And then I want to be cremated." Jada: "So, where do you want us to put the ashes?" Pray: "I want you to buy a bunch of heart lockets and fill them with a little piece of me, And give one to all my friends and one for you and Aunt Latrice and Mommy, And then you'll all have a piece of me, wherever you go. Y'all ain't never gettin' rid of me! [they laugh] But not everyone is going to get a locket, no matter what they think." Pray Tell: "Now, there's this bossy bitch called Electra who's going to think think she deserves one of these lockets. I want you to tell her that I said from the grave that she can kiss my entire ass." (KathM)


Queen of the South -
1. James: "I didn't think she'd pull it off." Pote: "Eh... Teresa doesn't take no for an answer." James: "Especially not from us."
2. Marcel: "Those cops got a piece of me, now they are hungry for the rest. I can't so much as spit on the sidewalk without them wanting to drag my black ass back. All you got for selling me out to law enforcement is your 30 coins of silver. Got your big waterfront, your place in society. I go to jail. You're prancing around my city like you're the goddamn Queen of the South."
3. Boaz: "Took you long enough. you finally figured it out." Teresa: "Where is he?" Boaz: "George? Your gringo spy? Pues... he's with your godson, Little Tony. But don't worry, jefa. Your whole family will be together again soon. Even Pote, and his baby mama." Teresa: "I'm going to fucking kill you." Boaz: "Not if I get you first pinche perra." (Folie-lex)


The Rookie -
1. Dahrio: "I want it finished and out the door by sunrise." Lucy!Nova: "Yeah, and I want a mansion and a yacht. But I'm dealing with chemicals that explode if you look at them funny so I'll take the time I need."
2. Angela [to La Fiera] : "Cesar might have sent the shooter who killed him, but you loaded the gun. You crossed a line with Diego you said you never would. You used him as a cover to talk to Cesar's father. You hung the target around your son's neck. He's dead because of you, hermana. And deep down you know it."
3. Grey: "As I was saying, first Nolan, now Chen... Turned out to be a pretty good teacher. Forget undercover work, you might have found your calling." Nyla: "Here's the thing sir, it's all my calling. If I were to go into politics this afternoon, I would be president in four years." (Folie-lex)


1. Carlos: "We're shallow people. Can our lives have any meaning if all we do is buy stuff?" Gabrielle: "That depends on what we buy."
2.
Gabrielle: "Before we got married we made a deal, no kids " Carlos: "Deals are meant to be renegotiated." Gabrielle: "Well, we're not negotiating my uterus." (Lindsey)
Prodigal Son - 2.04
1. Jessica: "No one should have to survive like this, especially not her. Who knows what she's capable of? You are a cancer, Martin. The closer they get to you, the more they become you." Martin: "You know that's not how cancer works, right?" Jessica: "I'm taking her away." Martin: "Sweetheart, murder isn't some coke habit that you can fix with a handful of crystals and a trip to Esalen. There's no rehab for this."
2. Jessica: "Don't say another word. Just for a second, be the man that I married all those years ago, not this monster. Just for a second, be him. We're going to lose them, Martin. They'll be arrested, devoured by the media, imprisoned, or worse." Martin: "What do you need from me?" Jessica: "A partner. Help me save them." Martin: "Of course, and we will. Even these chains can't stop me. Nope, there's nothing I won't do to save my family." (Dahne)


Young Rock - 1.09
1. Dewey: "They cut my leash took my board and beat my ass. They were gonna bury me up to my neck in the sand, but I ran away. I'm sorry Dad." Rocky: "Hey. Never apologize for standing up for yourself." Dewey: "Oh no, I wasn't apologizing about that. I was saying sorry because I lost." Rocky: "Oh okay, good." Dewey: "Yeah, I'm glad I fought." (Folie-lex)