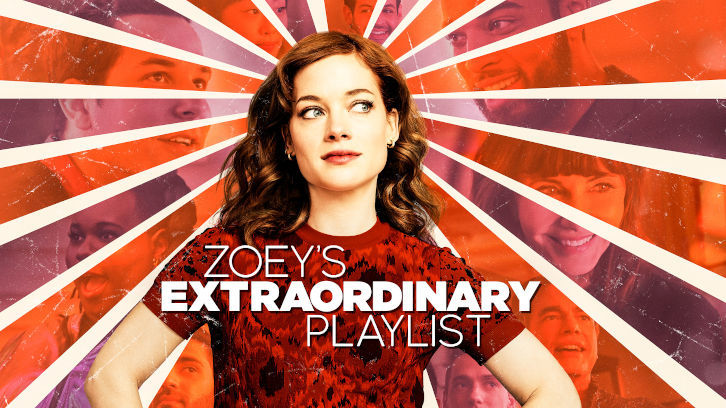 Zoey finds the deeper meaning of moments in this song-lite, mush-heavy, feel-good episode of Zoey's Extraordinary Playlist. Read on for my review of "Zoey's Extraordinary Memory":
The Leodons meteor shower is set to reappear for the first time since 1999, and Zoey is determined to go see it. Her reasoning? The last time it appeared, Zoey and Mitch went to go see it in the mountains, having a late-night picnic and looking through a telescope at the stars. When Zoey asks Mitch why he's watching her and not the shower, Mitch replies saying that "My moment is watching you have the moment." At the time, they promised each other that when the shower came back, they'd go back to see it again.
Now, with Mitch sadly unable to fulfill that promise, Zoey searches for an apt partner to go see the shower with her. The hitch is that she doesn't want to reveal why she wants to see the shower, because she feels as if she's been relying too heavily on her friends for grief-related support.
The first person she asks is David, but he proves unable. At SPRQ Point, Zoey then invites Simon, but he also can't, although they agree to spend time together (in an extra-flirtatious fashion) the next night at the Maximo's opening. Zoey next tries to invite Mackenzie, who also turns it down, but Leif overhears their conversation and invites himself and Tobin - not exactly the reverent stargazing partners Zoey was searching for!
It's opening day eve to Maximo's and Max is - expectedly - freaking out. Mo starts out as a beacon of calm in the moment, but too begins to spiral when a stoic (and attractive) fire marshal named Haskins enters, pointing out a dozen or more fire hazards that need to be fixed by the opening.
Zoey goes back to the same place she and Mitch watched the shower 2 decades previously, but with constantly-bickering Leif and Tobin in tow, reminiscing proves difficult. To make matters worse, Leif gets a call from a mysterious "Kaia" and begins to sing "Tainted Love," meaning that Zoey now has a problem to solve on top of everything else. Just then, the clouds cover the meteor shower and the visibility disappears. Tobin manages to catch a glimpse of the shower, but Zoey, distracted by Leif's song, doesn't.
The next night, Zoey has to read a speech at the Maximo's opening, but manages to schedule out her night so she can leave early and still catch the end of the meteor shower. To get it off her conscience, Zoey asks Leif about Kaia, and he tells her about a girl who he went out with and really liked, but who ghosted him. She encourages him to call Kaia and try again with her, inviting her to Maximo's. Problem solved!
After finally fixing all the fire hazards, Maximo's opens to Max and Mo singing "Let's Get Loud" by Jennifer Lopez (Alex Newell + Skyler Astin = belting duo of the century!). It's here that we're introduced to yet ANOTHER forgettable cog in the ever-turning Max/Simon/Zoey romance wheel, as Rose (Max's former flame from summer camp, of course) appears, in town for an art exhibition. And because no new character can be introduced in this show other than as a potential love interest for another character, it seems the flirtatious spark between the two of them never really died out.
Kaia shows up at Maximo's and seems to be having a great time with Leif - that is until Zoey talks to Kaia (under the guise of being a waitress) and finds out that she's only interested in Leif because he has an "in" at SPRQ Point. Zoey tells this to Leif, but it doesn't go over well because she was the one who told him to ask Kaia out again in the first place.
Because of this new wrinkle, Zoey misses the meteor shower again. As the bitter cherry on top, the speech Danny Michael Davis wrote for Zoey to give at the opening reminds her of the Leodons and how moments can never be truly recreated, so they need to be appreciated when they happen. Breaking out into tears, Zoey quietly leaves the party, with a concerned Max and Mo following behind.
Zoey finally tells her friends about why she wanted to see the meteor shower so badly. She admits how she felt like she was being a burden on them and didn't want to (literally) give them any more grief. However, both Max and Mo insist that they're available to help Zoey any time she needs it, and Max even drops everything to get a group together to take Zoey back to the mountains to see the stars. Max, Simon, Leif, Tobin, Mackenzie and Zoey head back up to the bluffs, completel with a full picnic and some music to sing along to. Watching her friends have the time of their lives, they offer Zoey a look through the telescope, but she insists that watching them have the moment was her moment. Cute!
Overall, I would call this episode safely middle-of-the-road. The stories do feel like they're getting a little repetitive, and possibly a bit too melodramatic, and the hot Australian neighbor character was boring even when he was an A-plot, not to mention now when he was shoehorned into a plotline about David joining his band (?). But what else can I say? This is just a good show! Truly the marshmallow fluff of the current TV landscape, Zoey is consistent feel-good niceness every week.
What did you think about "Zoey's Extraordinary Memory?" Why do you think absolutely every character is suddenly *making eyes* at each other? And did anyone care about David's plotline this week whatsoever, or am I just callous? Let me know in the comments!
Zoey's Extraordinary Quotes-List:
Zoey: I feel like I've been relying too heavily on my friends. I feel like all I do is lean on their shoulders and cry about Dad.
David: Yeah, I get that. Sadly, the only person I have to cry to is Miles, and all he does is cry back. But then, we have a really good laugh about it, and I try to explain the appellate process. And I might be going a bit stir-crazy.
Haskins: You cannot Bejewel an Exit sign.
Mo: Uh-uh, it's not "bejeweled." It's Bedazzled.