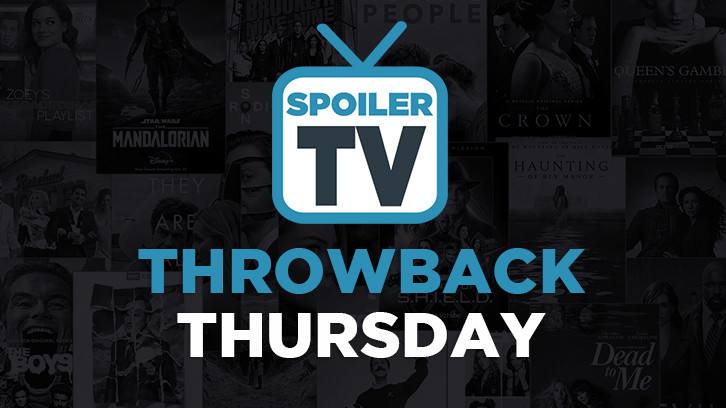 Throwback Thursday is a weekly article in which we look back at our favorite TV episodes from the past.
Usually I know exactly what I want to write for Throwback Thursday, but this time I had a hard time deciding. I've already covered some of my favorite TV shows, but then I started thinking about Numb3rs and how I loved it when I binged it this summer. So for this week's Throwback Thursday, I chose "Two Daughters", one of my favorites from the series.
"Two Daughters" originally aired on September 29, 2006 and is the second episode of season three. In the episode before, Crystal Hoyle and her much, much younger new husband, Buck Winters, went on a killing spree. Buck gets arrested, and then Crystal kidnaps Megan. At the beginning of this episode, Crystal calls Don with her demands, and the team starts working to rescue one of of their own.
Crystal has taken Megan to a dingy, old motel room and handcuffed her to a pole that's bolted to the wall. Crystal wants to trade Megan for Buck so this buys Megan some time. While in the motel room, Megan tries to bond with Crystal by telling her about her past. She also asks some questions to try to figure Crystal out. We learn that Crystal had a baby when she was 15, and she's planning on finding her daughter and getting her back.
The team brings in Buck for questioning to see if they can figure out where Crystal went. They don't have any luck with him, and the team starts to panic. Larry's anxious and somewhat annoyed at Charlie for being so calm. Charlie explains that while he's worried about Megan, too, he needs to be calm so he can think. He asks Larry to leave.
Don loses his temper, but Charlie does what he usually does and starts to figure things out. When Charlie goes on his tangents and does his genius thing, I usually feel like Colby here. I just wait for him to tell everyone else what the solution is. They find Megan and Crystal, but then Crystal throws a grenade at their car and she takes a knife and slashes Megan's arm and runs. Luckily, Megan's okay thanks to the team rescuing her quickly. She talks with Don, Colby, and David while recovering at the hospital. Megan believes that Crystal was trying to protect Buck in a weird way. She already failed to protect one child and didn't want to let another one down.
Crystal finds her daughter, but after seeing her happy with her family, she drives away. Megan calls Crystal, and she says to have Buck call her. While she's on the phone with Buck, Don and the rest of the team are able to track her and find her location. They set up a road block, and Crystal doesn't stop. They end up having to shoot her and then her car blows up. I think Megan was right: in a weird way Crystal was trying to protect the two people she loved most by running away. I wish she wouldn't have died, but I guess she decided it was better than life in prison.
"Two Daughters" does end on a happy note with Megan and Larry walking together around the university and then they kiss. Don goes to visit Charlie and the two end up in a cute brotherly fight over a video game about golf. Their dad ends up taking the controller and trying to show them how it's done. Finally, the credits roll.
I love how much this team cared about each other.
Numb3rs
began as a show about two brothers, and yes, that was the biggest relationship on the show, but throughout the series, the other characters, Larry, Megan, David, and Colby, all became family as well. And it's one of the few shows out there that I think all of the characters are likeable. I think the second and third seasons are my favorite, but all the seasons are good. If you haven't watched
Numb3rs
, I would highly recommend it. Yes, it is a procedural, but it's so much more than that.
Favorite Quotes:
"Anyone else following this?" "Just nod your head and wait for the punchline."
"Don't underestimate how great it is to have somebody to come home to talk to."
Have you watched Numb3rs? What are some of your favorite episodes? Leave a comment and discuss below!