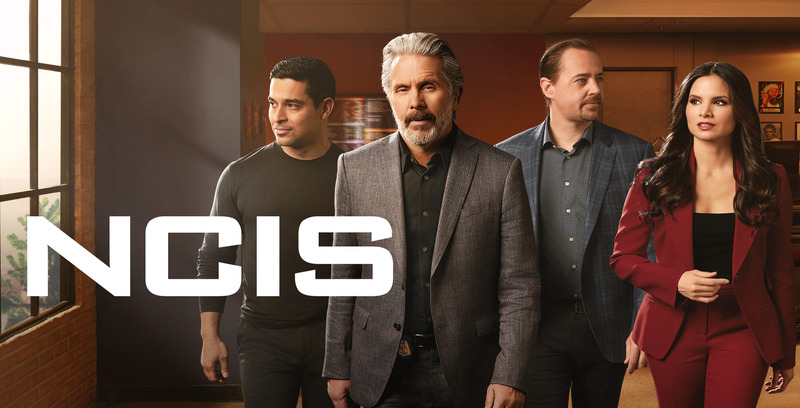 18.11 - "Gut Punch"
Written by Christopher J. Waild
Directed by Rocky Carroll
Reviewed by KathM
This week the Gibbs gang learned that there's no "I" in Team and Gibbs himself seems to be double-dog daring NCIS to either fire him or force him to retire. Either way, he doesn't really seem to care.
How far the mighty have fallen. Since admitting to Vance that they lied to cover for Gibbs when he attacked the owner of a dog fighting ring who killed the losers in last weeks episode, "Watchdog", he has put them all on desk duty until further notice. Bishop wonders whether everyone in the building knows what they did and a deeply annoying, almost childish, agent called Sawyer pops up from his desk to assure them that they do. He may have some serious issues about not being on Gibbs's elite team. Now he's on top while McGee, Torres, and Bishop are stuck doing "computer work". Not that he thinks this is ample punishment. "There haven't been any consequences – I mean, Gibbs took it on the chin but his disciples barely got a reprimand...why?" he sneers at Bishop.
Sawyer and "Ronnie" (Agent Veronica Tyler, last seen in 18.1, "Sturgeon Season") from the night shift are taking over the day shift for now, the temporary (possibly permanent?) A Team. When word comes down that a body has been found McGee and the gang are ready to grab their gear, but they have to stay behind to be briefed on a new assignment Vance has for them: COVID compliance for an event SecDef is having with the Minister of Yemen. Fun.
When Torres intimates that COVID compliance duty was silly and unnecessary, Jimmy made it very clear to him how valuable it was. You could save a life, you know. And since his wife died of COVID several months ago, Jimmy would know. And Nick should really think before he speaks.
But somehow our intrepid, leaderless Team Gibbs turn checking that everyone involved in the event has either been vaccinated or tested negative and measuring the distance between hand sanitizing stands into finding out who was hired to take out SecDef and ferreting out who hired a nearly ex-Marine to do the deed. And the Marine is dead now, too, and so is the guy who hired him, which they also sorted out. But there is still the Ultimate Villian, because three is a magic number. He's taken down as well. All while they skate on the razor's edge of what Vance had assigned them to do. And Leon continues to be unhappy with them, ultimately giving Sawyer and Tyler credit when explaining to SecDef who saved his life and uncovered the whole scheme.
The fact is that McGee, Bishop and Torres are the best agents around for a reason. They have been given a lot of autonomy and frankly Gibbs is an amazing teacher. They know how to think outside of the box and trust their gut, but he never taught them that they were part of a larger team: all NCIS agents. They rarely look outside of their own world, which includes Kasie and Jimmy. When Bishop wants something from Kasie, she says she'll get to them by the end of the week. Why not immediately? Because they aren't the top team anymore, Kasie reminds her, and therefore any of their requests fall in line with everyone else's. Feel Kasie's gentle tough love. All of the individual teams make up Team NCIS, Kasie reminds Bishop. Parts of a whole.
In my opinion, Tyler and Sawyer seem to be sub-par agents, following the trail straight ahead and never looking to see what might be just outside of their view. You could see it with Tyler in the episode that introduced her. I also loathe Sawyer's character, and can neither confirm nor deny that at one point I became so frustrated I threw a stuffed toy at the screen when he appeared. But they haven't had the kind of training that Team Gibbs has had, so you can't really blame them. You'll know what I mean if you have had a boss who hems you in as opposed to one who trusts you to let you spead your wings a little. I'm not saying that Tyler and Sawyer can't do their jobs, but I don't find them to be dynamic thinkers and those types of people (and characters) annoy me.
That being said, McGee and Co. need to learn more about looking outside their bullpen and consider how their actions impact others. They won't always be #1, and they won't always have Gibbs (maybe sooner rather than later) to lead them. I wondered how they'd handle learning about being part of a larger team, and while they succeeded a little at the end of the episode they still have a long way to go. Maybe that's what Leon is trying to teach them.
Meanwhile, Gibbs's world is pretty much how I'd imagine it to be if he had the day off. Has some breakfast at the diner, makes Lucy a big plate of meat for her lunch, hangs out in his basement playing with his boats. Leon calls him to tell him that the press has heard about his incident and wants to know the whole story, but SecDef has ordered everyone not to speak on the record about it. Gibbs reiterates that he doesn't talk to reporters, anyway, but isn't ashamed of what he did and thinks they should just tell the story and let it rest on him. Enter Pam Dawber.
The actual wife of Mark Harmon is playing Marcie Warren, a reporter who wants to get the story about what happened with NCIS but nobody is returning her calls. She tries to start a conversation with Gibbs at the diner, but he recognizes her as an investigative reporter and walks away. Later, when Marcie brings some scary-looking meat product over to Gibbs's to apologize, Gibbs is also not impressed. Marcie even has her clip book, which is so 80's I want to weep. She tells Gibbs that she just wants the truth to come out, which is what Gibbs wants even as he sends her on her way. Until she recognizes part of a boat engine he's holding, then he tells her the whole story. No, really. That's the only thing I can come up with.
Team Gibbs is pretty worried for Gibbs when they read the completely accurate account of how and why he attacked Stana, and know that only Gibbs could have been the one who talked. Later that night, as Gibbs is working in his basement, Vance comes to visit him. He can't protect Gibbs anymore, he tells his long-time friend. Gibbs wants him to stop trying. "Whatever comes next, I can't save you,".
I have no idea what is going to happen next: I'm surprised the show hasn't been renewed yet because it consistently ranks best in its time slot. It's an expensive show to run, so I'm not sure how they balance that out. Is Mark Harmon leaving? Yeah, I think so. Maybe going part-time and moving Gibbs in another direction, but I can't see him in the bullpen full time anymore. We'll have to see.