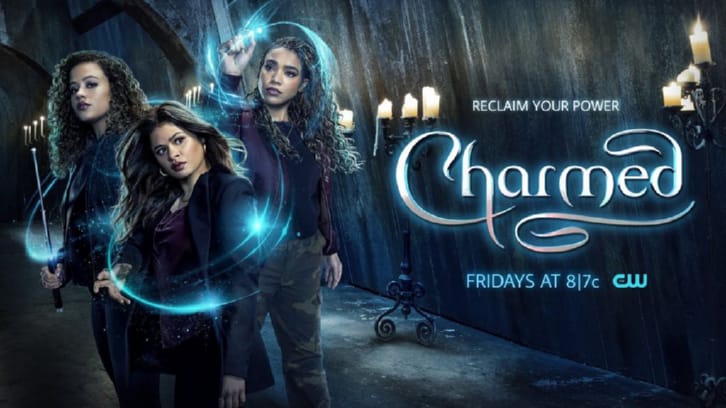 Topping "Witch Way Out" as my favorite Charmed episode of the season was a tough task, but "Bruja-Ha" hit all the right notes, with character moments, spells and potions and some good sisterly/cousinly bonding. 310 was directed by Joe Gallagher and written by Joey Falco and Blake Taylor.
From the get-go, the episode provided intensity and a sense of danger that the show should embrace more. After a long while it really felt like the Charmed ones were in danger and not equipped to handle what the Tomb of Chaos was throwing at them. The previous episode ended with the Macy and Harry reading from the Tablet which as in this episode revealed lead to a continuous rift being opened between Earth and the Tomb of Chaos. As we enter this episode the sisters are on a rotation system fighting Tomb creatures for 6 days. And it was getting to all of them. The pressure to save the world and live their lives was slowly getting to them. The way the actors acting supported a tender and delicate script just made this episode blossom more and more, from scene to scene.
Let's start with Macy. Macy's latest encounter with a Tomb Monster let her hurt and scared. She was on the brink of her strength and didn't see the situation pan out in her and her sister's favor. Giving her this peace of mind with Harry in this episode felt just so precious. The writers pulled the breaks on their relationship "drama" so that the moments this episode felt just so much more precious. The aftermath of 3x08 is still affecting Macy and it is really a great thing to explore further, as many shows pull back after showing some sort of progress on don't exam the consequences of microaggressions and macroaggressions. Madeleine's performance once again was on point, the pain and strength she simultaneously expressed while expressing her growing lack of motivation was truly captivating. Harry gave her the needed comfort and security was really touching. The script and performances during this episode were just that good. The follow-up scene towards the end of the episode gave another great introspect into their current relationship.
Balancing Tomb monsters and college proved to be way too much for our little overachiever Maggie. So much that Maggie used her own powers to charge herself up with fearlessness. Using a doppelganger as Maggie's next target was a great writing choice which allowed to further examine Maggie's state of mind. The battle between the two Maggies was intense and amazingly executed. Sarah gave Maggie's story just the necessary depth without overdoing it and making it feel already seen. The broad spectrum of emotions Sarah delivered just transferred perfectly through the screen. Mel and Maggie's talk was everything though. The supportive and emotional resonance Mel provided for Maggie was gripping and satisfying. Asking for help should never be a sign of weakness, being strong enough to know where your limits are is a virtue. And all of this would've been perfect if they let Macy be part of this sisterly moment. I did enjoy the Macy-Harry scenes, but once again she was isolated from her sisters and that just doesn't sit right with me.
Mel as usually was the Mama Bear of the family, the strong and focused Matriarch. But even she struggled with the current situation, as Josefina smoothly expressed. Josefina is a great addition to the family/show. You can see sides of all three Vera-Vaughns in her character and Mareya expressed them with such a finness. It was admirable to see Josefina handle herself in this episode, respecting her sisters but following her instincts and saving them for that matter. The Bruja's Ladder was an interesting spell and very convenient to be introduced with the Perfecti arriving. It also showed how gifted Josefina is and how powerful she is despite the lack of active powers. Mel's instincts to protect Josefina were great and her talk with Harry was just as impactful. Mel taking on Marisol's mantle and giving Josefina the affirmation Marisol gave her her whole preWitch life was such a great moment. The reveal of the Book of Shadows was just a cherry on top. Bringing the Book of Shadows back was just a really important moment, not only for the OG fans but foremost for the sisters. It's their legacy and what they will give to many generations of Vera-Vaughn witches.
Last but not least, there were the Perfecti. Perfect being imbedded with magic from all the magical tribes around the world. The Perfecti were created to create the Tomb and bring peace to the world. Heather Doerksen and Aryeh-Or were great as Aladria and Mo. From being silent to their first touch with the 21st Century they hit all the right notes. The question is should we trust them? Hell no. Maybe I am too skeptical but Mo's lines about the polluted Earth, Aladria mentioning everyone will know who they are soon, the fact they were in the Tomb and all those looks are major red flags to me. But I am here for all of it.
Other tidbits:
- I need the same mobile service provider as the girls, impeccable signal.
- Jordan is curse-free! Where is my Joggie hook-up scene?
- The Benevolent Classification and Containment System for Rampegeous Beings and Unpredictable Objects in a Fifth-Dimensional Space Time. That is a mouth full writers?
That's a wrap on my side. We have only 8 episodes left and starting May 7th Charmed is moving to Fridays. Don't forget!!! And it not only a new day it's a new timeslot as well, 8/7 central on the CW. And while we are still 11 days away from a new episode, feel free to share your thoughts in the comment section below. Till we meet again. . .