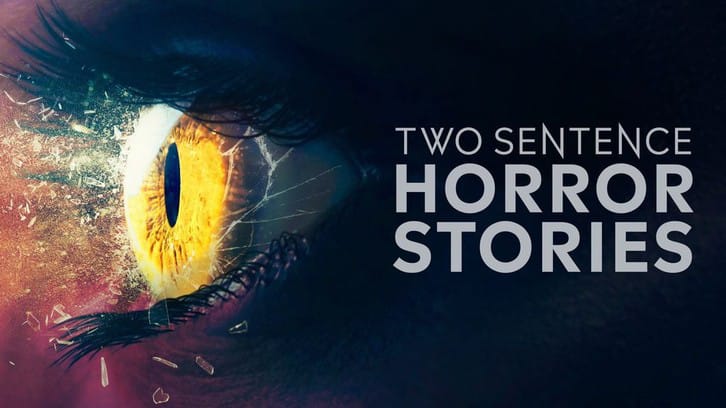 Please note: The CW actually airs two stories as separate episodes each . Since they are both 1/2 hour each and aired back-to-back with each other on the same evening, I am considering them one episode. As always, please don't read without having viewed the episode first.
There WILL BE SPOILERS!
Episode 3: Instinct
Here, an ethnically diverse student who works the gig economy, Anika (Sunita Prasad), goes to the house of a well-off causcasian man (Tyler Johnston) for a TaskRabbit-like app assignment. While working, she suspects he might be a serial killer who could be about to menace her. Her overactive imagination somehow conjures up the vision of a beautiful, heavily make-uped woman who might or might not have been the victim of this man who guides her and serves as her conscience. Is there something sinister behind the walls with all of the hanging pictures? Strangely, she refuses to leave the house since she is worried about getting bad rating (seriously, if you get a bad review from leaving a serial killer's house mid-job, you'd have a pretty good explanation for it you can respond to on your profile....or just join a different app company). Anyone who ever watched the original Twilight Zone series might have an idea of what happens next (I won't spoil it here).
While I enjoyed the suspense and the surprisingly effective cinmeatography and performances, the whole female Ethnic hero/male Caucasian villian subtext angle got a little on my nerves. Still, the technical execution of the episode made up for some unimaginative representation. It definitley played on your sympathies effectively and made you question if this illogical young woman really is delusional or not.
Episode 4: Imposter
It starts with "I work so hard." Here, Charles (Lou Ticson), wants to advance in his successful corporate financial planner career. As expected, a sacrifice must be made to fit in with his co-workers. Since he is of Asian descent and still considered a bit of an outsider (he is even referred to as "Charlie Brown" at one point), it is expected that he must abandon his heritage and conform to his mostly Caucaisan hive. He seems to be all-too willing to do this (even though he is actually financially supporting his family), to the dismay of his mother, who claims that he has lost his identity. He even wishes to get rid of a family herloom which is possibly cursed, just b/c he finds it ugly.
At an awards ceremony where his promotion will be a foregone conclusion, he gets to confront his doppleganger when he tries to accept the award on his behalf, who looks like an identical twin of his, but is anything but. This "twin" wears not the corporate suit and tie, but is dressed in the traditional clothing of his heritage and carries a big knife. Charles must now decide which version of himself can endure. Will he lose his identity for good?
This episode took a subject matter about identity politics that seems a little passé at first, but, sadly, is still all-too-relevant in corporate environments. The symbolism and themes were a little too overstated and pronounced, but the episode was only 20 minutes, so there wasn't much time for subtley. Still, I felt the use of the mother not being able to discern her son from the more traditonal apparition in the climax was a bit much as we could guess the significance of the two selves confronting each other already without her spelling out the story's theme. The acting, cinematography, and editing were all competant and the twist ending was not too easy to predict. I haven't seen too many doppleganger stories where all of the other characters can interact with the spirit and have it not be a time travel story. Pretty compelling stuff.