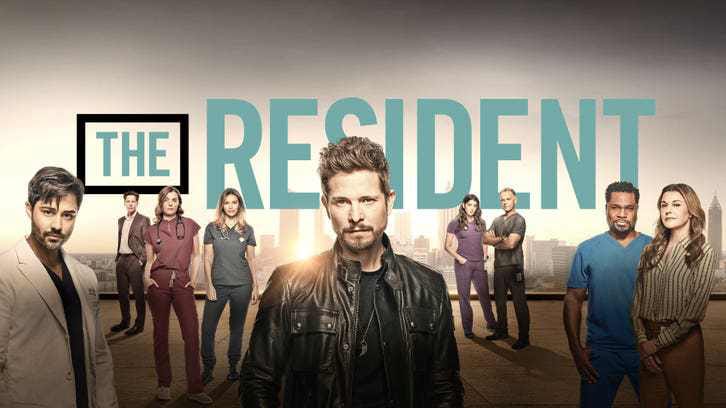 The wedding is beautiful, as it always would have been. This milestone in Conrad and Nic's love story was earned through seasons of watching the couple's love for each other grow, even with the show avoiding many common relationship drama tropes. With both of the couple's fathers there to give them away, tears of joy were assured. Of course Mina "My Game is Always On" Okafor worked her talents on modifying Nic's mother's gown for the bride. Nic wore Jessie's earrings. (Not enough Kleenex in the world). Devon helped Conrad get ready. The wedding flowers featured blue wildflowers like Conrad wanted, to remind them of the ones he got Nic on their first date. Nurse Hundley sang. Just about everyone from Chastain was there, AJ and Bell and Nurse Jessica, with Irving as the wedding officiant. Afterwards, another couple shared a milestone moment of their own in a gorgeous romantic scene.
The wedding was set in the future, an undetermined year in a post-COVID-19 world; it bookended an episode that occurred in the past present, a snapshot of the devastation caused by the pandemic. "When all hell breaks loose, you find out what people are made of," Conrad tells Devon, and we see once again what the Chastain team are made of. The episode intersperses tender interactions among the doctors and nurses supporting each other amidst their overwhelming challenges with the much more somber realities of the foe they're up against. Most of the surgeons, their surgeries off the calendar, pitch in to help with COVID-19 patients. Barrett Cain, of course, is the exception. In a chilling scene, he calls a patient and coaxes the man into moving up a simple back surgery, lying to him that delaying the procedure could have imminent consequences. There's little fallout for Barrett over this particular brand of evil...yet. Concerns from the hospital board that they are losing money translate into a lack of sufficient PPE for the staff. Doctors have to reuse equipment long past manufacturing recommendations, as hospitals outbid each other in sky high amounts for supplies. Kitt contracts COVID-19, most likely because her overused mask breaks while attending a patient. "What's going on?" Someone asks the question amidst the chaos staff are attempting to work miracles in. "Everything," Mina replies.
In dozens of small ways, The Resident conveys the horrors and heartbreak. A patient's family wait at his bedside via Zoom for him to die. Nurse Hundley contracts the virus, eventually driving herself to the hospital, where Nic has to ask her daughter to leave, to trust them with saving her mother's life. Later when they have to intubate Hundley, there's nothing quite as awful as the terror and grief on Hundley's face, knowing the risks but also knowing it's her last chance. "You will wake up," they tell her, and this reviewer was reminded of every post on social media from a nurse sharing how they told a patient they would be okay, they would wake up, they would live...and how COVID-19 made them a liar. Outside each patient's room there are pictures and short bios about what their life was before, who they were before. "Don't forget me."
Many shows have acknowledged the reality of COVID-19 and the tremendous toll it has taken. Few have grasped the emotional trauma the way The Resident does. The montage where Devon, Nic, and Conrad plead with their fathers to stay safe, to stay home. Nic and Conrad holding each other just for a moment, both outside of and inside of their many layers of PPE. Irving and Jessica pantomiming hugging each other. The brief, stark fear in Nic's eyes when Conrad is checking the seal on her days-old mask. At one point a man enters the ER, wearing his mask incorrectly and breaking social distance; he spits on Mina's protective wear when she reprimands him. The scene is completely wrong; it's so detached from reality it sticks out. It's like being stung by a mosquito. And that of course is the point of the scene.
The episode concludes with the wedding, a hopeful wish that one day the world will wake up with COVID-19 vanquished. Conrad and Nic take a moment to honor and remember their fallen teammates. Later, as everyone is dancing, Mina summons AJ to meet her so she can ask why he's missing his plus one. The Raptor puts into words the obvious. He's still waiting for Mina, and no he won't mess up what they have together as coworkers, as rock gods of surgery, but he doesn't see any reason to not be honest. Mina kisses him, and they share a few more passionate smooches ("This changes nothing," Mina makes sure to add) the show has earned by once again knocking relationship development out of the park. In one more emotional remembrance, Devon misses the wedding because he's flying to his father's memorial service, as only his mother survived when both his parents caught COVID-19.