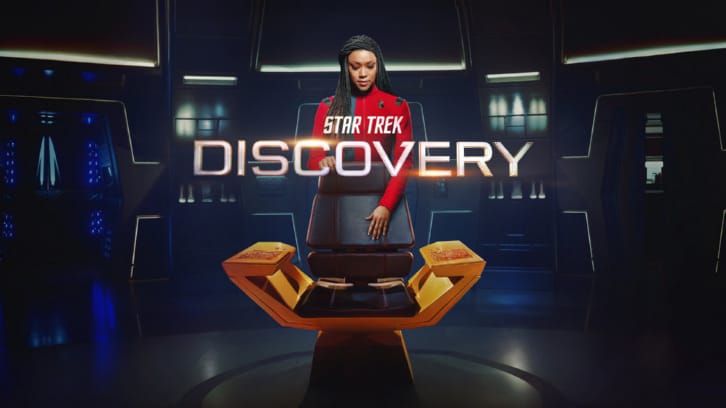 Star Trek Discovery – 3.11 – "Su'kal" – Review
:
Star Trek: Discovery
gave us some much needed answers about the origin of the Burn in an emotionally brilliant episode,
Su'Kal
, that really focused the direction of the season as it came to explore the fate of the Kelpiens and look at their plight. It felt like a classic episode of
Voyager
or '90s Trek: a select part of the crew beaming down the surface of an alien planet, in this case, the Verubin Nebula, to find a mystery against a ticking time bomb whilst the Federation rushes to aid Saru's home planet as it came under attack from enemy forces.
The quest to find the origins of the Burn has been one of the main defining points of Discovery Season 3 so far and to see it get an answer was a rewarding moment, backended by the subtler more character-driven approach over the big action spectacle which looks like it's coming in the next couple of episodes. I have to say though, I do love that we finally got to see a human version of Saru, Doug Jones captured the expressions of his character perfectly and the surprise at finding out that he was human was a perfect piece of acting and demonstrates why Jones is one of the best cast members on the show.
The way the Kelpien elders had set up a monster as a test for him to overcome in order to be free allowed for an interesting problem, but as always in Discovery, time was very much not on their side, exposure to the planet's radiation put them at risk and they needed Discovery to remain in close contact with the planet to ensure their survival.
Discovery
has very much been THAT show.
Star Trek Discovery – 3.12– "There is a Tide…" – Review
Star Trek: Discovery
followed up the previous episode's cliffhanger with a bang as it pushed its characters into a corner and made them the underdogs almost instantly. Osyraa has the upper-hand on the ship and is able to fool the Federation into lowering the shields thinking it is Discovery that is returning from their mission, and within seconds, is able to board the headquarters. But rather than kill Admiral Vance and destroy the Federation she has made a bold, risky gambit: an alliance. This is Osyraa however, there's more than meets the eye, and she's able to manipulate Vance's AI into believing that every word she says is the truth. She isn't lying. She's just not revealing everything.
Captured on board Discovery, There is a Tide… was the moment for the bridge team to shine. With the help of Book they're able to escape and mount a rescue mission, whilst Michael does her best Bruce Willis in Nakatomi Plaza rescue attempt, with a real sense of
Die Hard
in space (which I'm almost certain this is what this episode was pitched as) about this episode. It's brash. It's bold. It's daring, and it works, she's able to keep the invaders at arm's length much to the surprise of returning antagonist Zareh, who Tilly left to exile in Far From Home bringing some cunning, calculative energy to the table that sees thing come full circle. There's enemies on all sides, and this is a crew that needs to stick together.
That Hope Is You (2)
, we're back in a similar situation to where we were in Season 2. And from Stamets' perspective, not much has changed for Michael. When the two next meet, expect there to be a division of opinion – especially if in the unlikeliest of circumstances, we lose Hugh or Adira next episode. Even if we lose Saru, especially with
Discovery
's habit of rotating Captains each season, it's going to leave a mark. I hope we don't, though – Saru is a strong contender for my favourite character on this show and there's a lot of room for continiued development into Season 4.
The welcome return of Star Trek veteran Kenneth Mitchell as Emerald Chains scientist Aurellio gave us a chance to see a human side of Stamets before this moment however with the two bonding over their mutual interest in science and opera. Stamets is quick to dismantle Aurellio's belief in Osyraa, showcasing him at his biggest strength right before the confrontation with Michael. It's a culmination of everything Stamets' arc has been building towards all season in terms of character development, and to see it payoff is quite something. Anthony Rapp is the real standout here, putting in a singular best performance and probably the strongest individual performance of the season. "I believe she is more than she appears to be but she's also everything she appears to be," is a hell of a speech and could prove to be character defining in the finale, for Aurellio as well as Stamets.
Lower Decks
and
Picard
. There's no way he's not showing up in the finale at this point in some form or another, especially with Jonathan Frakes' involvement in this series behind the camera.