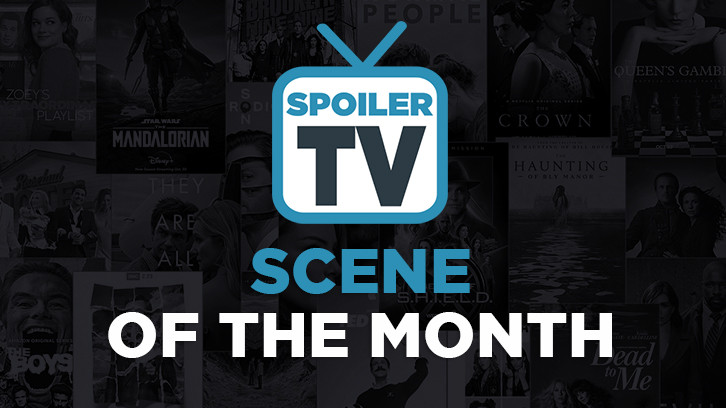 A monthly feature in which we're trying to find the most compelling, best acted, written, directed and just generally great, memorable scenes that we've seen in the past month on TV.
A MILLION LITTLE THINGS, "The Talk", December 17, 2020, Actors: James Roday Rodriguez, Floriana Lima, The Scene: Gary tries to help Darcy
Luana:
I get that this is probably something Gary has to work on, but seeing how much he's always trying to help everyone is just heartwarming, and having these two performers in the same room is always pure gold.
BRIDGERTON, "Art of the Swoon" & "An Affair of Honor", December 25, 2020, Actors: Luke Thompson, Claudia Jessie, Phoebe Dynevor, Ruth Gemmell, The Scenes: Eloise tells Benedict to be bold & Daphne confesses the truth to her mother
Folie-lex
: Whilst the lot of the Bridgerton sibling dynamics were amazing across the board there was something special about the bond between Eloise and Benedict. The comfort and comradery these two have with each other was a true highlight of the show, and their talks by the swings made some of the best moments in the season. This, the second time around Eloise voices her frustration with her circumstances a lot more explicitly and tells Benedict to embrace his male privileges. Eloise's openness and continued defense of Lady Whistledown as a way to drive home the point of her own lesser status, makes Benedict question whether or not his sister is indeed the infamous columnist.
Marko
: Daphne confesses the truth to her mother. The pressure eventually got to Daphne. After spending a couple of episodes succumbing to the social pressures and struggling to find the balance between her own wishes and what the people around her expect from her, everything unraveled. Phoebe Dynevor portrayed immense strength out of her fragile nature. She found the inner strength to confess her "sins" to her mother and get some sort of inner absolution.
FOR LIFE, "The Necessity Defense", December 2, 2020, Actors: Nicholas Pinnock, Heather Simms, The Scene: Aaron convinces Alice to take the deal
Luana:
This was hard to watch, but seeing Aaron constantly try his best so that no one else has to go through what he went through makes this show something special.
GREY'S ANATOMY, "No Time for Despair", December 17, 2020, Actors: Ellen Pompeo, Chandra Wilson, Kelly McCreary, Greg Germann, The Scenes: Miranda and Maggie talk in the park & Meredith and Tom share a moment
Marko:
Miranda and Maggie talk in the park. After struggling through the episode to process the cruel truth that her mother was dying, Miranda was shocked when her delirious mother expressed the wish to live. Maggie was the perfect scene partner for this. In the park, Kelly's Maggie revisited her own mother's passing and how she processed her emotions. The two reminiscent of their lives, their mothers' support, their struggles, and their powers to find a bit of light in the darkness surrounding them. The peacefulness during their conversation while revisiting the brutal facts of their upbringing with their mothers' support, created a powerful vacuum of emotions that just sunk in.
Luana:
I'm worried it's the calm before the storm, and I'm not sure I want Tom to be the last person Meredith has a meaningful conversation with, but it was still a pretty great moment.
MAGNUM PI, "Easy Money", December 11, 2020, Actors: Jay Hernandez, Perdita Weeks
The Scene: Higgins gives Magnum his watch
Folie-lex:
Feeling guilty that Magnum had to pawn his father's watch in order to replace the Ferrari's tires, seeing how sad it made him and in a show of appreciation for him doing the mature thing, Juliet buys the watch and gifts it back to him. It's yet another one of those sweet tender moments where they both put their guard down and openly show how much they care for one another.
THE EXPANSE, "Gaugamela", December 22, 2020, Actors: Keon Alexander, Dominique Tipper, Steven Strait and more, The Scene: Marco's speechJustyna:
In Star Wars terms, this is definitely when "the empire strikes back". Except here it's Marco Inaros and his Free Navy. At the end of last season Marco's plan to use asteroids to hit Earth takes shape but it's not until "Gaugamela" where we truly see the scale of the destruction. I couldn't quite decide on which scene to highlight from this memorable episode, with one hit coming straight after the other. Amos and Clarissa getting trapped underground, Nancy Gao's plane going down and then the attack on Tycho station where Fred Johnson is killed and the protomolecule is stolen. Not a moment to take a breath. But all of it ultimately leads to this ending speech, where Marco officially claims responsibility for the attacks and declares independence for the Belt. Majority of our main characters watches in silence, with Naomi even breaking down into tears, as the reality for Earth, Mars and the Belt changes following Marco's actions. He's an extremist, but unfortunately he's also a charismatic and strong leader that people choose to listen and to follow. It's scary to even think about what he might be planning next and just how many Belters will decide to join him. What a season so far. Kudos to cast & crew for all the great work.
THE FLIGHT ATTENDANT, "Conspiracy Theories" & "After Dark", December 3 & 10, 2020, Actors: Kaley Cuoco, T. R. Knight, The Scenes: The siblings fight & Cassie calls her brother
Marko:
The siblings fight. There is always something special to sibling relationships, when well written. The siblings povs of growing up was completely different and Davey was full of it. As Cassie's downward spiral continued and her behavior was becoming more egotistical it clashed with her brother once more. Kaley and TR found the perfect balance in portraying the relationship as at the same time there was enough closeness and estrangement present. The words that came from them were like shivs leaving scars as both actors dig deep to find the right tone to inflict maximum damage.
Luana:
Cassie calls her brother - Cassie was in such denial, and it was touching that she used her one phone call to talk to her brother who's been so hurt, not only by their past but also by her denial.
THE MANDALORIAN, "Chapter 16: The Rescue", December 18, 2020, Actors: Pedro Pascal, Mark Hamill and more, The Scene: Din Djarin and Grogu say goodbye
Justyna:
I can't quite recall the last time a scene made me so happy and so sad at the same time. Luke showing up to save the day was the best entrance I've seen in forever. It meant so much to see him like this after all these years. Very glad Mark Hamill got to be a part of this wonderful sequence. The show continues to excel at keeping their biggest surprises well hidden. That rescue would be enough of a highlight to mention, but it's what followed that hit me the most. The closer Luke got to the group, the more I realized it's time to say goodbye. The father-son relationship between Mando and Grogu has been the heart of the show since the beginning. It's hard to imagine them separated. The way Grogu held on to Din Djarin was both heartwarming and heartrending to watch. As viewers we know we can trust Luke to take care of Grogu, but it doesn't make it easier to tear this family of two apart. Prior to this finale I had another scene ready to choose for the article, the first time our Mandalorian takes off his helmet, in the Imperial base, surrounded by the enemies and feeling vulnerable. The fact that he broke his most important rule for a chance to find the Child meant the world. And here, in the last episode of the season, he makes a choice to take off his helmet in front of everyone, just to show his face to his kid, to say goodbye. The expression on Pedro Pascal's face says it all. It's a beautiful, loving moment, but truly heartbreaking as well. Fantastic work by the entire cast & crew of The Mandalorian. Kudos!
DJRiter
: The Mandalorian removed his helmet in front of the best kept secret on television guest star Mark Hamill, to say goodbye to the child.
Also picked by Zandarl
Laura
: The last episode of season two of The Mandalorian was a pretty straightforward action-packed affair, but the final scenes with Luke Skywalker making a grand appearance and Din allowing the Child to touch his exposed face before Luke takes the Child away was one of the greatest pleasures a long time Star Wars fan could have!
THE WILDS, "Day Twelve", December 11, 2020, Actors: Erana James, Mia Healey and more, The Scene: Shelby saves Toni
Aimee:
Shelby tackles the barely conscious Toni to the ground and shoves a life-saving pill down her throat. This scene was a buildup of all the tension that had been consuming these two all season up to this point. They still weren't friends, but this act would put them on a path to being more. Feelings were definitely starting to work their way into the equation for Shelby and losing Toni at that point wasn't a possibility for her. Saving Toni was so important to her that she disregarded all the cries from the others to let them try to give Toni the life-saving pill. This was personal for her, so instead of doing the rational thing and letting something Toni trusted more do it, Shelby instead tackled Toni to the ground and held her nose shut forcing Toni to open her mouth giving Shelby an opening to shove the pill in Toni's mouth. Shelby's fear-driven actions and shaky exit from the encounter showed there was so much more to what had happened than just trying to keep the group from losing another member. It was a poignant and memorable scene that started the path forward for the show's strongest and only current official island-based couple. It was great acting by the whole group, but Healey really owned that moment.
WARRIOR, "Man on the Wall", December 4, 2020, Actors: Olivia Cheng, Miranda Raison, Andrew Koji, The Scene: Nellie makes her way through Chinatown to get to Ah Toy
Aimee:

Nellie makes it through the chaotic streets of Chinatown to be with the badly injured Ah Toy. In an intense and action-packed show, this was just a genuinely tender moment between two women who are fiercely independent survivors that have come to develop a powerful connection. Both of these women would put everything on the line for the people they care about and that is exactly what Nellie did in order to be with Ah Toy. She disregarded all the risks to make her way through dangerous streets to get to the brothel. Even the menacing blockade of Ah Sahm wasn't enough to stop Nellie when Ah Toy put her hand out for her. The fact that Ah Toy seemed genuinely happy to see Nellie, despite telling her that she shouldn't have come, indicates just how much Nellie has come to mean to the sword-wielding warrior, they have become a strong partnership. It was also telling of their bond when Nellie refused to leave Ah Toy's side and indicated that there was nothing in Ah Toy's past that would drive her away. There are a lot of incredible action sequences and confrontations in this show. The fight sequences are off the charts, but this scene just stood out for its sincerity and calm in the middle of so much chaos. It's a darn shame this series fell prey to Cinemax permanently halting production on original programming because it had so much story left to tell for all of its characters. With a bit of luck maybe it'll be granted a TV miracle and will get picked up by another distributor, but if not, at least the fledgling story of Nellie and Ah Toy came to a sweet end.

YOUR HONOR, "Part Three", December 20, 2020, Actors: Carmen Ejogo, Lamar Johnson
The Scene: Lee talks to Kofi about torture
Luana:

This show is terrifying, the way they choose to use the perspective to show you every single detail where things could've been different but they had too much against them in every single way. The sense of despair reminds me a little bit of Seven Seconds but the perspective turns it into a whole new thing.