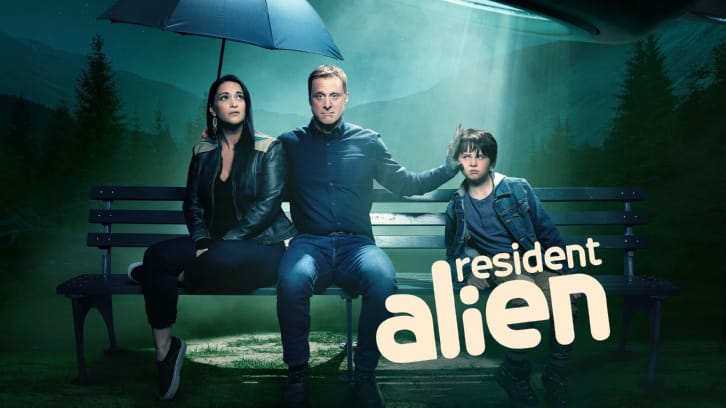 The premise of "Resident Alien" isn't all that different in essence from dozens of other shows that have aired on Syfy in the nearly 30 years since the network's launch. A stranger finds themself in an even stranger land and numerous fish-out-of-water scenarios ensue. Syfy's best-known version of this common storytelling technique came in the form of 2006's "Eureka," a delightful hybrid of science fiction and comedy. It's a formula that Syfy hasn't quite been able to replicate in the nine years since the network axed one of its most successful shows.
Another significantly less successful and lesser-known example comes from 2017's "Ghost Wars," quite possibly the worst one-season wonder to ever air on the channel. After watching the first episode of "Resident Alien," my only conclusion can be that "Ghost Wars" has some new competition in that department.
"Resident Alien" focuses on the escapades of an alien invader who poses as a small town doctor named Harry Vanderspeigle. The singular strength of the series is its star, Alan Tudyk, who delivers an occasionally amusing, off-kilter performance as a perennially confused and extremely awkward extraterrestrial. Tudyk is joined by a cast of nobodies all of whom present some of the flattest and most boring performances I have ever witnessed in television. From Tudyk's co-star to the town's sheriff to the sheriff's deputy, the lack of chemistry between each and every member of this cast (something that was obvious inside of ten minutes) becomes more apparent with each passing second.
Sadly, "Resident Alien" is also plagued with some of the least inspired writing choices possible. At one point, one character actually tells an extraterrestrial that "feeling human" is "alien" to her. The fact that she said this ridiculous line with a straight face, instead of actively winking at the camera is an insult to the intelligence of every sad sap who happens to turn on this program. Without Tudyk's acting chops to breathe some small amount of life into the protagonist, his alien would almost certainly blend in with the rest of the lifeless cast and writing.
Arguably the worst offense of the pilot is the fact that the crux of the series is entirely dependent on our protagonist's willful, continued involvement, despite the fact that he is on a mission he constantly tells us he would rather focus on. The central objective of this mission is revealed towards the end of the pilot as if it is supposed to inspire shock and awe. Critics have been asked not to reveal spoilers in advance of the episode's airing, but the answer is so cliché to alien stories, 99% of you will figure it out without watching a single solitary second of this assuredly doomed series.
Rating: 3/10
— If you haven't figured it out by now, I won't be recommending that you tune into "Resident Alien." The best scene of the first episode features the main character ingesting large quantities of alcohol, which is something I felt like doing while watching this absolute snoozefest and would heavily recommend you safely do instead.
"Resident Alien" premieres on Syfy on Jan. 27 at 10/9c. If you fail to take my "sainted" advice, at least be sure to come back here to SpoilerTV to let everyone else know what you thought of the episode. I sincerely hope you enjoy more than I did, but I shan't hold my breath.