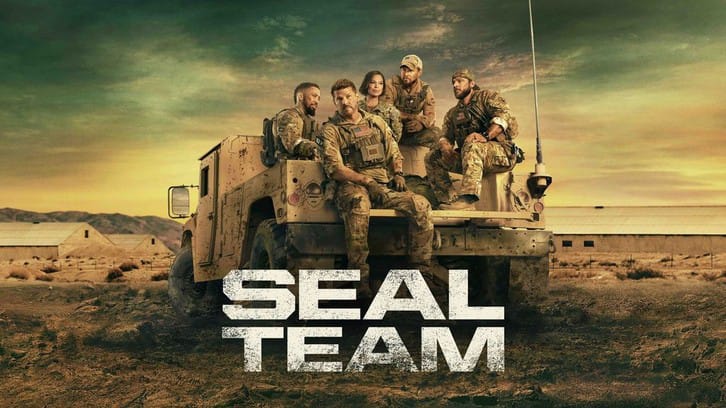 How great is it to finally see the season 3 finale? As the 2 hour premiere started, I realized I'd forgotten much about the previous episodes (Mandy and Jason slept together. How could I have forgotten that?)
It didn't take long for me to settle back in though. I was pretty happy with the way they wrapped up the storylines we followed throughout season 3.
Because these episodes were intended to be broadcast in May things picked up as though No Choice in Duty aired last week.
The major elements of Ray and Clay's stories were basically completed before God of War. This left enough room to really focus on Jason's story and tie up the loose ends in Ray and Clay's stories in a few scenes.
The balance worked really well because of how closely Jason's character story was tied into both the present and past Al-Hazred missions.
The flashback mission, chasing Asim Al-Hazred, wasn't a retread of the flashes we saw in the previous episodes.
The focus was on giving us some insight into how Jason ended up where he is today. The moment where he decided to put, as the therapist phrased it, Bravo 1 first.
For me it wasn't just the contrast between the Jason Hayes, who wanted the mission to end quickly so he could rush home for the birth of his son and Bravo 1, whose focus has always been on that "3 Foot World".
It was the contrast between Ray and his ability to manage both parts of his life. (Heck to have 2 parts of his life.) Is it because Ray is Bravo 2 or is it the way (and time) that Niama came into his life that's helped him maintain that balance. That idea, for me, was underlined when Ray returned home, vowing never to lock her out again.
My favorite scene was Bravo's conversation about Jason's stress during this deployment. I loved seeing the team, in a way, having Jason's back emotionally.
There was a compassion and support for him in the conversation that really worked for me. No cheap shots. No arguments.
Even 30-Mike's usual criticism of Bravo Team was focused on understanding and empathy with regard to where Jason's head is at.

In the episodes leading up to this, Brock noted that Cerberus was showing signs of stress. Jason, as he did with just about everyone he spoke to in the days leading up to this mission, declared that Cerberus was fine.
Jason wound up on his own and protecting Cerberus because the poor thing freaked out and took off running when mortars started hitting the ground.
After Brock was knocked out Jason after Cerberus. While he was trying to coax the skittish dog to come to him a mortar landed a little too close and sent him flying down the mountain.
It's a given that the main lead on a show is going to survive. Despite that the action sequences worked for me. I think it was the lack of really good cover and the fact that I couldn't spot the bad guys.
I have to give kudos to Dita. He did such a good job of putting up with being hauled around and having to stay still while explosions were going off around him.
He even had to step up his performance, when he and Jason were behind that fallen tree and Cerberus had another panic attack. Can we nominate him for performer of the episode?
The wrap up is where we, as usual, see the all of the character stories come to their conclusions. But the conclusions weren't completely predictable.
Sonny made a number of apologies and seemed to have internalized several lessons. I had been a little angry with him during the last season. The episodes in Texas had dissipated my annoyance, but I left this episode liking him more.
I am happiest that the lessons he learned while in Texas seem to be lasting. Don't worry though. It was made clear that he intends to maintain his position as Bravo Team's Complainer.
Mandy and Ray were the big surprises of the wrap up for me.

I honestly believed that Clay wrote that letter. It was a real surprise to learn that it was Ray. But I was right when I predicted that that letter would keep Clay out of Stay 21 and on Bravo Team. (Wonder how long that will take before he's back in the field with Bravo.)
After putting two people in situations that got them killed Mandy decided to walk away from her job in the field. I honestly didn't expect that. Neither did Jason, given the way he reacted. Jason's reaction was to tell Mandy what we've seen him tell himself every time we've seen him crack.
That's why it was such a pleasant surprise to see Jason look back on his decision to make Bravo 1 the priority in his life and decide to find a way to make a life for Jason Hayes.
I think I mentioned, during a couple of my season 3 reviews, that I was growing a little bored with the repetition in Jason's story.
In a lot of ways it was very realistic, but for me as a viewer, it was becoming frustrating. Personally, I enjoy watching characters grow and change, especially when that change is for the better.
I'm not sure how his story is going to play out in season 4, but however it does I sincerely hope Jason doesn't end up repeating story we've already seen.
I really enjoyed the way they wrapped up the season 3 stories. Next week season 4 will officially get under way. It feels weird only having to wait a week, but I'm happy the show is back.
What did you think about the episode? Leave a comment below.