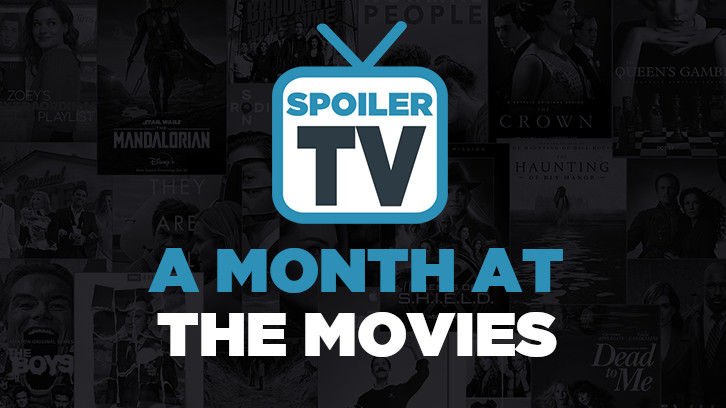 As lockdown 2 enters the UK seeing the closing of cinemas for a month, I was able to catch up on a lot of 2020 content and revisit a couple of David Fincher films ahead of his new release,
Mank
, in an exciting month for films that also saw the launch of BBC's new
Small Axe
anthology series from Steve McQueen, a brilliant showcase of one of Britain's best directors at the top of his game. As usual, for those who don't know how this article series works - it's basically mini, one-paragraph reviews of everything that I watched movie-wise in the previous month, complete with a star rating ranked on an F to A+ scale.
The Craft: Legacy (2020; Zoe Lister-Jones)
This is a film that continues on its predecessor in a way that most legacy-sequels tend to do. It's a good coming of age film in there somewhere but is bogged down by its rushed final act when the film feels a need for the fantasy plot to become overwhelming, sacrificing its thoughtful
Life is Strange
-inspired plotline for a clumsy, generic fantasy battle that lacks any stakes whatsoever. There are plenty of promising moments in here from Zoe Lister-Jones helped by a talented cast that includes a strong outing for Cailee Spaeny, and the music montage set to Sharon Van Etten's Seventeen is a favourite.
C
Twilight (2008; Catherine Hardwick)
This… wasn't bad? I've seen a good 80% of this movie in bits and pieces before but never actually sat through the whole thing and whilst it's clearly adapted from a book that tries to be pretentious and edgy, Twilight is enjoyable enough on its own with Catherine Hardwick steering a ship that could have sunk easily. Kristen Stewart and Robert Pattinson aren't terrible here, but it's a great early showcase as to just how good they are as actors now (we need to get rid of the "Kristen Stewart can't smile or act" mantra, and Pattinson is perfectly cast as a brooding Batman.
C+
Blackhat (2015; Michael Mann)
I kind of loved this. It held up so well on a first rewatch since 2015 and Michael Mann delivers once again with an action-packed nailbiting thriller of a movie. Chris Hemsworth is great in his most calm and collected performance, and the subway scene is an electric highlight – did you expect anything less from the man who gave you Collateral? Low tier-Mann
Blackhat
may be, but I'd still take it anyday over most action thrillers.
A-
Slaughterhouse Rulez (2018; Crispian Mills)
It turns out casting Simon Pegg and Nick Frost in the same film simply doesn't always make an Edgar Wright movie. This is a generic fantasy film that's stronger in its first half than its second, never fully coming together in the same way that
Attack the Block
did despite a strong cast of Asa Butterfield, Finn Cole and Hermione Corfield with Michael Sheen hamming it up as usual. The ultimate wasted opportunity.
D
Zodiac (2007; David Fincher)
Unquestionably David Fincher's masterpiece. Jake Gyllenhaal, Mark Ruffalo and Robert Downey Jr. are superb but John Carroll Lynch is the standout here as he gives a terrifying performance in Fincher's understated crime drama that shows audiences you'll never hear Donavan's Hurdy Gurdy Man quite the same way ever again. This is a crime drama meticulously executed to perfection, and although it's a long movie as it is, it's so perfect I could have sat down and watched it for six hours in one sitting and not missed a beat. Just as good on a second viewing.
A+
The Girl with the Dragon Tattoo (2011; David Fincher)
Great! Not as great as the original '09 adaption from Niels Arden Oplev or David Fincher's best but it's a memorable thriller that nails its atmosphere and hard-edged neo-noir narrative. The Trent Reznor/Atticus Ross soundtrack enhances the film's mood with an on-point cover of
Immigrant Song
used in the same way as Hurdy Gurdy Man from
Zodiac
, and Daniel Craig and Rooney Mara boast excellent lead performances that really make their characters memorable. It's a pity we never got a sequel – Craig is sombre and serious whilst Mara does that punk,
Mr. Robot
-esque rogue hacker role that spawned so many lesser imitations brilliantly.
B+
Hidden Figures (2016; Theodore Melfi)
This month is the month of rewatches for me and this Oscar bait drama about the lives of Katherine G. Johnson, Dorothy Vaughan and Mary Jackson, African American women serving at NASA behind the scenes during the launch of John Glenn into space is something that I haven't seen since the cinema (where the projection died on me midway through the screening). It's a joyful and spirited crowd-pleaser that plays it safe with all the standard beats that you'd expect from a biopic but at the same time it can't help but be infectiously likeable and energetic. It's very easy to see why the Academy was won over by this film, with commendable performances by the likes of Taraji P. Henson, Octavia Spencer and Janelle Monae.
C+
The Devil All The Time (2020; Antonio Campos)
How do you waste a cast this talented? Robert Pattinson, Jason Clarke, Eliza Scanlen, Bill Skarsgard, Haley Bennett, Harry Melling, Tom Holland, Riley Keough and Sebastian Stan are impressive in this otherwise empty and soulless southern gothic imitation that never really feels believable or realistic. The voiceover narration is excessive and detracts from the character development and unfortunately leads to a rather slow and dull experience that proves there's only so much good casting can do.
C
The Other Lamb (2019; Małgorzata Szumowska)
This film feels like a significant upgrade on Ari Aster's excellent Midsommar, with Monos also being another film that it is instantly reminiscent of. Szumowska's direction is talented and unnerving with the film casting audiences under a hypnotic spell for its relatively short runtime as it follows a small band of cultists in a bleak and hostile landscape following their crazed leader away from the police that are chasing them. It's not the most fast-paced of films and requires that you be in the right mood to watch it, but I was hooked and could not tear my eyes away. Raffey Cassidy is memorable in the lead role as the film's cinematography is also an impressive standout, with Michał Englert excelling behind the scenes.
B+
First Cow (2019; Kelly Reichardt)
Kelly Reichardt is one of the best American directors currently working and this film about the American frontier is another stellar work, an understated gem that like
The Other Lamb
I would have loved to have seen on the big screen. Emotionally capable of tugging the audiences at their heartstrings,
First Cow
is an absolute treasure of a drama that calls back to the likes of
The Treasure of the Sierra Madre
, but offers a more quiet and reflective approach that shows perhaps the most low-key depiction of a heist ever. I love that Eve the Cow is given an acting credit (Oscar nominee when?) and this proves to be another strong follow-up to the likes of Certain Women and Night Moves that have helped make Reichardt as good as she is.
A+
The Peanut Butter Falcon (2019; Michael Shchwartz & Tyler Nilson)
A heart-warming and crowd-pleasing drama full of heart and soul if a tad too familiar in its storyline,
The Peanut Butter Falcon
boasts incredible performances from Shia LaBeouf and Zack Gottsagen. The film is exciting and hits all the right emotional beats as I was completely won over by its charm and inherit likeability factor that further proves just how good of an actor LaBeouf is.
B+
Make Up (2019; Claire Oakley)
BBC IPlayer are currently doing a series where each week they broadcast a British drama that aired in UK cinemas and
Make Up
was unfortunately something that I missed the chance to see as it aired between lockdown in the UK. Set in a remote holiday park during off-season, this acts as a coming of age drama that has a lot of build-up and mystery going into it where any expectations will ultimately confuse. The atmosphere is skilfully created (look out for Chromatics on a David Lynch-inspired soundtrack) and the mystery is incredibly captivating, even though the film is a bit thin on the ground and doesn't have the strongest of resolutions. I still loved its excellent execution and it's an impressive debut from Oakley that shouldn't go under your radar.
B+
Greyhound (2020; Aaron Schneider)
A rather bland naval warfare drama from Aaron Schneider about the crossing from America to Europe during WW2 that was fraught with danger for a first time Captain,
Greyhound
has echoes of
Sully
in its stoic dependability that is largely carried by a dependable Tom Hanks performance. It is tightly plotted to the core, sacrificing any and all character depth for an impressive but cold visual feat that doesn't earn the rare emotional moment. It may be better than
Midway
, although that doesn't take much – but it does make you long for the days of Christopher Nolan's
Dunkirk
.
C
Perfect 10 (2019; Eva Riley)
Eva Riley's promising drama follows 14-year-old Leigh who lives with her neglectful father on the outskirts of Brighton. Her life as a young gynamst upended when her older half brother appears at her house one night, changing her outlook on life as she's thrust into a world of crime previously unknown to her. It's an excellent plot executed with precision that earns instant comparisons to Andrea Arnold's
Fish Tank
and has a healthy dosage of Lynne Ramsay influences for good measure, which is high praise indeed. Frankie Box's performance is remarkable and one of the underrated performances of the year – as her and Alfie Deegan excel. Like
Make Up
, it's available on BBC IPlayer now.
B+
And Then We Danced (2019; Levan Akin)
An incredibly bold and talented film from Levan Akin that feels utterly beautiful and tender. It's a self-destructive character-centric journey that echoes
Call Me By Your Name
but has plenty of stylistic and character touches to back it up, the film makes the most of a brilliant performance by Levan Gelbakhiani to weave what amounts to a clear, distinctive highlight of 2020. Praise must be given to Lisabi Fridell's remarkable cinematography – expect this one to feature highly in my annual end of year list.
A+
Beanpole (2020; Kantemir Balagov)
This was a depressing, uncomfortable watch but one that feels absolutely rewarding: a completely immersive and haunting experience into Post WW2 Leningrad as we follow two female soldiers return from war and attempt to rebuild their lives in a ravaged city. It has the same kind of sense of brutality and despair that Son of Saul had to it, and remains utterly watchable and essential viewing: I couldn't tear my eyes away from this 134 minute masterpiece that demonstrates Katemir Balagov as a director at the top of his game.
A+
The King of Staten Island (2020; Judd Apatow)
A Pete Davidson masterclass gives
The King of Staten Island
the authenticity that it needs to be more than just your standard studio comedy, and although it's a bit too overstuffed to land its mark wholly, its sincerity and earnestness keep it afloat with plenty of laughter throughout. I'm kinder to films that I have a good time with this year than I would have been in other years as I need any distraction from 2020 right now, but as films go,
The King of Staten Island
is exactly what I needed.
B
I'm Thinking of Ending Things (2020; Charlie Kaufman)
I've written a lot about the dazzling brilliance of Charlie Kaufman's latest, a rewatch was practically required for me from the moment that I saw it the first time. Completely spellbinding and entrancing, mystifying in a way that few other movies are,
I'm Thinking of Ending Things
will leave an unforgettable impression on you whether you like it or not. Usually I am very hit and miss with the director but I'm so thankful to have loved this one as much as I did.
A
Lynn + Lucy (2019; Fyzal Boulifa)
Fyzal Boulifa is a director who's going places,
Lynn + Lucy
, like all of the BFI/BBC partnership films, has a distinct Ken Loach influence to it as it tackles the social injustice that comes with the fallout from a horrific incident that divides two lifelong friends. It's gritty, grimy and horrifyingly realistic: often uncompromisingly so, and the film makes the most out of its 87 minute runtime for an intimate, upsetting experience that you can't tear your eyes away from no matter how uncomfortable an experience it is.
B+
Dick Johnson is Dead (2020; Kristen Johnson)
Both incredibly funny and incredibly heartbreaking at the same time,
Dick Johnson is Dead
succeeds in balancing comedy and tragedy perfectly in a way that few movies, and even fewer documentaries have been able to accomplish. This is a special, special film - and Kirsten Johnson's talent is unmatched. This film quite possibly affected me more than any other released this year.
A+
Hillbilly Elegy (2020; Ron Howard)
Almost offensively bad on an unprecedented scale, this garbage Oscar-bait of a film falls flat at every turn: Amy Adams' performance is one of the worst of the year from an actor who tries too hard to get that overdue Oscar, and the dialogue is so laughably bad it makes Ernest Cline's
Ready Player One
look Pulitzer-prize worthy good in comparison.
E
She Dies Tomorrow (2020; Amy Seimetz)
Amy Seimetz, take a bow. This film feels wholly reflective of 2020 as it gets under your skin in a darkly subversive, smart way that turns out to be a real mindbending experience. I was left guessing at every turn: the paranoia and disturbing edge that
She Dies Tomorrow
brings to the table is unmatched, and Kate Lyn Sheil anchors the film marvellously with a richly compelling performance. Embrace the film's richly contextualised neon lighting that shines at every turn.
A
Summerland (2020; Jessica Swale)
A stunning film that deserves all the praise that
Ammonite
has gotten,
Summerland
casts a light on a typical WW2 home-front set-up by subverting its tropes, not embracing the stuff upper-lip British patriotism that many films of this era tend to fall into in favour of something different and exciting. Summerland breaks the mould in a daring way with its themes being handled in a richer and more contextualised way that never feels boring: Gugu Mbatha-Raw and Gemma Arterton shine with terrific, understated performances that make Summerland an absolutely essential viewing experience.
B+
Happiest Season (2020; Clea DuVall)
Thank you, Hulu, for getting your international distribution right this time!
Happiest Season
is spot on, a pitch perfect comedy that feels warm, welcoming and wholesome – the perfect anditote to the hellish year that is 2020! CleaDuVall gets the most out of this charming, inclusive comedy that shines on the strength of the pairing between Kristen Stewart and Mackenzie Davis, backed with a stellar supporting cast with Aubrey Plaza once again stealing every scene she's in.
B+
Lovers Rock (2020; Steve McQueen)
Welcome to a party unlike anything you've ever witnessed on screen before. Soulful, magical and harnessing an energy that makes everything feel truly real and alive,
Lovers Rock
may lack the sheer brilliance of
Mangrove
, but as a second film from a director responsible for five in one year: Lovers Rock is a masterclass of memorable proportions, boasting palpable energy and excitement at every turn.
A-
Taylor Swift - Folklore: The Long Pond Studio Sessions (2020; Taylor Swift)
Like Bruce Springsteen's
Letter to You
earlier this year and The National's
I Am Easy to Find
the last,
Taylor Swift's Folklore: The Long Pond Studio Sessions
feels like the film equivalent of a welcoming afternoon in late November, capturing that atmosphere in a way that few artists can. Calm, wholesome and beautifully personal, it emerges as something that is a lot more grounded and intimate than Miss Americana and works nicely as a great companion to one of the best albums of the year.
B+
The Lego Star Wars Holiday Special (2020; Ken Cunningham)
The Lego Star Wars Holiday Special
leans more into the Endgame-inspiration than
The Rise of Skywalker
did, with a whole host of festive-themed Lego-stylised fanservice, but it's told with that whimsical humour that Lego does brilliantly well with their films, all the jokes are there that you'd expect, it answers some questions that should have been answered in
The Rise of Skywalker
and provides a good character arc for Rey in the process. Certainly, an improvement on many things it has no right being better than -
The Star Wars Holiday Special
, this is not.
C+
Before Sunrise (1995; Richard Linklater)
An all-time classic that I can just simply rewatch whatever mood I'm in, watching Ethan Hawke and Julie Delpy wonder around Vienna is something that I'll always fall in love with no matter how many times I've seen this film. It's creative and lively acting as much as a tourist advertisement for the city as a film itself: Vienna is beautifully realised before our eyes. Effortlessly engaging, short and to the point, Before Sunrise is the kind of masterclass that we need more of in our lives.
A+
Color out of Space (2019; Richard Stanley)
2020 has seen something of a reinessance for Lovecraft-inspired work:
Lovecraft Country
is excellent of course and even
Doctor Who
has tackled the author in
The Lovecraft Invasion
.
Color out of Space
is a crazy, unhinged rollercoaster ride that needs someone as insane as Nicolas Cage to keep the film and its believability in check, and this feels like a script that plays to his strength at every turn. The well-realised scenery and creative visuals makes this film feel alive and real: a welcome addition to what has been a truly excellent year for horror cinema.
B+
What Did You watch in November? What do you think of the films that I've reviewed in this article? Let me know in the comments section below.