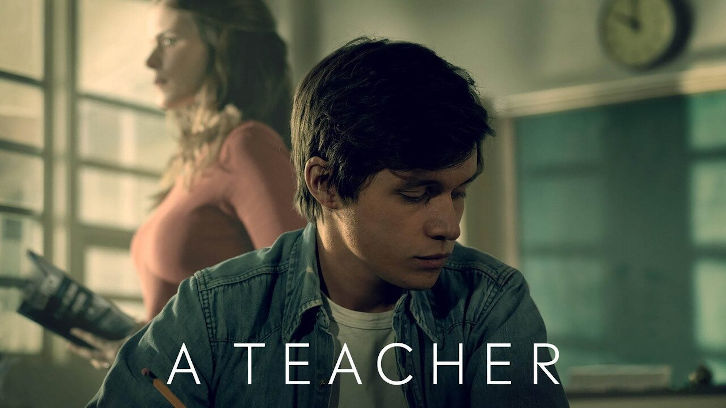 Could consequences be on the horizon?
As the episode opens, Claire is doubling down on pretending this "relationship" is legitimate by planning a weekend getaway for Eric's birthday. I anticipate a lot of Claire proclaiming that Eric is now 18. He's a legal adult, but intellectually and emotionally he's still a boy. And she's still his teacher. This is cemented when they talk about his SAT scores.
They wake up surrounded by white, and the picture is again hazy. Should we dive into the symbolism? No, it's wasted here, but the attempt to invoke a dreamlike quality is readily apparent and plays into the show's repeated attempts to paint this as a portrait of tragic love.
Their lazy morning is interrupted by a call from Matt. He's checking on Claire and reminding her that his first gig is soon. She promises to be there and she signs off with I love you. It certainly seems easier for Claire to tolerate her husband now that she has Eric.
None to pleased by the phone call, Eric decides he's a toxic misogynist and orders Claire to take her underwear off. It's his adult response to her talking to her husband. More sex. It's what they do.
The rest of the trip is a series of manipulations, hurt feelings, more manipulations, the swapping of stories, and Eric teaching Claire about the magic of mariuana. The audience is once again told about Claire's almost monastic childhood and young adult years. This remains confusing. Is this supposed to be the reason behind her criminal behavior? Again, it doesn't work or ring true. Claire comes off as a bored wife finding her thrill.
Furthering the manipulations, Claire intimates the fleeting nature of their relationship by telling Eric that the girls at UT are going to be all over him, that he's got a lot of livin' to do, and how he isn't going to want her when he sees all the pert and perky college girls. I'm paraphrasing, but that was the gist of the conversation. Of course, as expected, Eric who thinks this is the real deal is upset. And of course, as expected, Claire cries, unleashing one of the top tools in a manipulator's arsenal. The tables are turned and Eric goes from hurt to guilty.
After declaring their love for one another they "make love." The audience knows they are no longer just banging because their caresses happen in almost slow motion. The frantic panting of their previous encounters is gone, and another questionable music choice plays in the background. They are no longer trying to "reach the climax," now they want "to stay" right where they are. Stellar version of "Stay" by the way.
When Claire was talking about her mom dying, I was unmoved by both the conversation and the occasional waver in her voice. Call me heartless, but I'm not a child, so it's going to take more than a sad story to make me feel anything human for or about this character.
I was so amused when Claire asked Eric if he wanted to go to a bar. Baby can't go. Baby doesn't have an ID because he's baby. Are we supposed to believe she forgot he was a child? Stop it.
Eric returns home and eats cake alone. The relationship with Claire is costing him everything. Where is the cost to Claire? She makes it to her husband's gig and brings the cool teacher friend. They get comfortable outside sharing a stolen bottle of vodka. Isn't her husband's show inside the bar?
Teacher friend is intuitive, I guess, and calls out Claire's affair. Teacher friend supports the affair, saying it's how you remember you're alive. Who are these people? Claire plays coy about her lover's identity, but cool teacher friend is pretty persistent once she realizes he's younger.
Teacher friend's name is Kathryn (Marielle Scott). Did we know this before now? Kathryn wants to know his name. When the name Eric Walker flies out of Claire's mouth, Kathryn thinks she's kidding. When she realizes Claire is being honest, she says what we've all been saying—he's your student.
Claire tries to claim he's 18. Age of consent. Kathryn isn't hearing or having it. Calling Claire out on her "monumental abuse of power." And she's telling. Kathryn is all of us.
It would be easy to believe Claire is incredibly stupid and that's why she gave up Eric's name. But just as she confessed to Matt about stealing the lipstick, she confesses here because for Claire, sharing her dirty secrets feels just as good as the deed itself. She wants everyone to look at her and what she did. She wants them to be in awe of her impulsivity and boldness. We're not Claire.
I'm a fan of both Robinson and Mara, but I don't understand why they were drawn to these particular roles. This material is questionable, not edgy. If the show was looking to make some profound statements about humanity, our motivations, and harmful choices, it failed. The biggest mistake was treating Eric and Claire like Romeo and Juliet, bathing this story in hazy lights and sexy music. When it comes to the grooming and sexual abuse of children, the criminal isn't questionable. It's just criminal. We aren't dealing with some Christmas special about someone stealing from the pharmacy to save their sick child after losing their job. The lines here are clear. And I find it problematic that people would even want to humanize someone using their position of power to abuse a child. These two actors don't need to make a name for themselves, so what was the point?
With five episodes remaining, maybe the point will become clear. Sooner rather than later, please.
www.a-teacher-resources.com
What did you think?