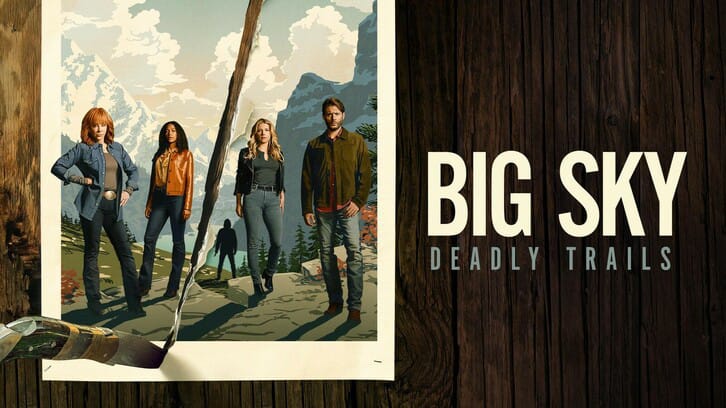 This week's new episode of Big Sky shone more light on the plot of the show while also raising questions regarding what links some of its characters. Let's review.

Cody (Ryan Phillippe) is dead and tucked away in the ground, and for now Jenny (Katheryn Winnick) and Cassie (Kylie Bunbury) don't know what happened to him. What they know though is that Cody suddenly becoming MIA is no good omen, and it doesn't take very long for Cassie to start thinking that Highway Trooper Rick Legarski (John Carroll Lynch) has got something to do with it. After all, it's been well-established in the show's pilot that the man is creepy. But what exactly is Legarski's deal? And what's his connection to Ronald (Brian Geraghty) besides the fact that they are both involved in a sex trafficking business? It turns out that now those questions are some of the biggest ones in the show because this episode has been answering quite a few other interrogations.
It's been revealed that the hooker named Michelle (
Jesse James Keitel
) is in fact transgender, which doesn't quite work for Rick and Ronald's business of shipping women off to Canada to turn them into sex slaves. It also turns out that this is what those two are up to. It also appears that Grace (
Jade Pettyjohn
) has a degree in Psychology, or that she spends lot of time on the Internet, because she seems to have all kinds of plans to take down Ronald with the help of Michelle and Danielle (
Natalie Alyn Lind
). Meanwhile Cassie and Jenny are still not friends again, but they are on the same page when it comes to looking for the girls and worrying about Cody. So all in all the plot is moving forward and some questions are answered, but at this point
Big Sky
is lacking a bit of more punch. It did a good job in its pilot by killing of
Ryan Phillippe
's character in a twist revealing Legarski is a bad guy, but since then the soufflet has started to fall flat.
What we need now is less of a cat fight between Cassie and Jenny, and more teaming up. Everyong is off doing their own thing which scatters the characters and only leads us into more cliché. For instance, everything that happens between Cassie and Legarski is unsurprising. She can tell there is something off about him and he doesn't like that she has made a connection between girls disappearing and truck stops. She digs up info about him, and he finds out. Obviously now Legarski is going to be looking for a way to get Cassie off his scent, or out of the equation alltogether. And that's just... meh.
Big Sky
needs a bit more shake ups if it hopes to keep viewers involved for the rest of the season. More surprises like in its pilot, less "Ronald has Mommy issues to the point that he sleeps in her bed."
If character development still needs to find its flow, at least
Big Sky
's pacing is working pretty well. There isn't really time to dwell on things as the plot is constantly moving forward. Between the girls trying to figure out how to escape Ronald and the PIs making slow but steady progress on their investigation, there is always something going on. It seems the story is taking us toward an impass as far as the kidnapped girls are concerned: Legarski doesn't want to ship them off to Canada because they have people looking for them, and it seems that the girls are not going to go down without a fight, so it will be at least intersting to see them try to get away. In the meantime, let's just hope that this won't be the only aspect of the story worth sticking around for. What did you think of this latest episode of
Big Sky
?