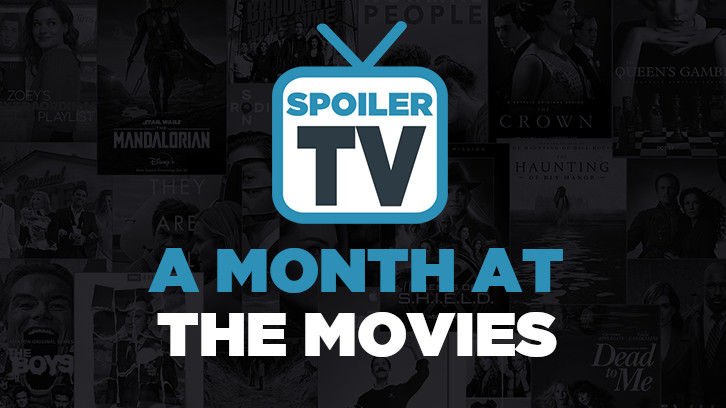 For me, this month was a fairly light month in terms of movie content but I still ticked off a few films that I really wanted to get around to watching. One of my goals for the next few months is to try and watch more films from the early 2000s, a decade that isn't my strongest suit beyond a few major classics, so I used September to try and remedy that whilst keeping an eye out for new releases. September also saw the chance to see Empire Strikes Back on the big screen for its 40th anniversary (here's to many more), and I also revisited Bill & Ted's Excellent Adventure at the cinema in preparation for the excellent Bill & Ted Face the Music, which I saw twice this month and could quite happily watch again.
As always, let me know what your favourite movie watches of September 2020 were, as well as your thoughts on the movies that I've watched this month. Also: have you been back to the cinemas since they reopened yet? I've been quite a few times, carefully picking empty morning screenings and always wearing a mask. It's been a fantastic experience every time.
Hush (2016; Mike Flanagan)
With one of the most anticipated shows of the year, The Haunting of Bly Manor, on the way, it was the perfect time to revisit one of Mike Flanagan's earlier entries and this film showcases that pre-fame Flanagan, where the director is finding his feet in the genre before the explosive Haunting of Hill House and Doctor Sleep. It's easy to see why Flanagan is a King fan, Hush calls back to Misery with its writer protagonist trapped in a home haunted by a stalker. The film itself is delicately plotted and handled the home invasion concept carefully, but unfortunately never did quite enough to emerge from the confines of the genre as it didn't bring anything new to the table despite a convincing performance from Kate Siegel. C
Underworld (2003; Scott Speedman)
Dull, tepid and almost 90 minutes of pure exposition, there is no plot to speak of here and there is certainly no attention given to characters who exist purely to serve the script. It's cheap, darkly lit and hard to follow at the best of times with shaky world building that never justifies the need for its high concept narrative – a classic case of a story spending too much time in set-up mode and not enough on the follow through. E
Unfortunately I didn't quite fall in love with this one the way I would have liked. Robert Zemeckis overloads on his Zemeckis-isms and the oversentimentality is unfortunately too overbearing, with the weak third act almost undoing all the goodwill spent on Tom Hanks' struggle to survive on the island – and more of a focus on the survival elements would have done it great favours. However the plot is as tight as they come, and its trimmed to the bone one-man show is a perfect showcase for Hanks' career best performance. C+
I'm Thinking of Ending Things (2020; Charlie Kaufman)
I reviewed this movie in full
here
so I won't elaborate on it too much but Charlie Kaufman is a director who I'm particularly hit and miss with. Some of his work has clicked with me like
Synecdoche New York
, whilst others haven't – and thankfully,
I'm Thinking of Ending Things
very much falls into the camp that does. Adapted from a novel by Iain Reid, Kaufman crafts a brilliant unconventional adaption that emerges as one of the highlights of the year thanks to strong central performances by Jesse Plemons and Jessie Buckley, who give it their absolute all.
A
Star Wars V: Empire Strikes Back (1985; Irvin Kershner)
Excellent. Completely magical and a whole fresh experience to witness socially distanced on the big screen. I've seen it countless of times before to the point where I almost know every word off by heart, but it still didn't lose any of its staying power and was the perfect way to celebrate its 40th anniversary. I've written about this one so many times that it feels like it's a regular feature on this series by now. A+
Erin Brockovich (2000; Steven Soderbergh)
This is a competent if unremarkable proto-Dark Waters conspiracy drama that acts as a showcase for Susannah Grant's accessible intelligent writing and Julia Roberts' career best performance. The dialogue is confidently written and the complex research put into the film makes it a compelling watch especially helped by the fact that it's a great way to kill an afternoon even if it isn't a film that I would necessarily return to. B-
This isn't my first encounter with Charlie's Angels. I had fun with the remake and decided to try out the first feature effort as it was on Amazon Prime – and it was a quick and easy watch with a soundtrack full of bangers compromising of the likes of Joan Jett and Marvin Gaye. Although McG's film shows its age, Cameron Diaz, Drew Barrymore and Lucy Liu are a great trio of characters and it complements the Mission Impossible films nicely with the face-mask reveal tropes and overstylised action sequences. Unfortunately, though this might be one franchise where I prefer the remake over the original. D
Tenet (2020; Christopher Nolan)
Incredibly disappointing even on a rewatch,
Tenet
is Christopher Nolan's weakest film since the release of his debut,
Following
, his debut effort. It's all plot and zero character, with the dialogue being purely expositon driven in a way that offers little to no depth beyond the impressive visuals. The sound issues remain incredibly jarring as it feels like a movie that's far too loud when it didn't need to be, acting as a shock to the system but not quite in the way that Nolan intended. I reviewed it
here
if you want my thoughts in more detail.
D
I watched this one at the BFI Southbank (like all cinema screenings, socially distanced with masks on), and they played a trailer of La Haine before it for a re-release – and after the film finished it was easy to see why, this socially charged drama feels comparable to that classic, with distinct echoes of Training Day with the influences being very clear – there are even shades of The Hate U Give, all superior movies. I'm not quite sure however that the director could quite make me sympathise with the lead "good cop" character as his portrayal didn't really sit right with me, and despite a promising opening montage showcasing the French World Cup celebrations in Paris, Les Miserables – a repurposing of Victor Hugo's classic title, not a remake – never really fleshes out key characters like Issa that desperately needed the screentime. It aspires to be bold and challenging but in reality is just another cop drama that begs to question why it got Oscar nominated over the far superior Portrait of a Lady on Fire. C
Bill & Ted's Excellent Adventure (1989; Stephen Harek)
I practically forced two of my friends to watch this with me at the cinema after learning they hadn't seen it before, it's a classic '80s time travel comedy that is instantly rewatchable and endlessly quotable. Keanu Reeves and Alex Winter are fantastic, and the round-up of historical figures before the main characters take them back to the present day before losing them again is a good time that feels most incredibly triumphant. This viewing at an otherwise empty cinema screen in Central London pretty much confirmed Bill & Ted's Excellent Adventure as one of my favourite movies ever. A+
I saw this film at a way too younger age but unlike Excellent Adventure I haven't really re-watched it until recently. It's a sequel that goes so completely in a different direction, opting for a much wackier and weirder approach than the first that it's easy to see why it's not as well liked as the first, but when Bill & Ted play a series of board games such as Cluedo and Battleship against Death himself in a bid to escape from hell, it's hard not to fall in love with it. A-
Rocks (2019; Sarah Gavron)
One of the most welcome surprises of 2020, Rocks is both at once a love letter to London and a deep critical analysis of its class system in a Dickensian way. It showcases the true diversity of the city in a way that big Hollywood blockbusters don't and tells a powerful, heartbreakingly emotional story about how the characters' lives are shaped by the city that they live in. With distinctive echoes of Ken Loach and Andrea Arnold, Sarah Gavron returns on the back of Suffragette with a film that's here to stay – showcasing the talented performances by a non-professional cast. A
Most excellent. The rare long-delayed sequel that feels like it was always meant to happen and emerges as a hit follow up to the first two films that continues the Bill & Ted characters' journeys by showing them in the middle of a midlife crisis. Whilst the film itself is, in true Bill & Ted sequel tradition, very messy, it's messy in a good way – feeling like a combination of the first two films as it follows Bill & Ted's daughters, Thea and Billie (played by the excellent Samara Weaving and Brigette Lundy-Paine, who deserve all the spinoffs), who set out to help their dads create a song that will unite the world. Expect guest appearances from the likes of Jimi Hendrix, Mozart and Louis Armstrong, in this refreshingly diverse update that manages to be incredibly faithful to the first two films. The heart and soul is evident from the start – and Alex Winter's performance is legitimately one of my favourites of the year – proving that he hasn't left the role behind at all. If this is the last Bill & Ted, then it ends one of the most fun trilogies around. A
Dancer in the Dark (2000; Lars Von Trier)
This was, I'm not going to lie, a tough watch to get through. It's a deconstruction of the typical tropes of the Hollywood musical and constantly sets up potential moments for a deus ex machina to save the day, like all musicals, but they never do, as the grainy archival footage of the film showcases the protagonists' desperation as she slips further and further into despair. With a harrowing central performance by Björk, Dancer in the Dark is instantly unforgettable, and I'm happy to report that this fits right in line with Melancholia as being among the better half of his work, rather than the disappointing Anti-Christ. B+
This is a powerful debut from Channing Godfrey Peoples that is, despite a strong central performance from Nicole Beharie, let down by its Lifetime-esque storytelling and focus on love triangles that feel overwraught and poorly written. It's a classic tale of a woman fighting to succeed in the world with all the odds against her and echoes Support the Girls, which it would make a great double feature with. Aside from Beharie's performance Alexis Chikaeze also shines, with the film balancing a mother-daughter relationship that shows the characters frequently not on the best of terms, doing an excellent job to flesh out their differences and explore why they love and hate each other at the same time. C+
Enola Holmes (2020; Harry Bradbeer)
A good star vehicle for Millie Bobby Brown but sadly not much more than that, Enola Holmes feels incredibly predictable with its insufferable over-reliance on fourth wall breaking as it tells rather than shows – meaning every story beat is telegraphed before it happens and you know exactly where it's going with the film feeling incredibly reliant on its young adult movie tropes in order to work. The mystery itself was somewhat disappointing for a film connected to Sherlock Holmes, but the refreshing split away from its Conan-Doyle's creation and the modern-day set-up of Elementary and Sherlock was a welcome one, even if it serves as a reminder as to just how miscast the usually great Henry Cavill was. That said – there's enough about Enola Holmes to have a good time with the film itself, as it never loses the spark of fun that it establishes from the offset. It's a quick and easy watch that almost feels like one of the bigger blockbuster event movies that we've had from 2020 so far. C