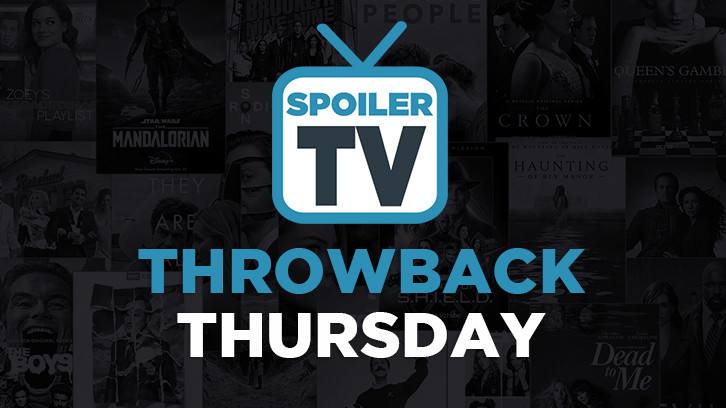 Throwback Thursday is a weekly article in which we look back at our favorite TV episodes from the past.

This week we'll take a trip down to memory lane to review the season 3 finale of The Mentalist. I'm pretty sure that if you're here you probably know a thing or two (or maybe more) about this show, but in case you don't or need a brief refresh, The Mentalist was a show created by Bruno Heller and starred by Simon Baker in the titular role, that ran through 7 seasons, from 2008 to 2015 with a total of 151 episodes, and revolved around Patrick Jane, a man that used to be a fake psychic in the past, that ended up joining the state police to help them solve crimes using his sharp skills of observation, persuasion and manipulation, while trying to find Red John, the serial killer that murdered his wife and daughter.

These episodes originally aired on May 19, 2011 and were written by Ashley Gable (part 1) and Bruno Heller (part 2), both directed by Chris Long, and though both parts of this season finale can be treated as two stand alone episodes, I decided to review the pair since they are connected, and the first part sets the story that develops in the second one. Also, these two are among my favorite episodes of the whole show. .


Jane: "Yeah." Lisbon: "Wh-what if--what if it triggers the bomb?" Jane: "We'll never know."
Later, when things seem to have calmed, we are surprised once again by Laroche killing the suspect inside of the patrol. This is a weird moment that makes him look suspicious, and also we start to realize that this case has a lot more behind than what meets the eye. After that, they discover that a cousin of Madeleine Hightower, their former boss falsely accused of being a Red John's accomplice, was tortured and murdered in an apparent attempt to get her location. This can only mean that the serial killer is behind all of this, which will lead us to the next episode.
Jane (to Lisbon): "You look good. This is… Beautiful, like a princess. An angry little princess. Someone stole your tiara."
Later, we get a glimpse of how good is Jane by playing mind games with other people, since he made Laroche to give him the list of suspects by blackmailing him with exposing a dark secret he supposedly discovered when he send a burglar to steal that very list from his house earlier in the season, though he didn't really know what was hidden in Laroche's safe.
Laroche: "You're a fascinating man, Patrick. Who knows what you might have achieved in this world… were you not quite so damaged?"
Now that everything seems to be cleared, Van Pelt shares with O'Laughlin everything about the plan and him being one of the suspects and Hightower's real location, which obviously raises a red flag in the audience and it makes you want to yell at her: 'Don't tell him!'. Here I find very curious how this show made us be weary of everything and everyone, cause at this point we were supposed to know who the mole was, but they still made us feel unsure about the other suspects.
In the next part of this episode, I really liked the editing since we got alternate scenes of Jane at the mall where he had brought Bertram to confront him and Hightower, her kids and Lisbon all happy in the cabin where they were hiding, which couldn't make us feel nothing more that something bad was going to happen. After not getting anything concrete from Bertram, at some point he says something that raises the alarms in Jane's head so he realises that the killer was aiming for another room at the hotel and that it was the one destined to O'Laughlin. This realisation shocks not only the characters but the viewers and it gets more shocking when we see him arrive with Van Pelt to the cabin and kill (without being seen) the policemen that were guarding the front gate.
Jane: "How do I know you are who you say you are?" 'Red John': "That's a deep question. How does anyone really know who anyone is?"
Some final thoughts
Through the season, and even in earlier episodes, they were leaving us hints here and there about people and situations that were addressed and somehow solved during these hours. Since I'm always very attentive to details, I really like when shows tie their loose ends at some point and this is one of those examples. I also like to feel part of the story by finding clues as it was a game, and discover along with the characters what's happening and I could feel that way watching this show and these episodes in particular.
Jane: "Wherever you go, you delusional freak, I will find you and I will kill you. And then... then I will forget about you."
'Red John': "Seeking revenge is a waste of your precious time. Your life is precious, Patrick. Get on with that precious life. Find yourself a woman to love. Start a family." Jane: "When you're dead."
Favorite Quotes
Lisbon: "Lucky for us, the lunatic only killed himself." Jane: "If it's so cut and dried, why are you here?" Lisbon: "Them. Director Bertram wanted a CBI presence here." Jane: "Director Bertram. Let me ask you something. If director Bertram wanted a CBI presence to jump off a cliff, would you and your CBI presence jump off that cliff?" Lisbon: "If there was overtime, sure."
Lisbon: "Are you coming?" Jane: "Hmm. Come along on a methodical grinding search through Sacramento County or rearrange my sock drawer. I'll go with the "or." Thanks."
Jane:
(a phone rings)
"I didn't touch a thing. It's a phone. You should answer it." Lisbon: "You sure?" Jane: "About 75%." Lisbon: "You--you think we should answer?" Jane: "Yeah." Lisbon: "Wh-what if--what if it triggers the bomb?" Jane: "We'll never know."
Gupta: "You're whispering. Stop it." Jane: "She's just praying. She's scared, and so am I. If I could find someone to pray to, then I'd probably do the same."
Hightower: "How will you do in 48 hours what you haven't been able to do in months?"
(explaining the meaning of the poem 'The Tyger' by William Blake)
: "Well, God made the lamb, but he also made the tiger. You can't have light without darkness, life without death."
Bertram: "Just who exactly is trying to kill her, anyhow?" Jane: "Well, it's hard to say. Who would be your guess?" Bertram: "Well, I run the department, Patrick. I don't read case files." Jane: " You have no idea at all." Bertram: "None. You tell me." Jane: "Red John, of course." Bertram: "Of course." Jane: "I believe he has a friend inside the CBI." Bertram: "Oh, another one. Oh, good lord, this man's a prodigy." Jane: "I believe he has friends all over the state-- powerful friends."
Lisbon: "This is Agent Lisbon. O'Laughlin's dead." 'Red John': "That's too bad. Never mind. You win some, you lose some, I guess."
'Red John': "Look at--look at me. I'm just a regular guy. I bet you--you thought I'd have horns, huh? Right? I'm not a monster. I'm not the devil. I'm just another human being with flaws and vices and problems just like anybody else."
Do you remember watching these episodes back in the day? Did you liked how the story of Red John played out after this? Share your thoughts in the comments section.