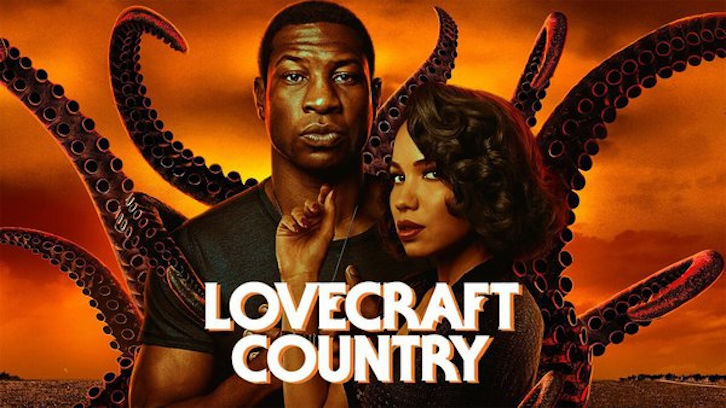 Though the last three episodes of Lovecraft Country never quite reached the high bar that its pilot episode set, they nonetheless provided some quality entertainment. 'Whitey's on the Moon,' 'Holy Ghost,' and a 'History of Violence' though loosely connected had their own distinct tone and self-contained story feeling more like a series of shorter films centering around the adventures of Tic, Leti, and co.

Episode 2, 'Whitey's on the Moon,' was an exposition heavy episode picking up where the pilot left off with Tic, Leti, and George arriving at Ardham Lodge. It is here that we find out that Tic's ancestor was a slave who was impregnated by Titus Braithwhite, founder of the Sons of Adam. Being the direct descendant of Braithwhite, Tic is key to opening the Garden of Eden through a ritual, which current head of the family Samuel, hoped to achieve. Montrose was used as bait to lure his destined son to the estate.

Tic manages to escape the situation seemingly killing Samuel and destroying the Braithwhite lodge in the process. Unfortunately, this happens at the expense of Uncle George who dies after getting shot by Samuel. Two episodes in and already one major part of the story done.

In episode 2 we are also introduced to Samuel's daughter Christina Braithwhite (Abbey Lee) and her friend, William (Jordan Patrick Smith). So far in the series, the characters have been as bland as white bread, though Christina has shown some sass and a certain mysteriousness surrounding her motivations.

'Whitey'son the Moon,' for the most part, felt rushed. It would have been nice to establish the setting more – what is this town of Ardham and who are the people who inhabit it? What is the townspeople's relationship to the Braithwhite family and why are they in such isolation? Within the estate, the nooks and crannies and halls of the Braithwhite home did not come to life and feel as grand as it could have. Above all, the story of finding Tic's father and the ultimate destruction of said home happened so suddenly by episode's end that it felt almost jarring. Even more sudden was the death of Uncle George, which was expected after he said, "I'll be back home soon" in the pilot episode, and it also needed to happen to add some emotional depth to the series. However, being that we never got to know George that much, writing him off this soon felt like a disservice to the character and his death certainly wasn't as impactful as it could have been. But hey, maybe he'll return in a later episode, you never know with a show like this.

In place of Uncle George as the third man is Tic's father, Montrose (Michael K. Williams). The character doesn't provide the same levity that George provided, but there is a dynamic between him and Tic that jumps off the screen. The father and son duo certainly have a lot to resolve between them.

Episode 3, 'Holy Ghost' brought things back home with Leti using an inheritance from her mom to buy herself a new house. Of course, as is the theme of this show, there are horrors that lurk outside, in the white neighbourhood she now lives in, and horrors of the more ghostly kind on the inside. That juxtaposition, which Lovecraft Country has done so well, helped elevate this simple haunted house story into something so much more.

Leticia shines in this episode. In one memorable scene she tells Tic, "I thought the world was one way, and I found it isn't. It terrifies me. But I can't live in fear, I won't. I gotta face this world head on and stake my claim in it." Throughout the series' run we have seen that in Leti, but especially in this episode. Whether it be destroying her neighbours' cars with a baseball bat to stop them from honking outside her home. Or at the conclusion of the episode, when Leti holds hands with the materializing ghosts of the black folk who went missing to purge the evil spirit of Hiram Epstein. "You're not dead yet, you can still fight!" Leti exclaims in what was a riveting and incredibly affecting scene. There is a certain vulnerability in Leti and we not only see her fear but we also see the strength she musters to confront that fear leading up to some of the most awesome "Leticia Fucking Lewis!" scenes.

While Tic is the main character in this series, it is Leticia who has consistently been the soul of Lovecraft Country, while adding a dose of bad assery. And it must be said that Actress Jurnee Smollet has nailed the role head on.

Episode 4, 'A History of Violence' took a break from the horror to give us some Indiana Jones inspired adventure as Tic, Letitta and Montrose head out to Boston find the hidden pages of the Book of Adam. The three hope to retrieve it before Christina or any of the other 34 lodges get their hands on it first.

In their adventure, Tic and co survive a death trap, a bridge disintegrating behind them as they run across it, flooded corridors, and a puzzle door. It is all very fun and if time permitted it, more of this swashbuckling adventure tinged with the supernatural would be welcome.

At the end, Tic, Leti, and Montrose find themselves in a chamber full of the corpses of Indigenous people. In what was one of the more captivating visuals in this episode, as seen in the promo, we are introduced to Yahima (Monique Candelaria) who twists and turns back into life after Tic attemps to retrieve Titus' pages from her corpse. We find out that Titus murdered Yahima's entire family to force her to translate the scroll, another allusion to Lovecraft Country's theme of racist harm.

In a surprising twist to end the episode, Montrose slits Yahima's throat when they are all back at Leti's home. Throughout these last three episodes we have been introduced to a very tortured Montrose after learning about the Order of Ancient Dawn, on top of the racism and homophobia he experiences daily. Montrose also has a deep seated fear for his son who will forever be in danger due to his connection with the Sons of Adam and the magic that flows through him. It is this fear that leads Montrose to killing Yahima, the one person capable of reading the Book of Adam in what was a very unexpected end to the episode.

Stray Notes:

* Our three main protagonists aren't the only ones affected by the events of Lovecraft Country. In 'Holy Ghost' we see that Hippolyta is drawn to and grabs the orrery from the haunted house. This is the same item that Christina is looking for to open some kind of time machine?

* Letita and her sister Ruby had a very good character scene arguing about Leti's selfishness. Now enstranged from eachother, we see William take advantage of the situation and worm his way into Ruby's life, sleeping with her and making her his pawn.

*As bland as the character of Christina is, I must saw that actress Abby Lee has quite the screen prescence. Random observation, but she would make the perfect Bond girl with her exotic look and meanstreak. The character of Christina has started to get interesting. We see her completely overpowering Tic as he points a gun to her, using her magic to freeze him in his tracks. We don't know what her motivations are, but she is not one to mess with.

What have y'all thought about Lovecraft Country, so far? Comment Below!