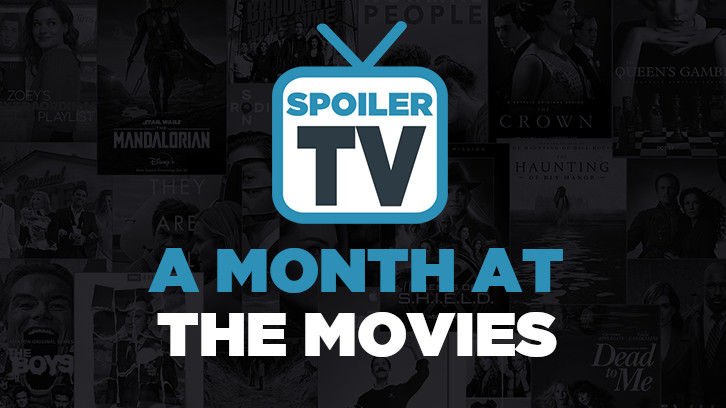 The start of a new month features a new instalment in my monthly
A Month at the Movies
series, which featured my first trip back to cinemas post lockdown, coverage of new blockbusters like
Tenet
and
The New Mutants
, in addition to coverage of stellar indies like
Babyteeth
and
Proxima
. I also decided to take the opportunity of Amazon Prime Video deals to catch up on some of the best and worst that 2020's pre-lockdown has had to offer, so expect coverage on a lot of new releases in this article. Now without further ado, let's get things on the road.
The Death and Life of John F. Donovan (2019; Xavier Dolan)
Kit Harington finally gets the chance to shine in a role where he is not typecast as Jon Snow in
The Death and Life of John F. Donavan
, Xavier Dolan's latest exploring the career of rising TV star John F. Donavan. Harington is joined by Natalie Portman, Kathy Bates, Susan Sarandon and Jacob Tremblay for what amounts to a stylish, hot mess of a troubled production which lead to multiple stars being fired over the course of its runtime. The film's framing device feels unnecessary but there is a lot of good material here as it maximises the usage of its visuals to create a unique experience over the course of its runtime that had completely engrossed despite a mixed second act that feels all-too muddled, with this film both looking and feeling incredibly edited even if everything is almost salvaged by a memorable ending.
C+
Knock Down the House (2019; Rachel Lears)
Knock Down the House
is the best Netflix original documentary since
Winter on Fire: Ukraine's Fight for Freedom
. It's powerful, passionate and deeply optimistic, bringing a rare sense of hopefulness to American politics with its shining spotlight on Alexandria Ocasio-Cortez leading the way. However; the time that Rachel Lears opts to focus on Cori Bush, Paula Jean Swearingen and Amy VIlela as well is just as important into making this film work as well as it does, and much like Winter on Fire, it feels like entirely essential viewing especially right now in the current political climate.
B
Blumhouse's Fantasy Island (2020; Jeff Wadlow)
Jeff Wadlow's
Fantasy Island
feels unintentionally hilarious. The jump scares are cheap and the promising world-building is quickly undone as the film never follows through on its premise as it builds to an insulting twist that feels crammed in with little or no after thought whatsoever. This a remake, because of course it is a remake – nothing in Hollywood is original anymore – of an original television series that in itself was remade for a second time, but it never ones justifies why remaking this film is a good idea. Lucy Hale's agent must hate her as she shows she can act but is constantly cast in forgettable one-and-done shows or trashy films like this, and the potential of having a comedian as good as Jimmy O. Yang (excellent in HBO's
Silicon Valley
) is just wasted here in an entirely forgettable experience.
E+
Sorry We Missed You (2019; Ken Loach)
Ken Loach is one of the best British directors around and you know you're going to be in for a grim watch whenever you put on one of his films.
Sorry We Missed You
is no different, a harrowing, emotional experience that ultimately wrecked me as the director showcases the current state of Zero Hour Contracts and the gig economy in the UK and how tough it is for drivers for major companies like Amazon, for whom no expenses are covered, and if you want a day off it costs money to book one. It's a film that's full of heart, with Kris Hetchen, Debbie Honeywood, Rhys Stone and Katie Proctor showing that you don't always need a big budget or A-List talent to tell a film as good as this. One of the best films of the year so far and arguably, one of the most essential dramas of the last few years that's as every bit as important as Loach's
I, Daniel Blake
. There's a certain irony in watching this one on Amazon Prime Video given its subject matter.
A
Queen & Slim (2019; Melina Matsoukas)
The modern-day
Bonnie & Clyde
movie that ticks all the right boxes, Melina Matsouka's
Queen & Slim
may be a bit too long but in terms of what it sets out to do it does it very well. The performances of Daniel Kaluuya and Jodie Turner-Smith are absolutely essential in giving depth to their characters and helping make sure that this film is not just another case of style over substance, because there is a LOT of style on display here. And it pays off - every shot is perfect and on a purely visual level,
Queen & Slim
is one of the most beautiful films of last year. I could have used a little more agency in the drama's second act but it's a film that goes out of its way to make you care about its characters at every turn, and I don't think I would have loved it as much as I would have done if I hadn't.
B+
The Grudge (2020; Nicolas Pesce)
If there was one franchise that needed a remake even less than
Fantasy Island
, it was
The Grudge
, as evidenced by its execution which feels completely uninspiring, lazy and imaginative with entirely predictable jumps cares that never feel earned at all. Purely by the law of averages alone at least one of the many storylines in
The Grudge
should work, but none of them do – it's ultimately an incredibly boring experience that I was tuning out of by the end where it jumps the shark entirely, as despite serviceable performances by Andrea Riseborough and John Cho who both deserved better, there was nothing here to make me care about this film that is one of my least favourites of the year so far.
E-
The Turning (2020; Floria Sigismondi)
If
The Grudge
was boring, at least
The Turning
was somewhat engaging. Floria Sigismondi is a talented director, there's no question about that – her television work is exceptional and The Runaways is a brilliant music biopic, but The Turning just felt entirely undone by its nonsensical ending that apparently nobody bothered to look back and ask if it made any sense at all. The stylish cinematography and gothic horror imagery makes this film look like it's an old-school Italian Giallo flick in motion, but ultimately – whilst performances by Mackenzie Davis and Brooklynn Prince are excellent –
The Turning
left me questioning what the point in any of it was which is never a good sign, ending up wasting a largely good cast on a script that nowhere.
D-
The Hunt (2020; Craig Zobel)
Learning that Damon Lindelof co-wrote this was the biggest surprise that I had watching this movie, which relies purely on shock value and never quite achieves what it sets out to do. The
Hunt
feels like another example as to why he should stick to TV as he's one of the best TV writers around, something that The Leftovers alone has more than proved. However, as
Into Darkness, Cowboys & Aliens
and
World War Z
have proved, and to a lesser extent Prometheus (which I enjoyed but still felt like a step-down from
Alien
) in addition to
The Hunt
, that movie work is not his strong suit as this just feels too messy and chaotic, not going into enough depth with its characters to make you care about them. Betty Gilpin does what she can with the lead role transforming her character into a memorable badass, but the script needed to be much, much tighter, and less traditionally a Hollywood movie in order to work. It's no coincidence that the best horror movies that I've watched released in 2020 so far,
Bacurau
and
Saint Maud
, have come from outside the big studio releases.
Battle Royale
this is not.
D
The Way Back (2020; Gavin O'Connor)
Gavin O'Connor reunites with Ben Affleck on the back of 2016 thriller
The Accountant
for a film that takes the tried and tested sportsball redemption arc and allows Affleck to give the best performance of his career to date in a personal drama that the former Batman actor puts his heart and soul into. The off-court drama is better than the on-court drama, and although
The Way Back
is wrapped up a little too neatly in its final ten minutes, it's a good way to kill a few hours and is instantly watchable.
B
Miss Americana (2020; Lana Wilson)
It's Taylor Swift's world, we're just living in it.
Folklore
is one of the best albums of the year so far and it was a joy to watch this – it can't escape the feeling of being an over-glamorised commercial for Swift, but it tackles some hard-hitting subjects that make it more impactful than these usual popstar documentary types and for what it sets out to do, it does so very well. There's more than enough material here for non-fans and as a documentary its behind the scenes moments are increasingly fascinating as the film progresses.
B-
The Vast of Night (2020; Andrew Patterson)
This could have easily been a radio play or a podcast, the dialogue is so heavy it pretty much carries the film. But the visuals are insanely good despite this as
The Vast of the Night
adopts a unique approach to sci-fi with some creative one takes and an engaging plot that feels straight out of an episode of
Dark
or
Stranger Things
, only set in the 50s as it delivers on a perfect recreation of the time period. The soundtrack is pulsating and keeps the tension high even though the film is relatively slow-paced, and the performances from Sierra McCormick and Jake Horowitz really shine. It's incredibly impressive considering this film's status as a debut for Andrew Patterson, as it makes the absolute most of its low budget.
A-
The Farewell (2019; Lulu Wang)
For a second viewing and the first removed from cinemas,
The Farewell
really holds up. It's inspiring, at once a star vehicle for the brilliance of Awkwafina and a testament to how good Lulu Wang is at creating an ensemble drama. Zhao Shuzhen, Diana Lin and Tzi Ma should be praised just as much in this storyline that doesn't sacrifice character beats for plot, hitting really hard in its final act that lives up to its reputation as a crowd-pleaser. At the very least, it deserved a best picture nomination –
The Farewell
is better than a good portion of most of the nominees at the Oscars this year and can rightfully feel snubbed.
A+
Wira (2019; Adrian Teh)
A Malaysian martial arts drama filmed with the same intensity of
The Raid, Wira
doesn't spill a lot of blood but it keeps the action and combat high-octane and fast paced. The performances may be lacking as
Wira
's cast has a tendency to over dramatize at times in a plot that's as standard as they come; but any shortcomings in the narrative department is fuelled by the creative action set-pieces that more than deliver, with a standout third-act set-piece taking place on a bus. This film dropped on Netflix earlier this month, so if you're a fan of action movies like
The Villainess
and
Headshot
, check it out.
C
My Spy (2020; Peter Segal)
Peter Segal's spy comedy
My Spy
knows that it's a spy movie, with constant references to the well-trodden tropes of the genre. But just because it's self-aware doesn't make it good at being self-aware, as it points out the tropes and then does nothing interesting with them. The plot is as bog-standard as they come and the characters are as forgettable as the attempt at comedy. Dave Bautista carries the role with a creative action-sequence opener set to
99 Luftballons
, but there's not enough about this film to write home about. I will appreciate that I'm not the target audience for this though, as it makes for ideal family viewing.
D+
Little Woods (2018; Nia DaCosta)
This is the debut that led to Nia DaCosta getting
Captain Marvel 2
in her addition to her work on the upcoming
Candyman
, and it's a powerhouse social justice drama from the director that reminds audiences of the bleakness of Debra Granik or Ken Loach, only instead of being an all-too grimdark affair, it manages to include a share of hopeful optimism in what amounts to a form of pandora's box esque storytelling - so for all of the sense of despair that is prevalent through the movie as it casts a look on the fringes of society you know you'll be getting something out of it beyond just hopelessness by the end. Lily James and Tessa Thompson excel as sisters in this film and their chemistry and believability in the roles is clear for anyone to see – and it establishes DaCosta as a director to keep an eye out for.
B
Calm With Horses (2020; Nick Rowland)
One of the best movies of the year so far,
Calm with Horses
(or
Shadow of Violence
to give it its much blander US title) is a meditation on the cycle of violence akin to
The Last of Us Part 2
, reminiscent of Chloe Zhao or Ben Wheatley with its compelling look into a former boxer turned mob henchman "Arm" torn between his loyalty between his ex and child, and the mobster family that he works for. It's an electric movie packed with plenty of tension and memorable action, whilst allowing for plenty of character development. It's a melancholic experience that won't leave your head any time soon – and will stay with you long after the film has finished. The performances particularly by Barry Keoghan (who you'll recognise from
Dunkirk
) and Cosmo Jarvis are instantly memorable, and
Calm With Horses
makes the most out of a tried and tested storyline to excel with neat direction and character focus really driving its point home.
A
Bad Education (2019; Cory Finley)
Second viewing for this one, and it might even be better than Cory Finley's rich debut,
Thoroughbreds
for me.
Bad Education
is a delight – the look inside a corrupt school board making money of its students under the leadership of Hugh Jackman's Frank Tassone is based on a true story and this black comedy is truly gripping. Its comedy is perfectly timed, with stellar performances from Allison Janney and Geraldine Viswanathan, but it's Hugh Jackman who comes out of this movie in the most positive light, delivering his best performance since Christopher Nolan's
The Prestige
– making this film instantly memorable by default.
B+
Memento (2000; Christopher Nolan)
Another rewatch, this time with
Tenet
in mind, and I didn't quite like
Memento
as much as I did when I first saw it. Whilst I found it funnier than I remembered with some dark moments of comedy coming through in the anotherwise bleak noir-soaked atmosphere of
Memento
, Nolan's film is all mystery box and not much else, wasting Carrie-Ann Moss and turning it into a largely underwhelming experience despite getting the best out of Guy Pearce. One of the movie's biggest strengths is that it doesn't talk down to the audience, and emerges as a fun mind-bender that will, like all of Nolan's movies, leave you unable to stop thinking about it for days after watching it.
C+
An Easy Girl (2018; Rebecca Zlotowski)
Available on Netflix now as an original, the latest film from Rebecca Zlotowski is absolutely stunning. It recalls the French New Wave classics of the past, focusing on one summer in the life of Naïma, a girl who finds her idealistic life upended by the arrival of her unorthodox cousin, Sofia. What follows is an unforgettable experience for the two girls – tightly told over ninety minutes with eye catching cinematography from talented Georges Lechaptois. There are subtle touches throughout
An Easy Girl
that show just how brilliant this movie is, emerging as a delicate addition to the coming of age genre marking it as one that may have swept under your radar to check out.
B-
Proxima (2020; Alice Winocour)
My first trip back to a socially distanced and safe cinema post lockdown,
Proxima
is one of the best movies of the year so far and if you can see it safely on the big screen please do. It's a treat – Alice Winocour delivers an instant upgrade on
Lucy in the Sky
as it follows an astronaut, played by Eva Green in tremendous form, dealing with a rigorous training program that requires to be isolated from her child in a crucial stage in her life. It's emotional and hard hitting, comparable to the likes of
First Man, Ad Astra
and
High Life
in staying power, but the film delivers its own unique twist on the genre that makes it a breath of fresh air. You can read my full review
here
.
A
Spree (2020; Eugene Kotlyarenko)
This is a film that like its main character is trying so hard to please that it doesn't end up pleasing anyone.
Spree
is an edgy, dark and twisted movie that never really justifies its need to constantly one up itself, with the end result being largely forgettable and just feeling like it's trying to be shocking for the sake of trying to be shocking. Joe Keery's charismatic performance as the depressed social media obsessive Kurt Kunkle is impressive and a highlight of the film, and Eugene Kotlyarenko's Searching-esque direction is something to be praised, but
Spree
just feels largely forgettable and completely underwhelming. Check out my full review
here
.
D+
Babyteeth (2019; Shannon Murphy)
A fearless breakout debut by Australian director Shannon Murphy,
Babyteeth
could have easily gone so, so wrong, but instead it treads a fine line perfectly and turns out to be an excellent addition to the coming of age genre that is utterly essential viewing. Eliza Scanlen, excellent in Greta Gerwig's
Little Women
, will break your heart all over again, and Ben Mendelsohn delivers one of the best performances of his career to date in a role removed from his traditional performances. It's a completely emotional movie that will have you laughing one second and crying the next – every emotional beat is perfectly timed and perfectly controlled. Its offbeat humour works greatly in its favour – and
Babyteeth
shines brighter than few have before it. Find my full review
here
.
A+
Planetarium (2016; Rebecca Zlotowski)
I wanted to watch an earlier Rebecca Zlotowski movie after loving
An Easy Girl
but unfortunately this is a disappointment. The performances by Natalie Portman and Lily Rose-Depp are good but Planetarium is an incoherent mess that feels all over the place, wasting its good potential and quickly devolving into a chore to watch despite its ambitious narrative about two sisters who operate as mediums in Paris. Thankfully,
Planetarium
looks to only be a blip on Zlotowski's otherwise excellent career.
D-
Wonders in the Suburbs (2020; Jeanne Balibar)
A debut for actor and director Jeanne Balibar, this political satire
Wonders in the Suburbs
is a unique French oddity that didn't fully connect with me with a lot of sprawling ideas that go wide of the mark. It's a mix of romance and politics in a way that Balibar establishes as largely her own, but with an overreliance on outdated mediums like
Second Life
(yes, really), Wonders in the Suburbs just feels like a wasted opportunity.
D-
Clash of the Titans (2010; Louis Leterrier)
As bland and forgettable as Hollywood blockbusters get, the focus on the legend of Perseus as a half-god, half-man superhero type being is undercut by a script that makes every generic choice imaginable, overindulging in CGI and storytelling that feels straight out of a video game complete with mandatory boss battles and an ending that begs for a sequel. Sam Worthington is just so forgettable and uncharismatic in a lead role that needed a Chris Evans-type figure to work, and whilst it has a surprisingly good cast with roles for actors like Ralph Fiennes, Liam Neeson, Gemma Arteton and Mads Mikkelsen, the film feels just like an example of lazy action storytelling that begs the question as to just how it earned a sequel,
Wrath of the Titans
.
E
Bloodshot (2020; Dave Wilson)
A largely uninspiring Valiant Comics adaption from Dave Wilson that is a star vehicle for Vin Diesel and nothing else. He's front and centre in this hopelessly derivative film that's far more interested than trying to be clever than anything else, utilising lazy hacking tropes so prevalent in Hollywood blockbusters and never truly feeling original or fresh. Everything has been done before and done better and it's a real shame that Valiant's first entry into cinema is such a disappointment, as their rich universe with books like
X-O Manowar, Archer & Armstrong
represent a completely different take on the medium compared to the Marvel and DC mainstays.
D
The Salesman (2016; Asghar Farhadi)
Gut-wrenching drama elevated by an unforgettable ending,
The Salesman
is a tour de force from Asghar Farhadi. The performances across the board are pretty much perfection as the actors really make the most out of every frame in this character-centric drama that revolves around a play having spiralling consequences on characters' lives. Whilst more subtlety could have been used you can't fault the staying power of this film, which calls back to narratives like
All About My Mother
using
The Death of a Salesman
to great effect, managing to make the audience feel empathy for the villain and the protagonist throughout the movie, sometimes even in the same scene.
B+
The Iron Giant (1999; Brad Bird)
A long overdue first watch for me, I was lucky enough to experience it for the first time in the cinema on the big screen where its ending left me completely devastated. it pretty much works as the perfect Superman adaption and - in a world where every Superman story - from
Brightburn
to
Batman v. Superman
itself, is trying to do a dark and gritty re-imagining, of the character,
The Iron Giant
captures the hopeful, emotional experience that comes with watching the character adapt to living on Earth, figuring out his identity in a world that is afraid of him, and helping him make sense of who he's trying to be.
A+
Unhinged (2020; Derrick Borte)
A road movie that feels like a modern-day
Mad Max: Fury Road
, there is nothing original or exciting to write home about in
Unhinged
that feels like a B-movie right down to its lead performances. This is a film that could have been fun but never is, really hampered by its strict adherence to a modern day setting with minor thought to try and do anything different as nothing really feels believable here in a script that never tries to break the mould leading to an increasingly repetitive drama that renders it increasingly stale as it progresses. Check out my full review
here
.
D
Jurassic Park (1993; Steven Spielberg)
I feel incredibly lucky that I got the chance to see this on the big screen despite having seen it countless of times before. The experience is just as fresh as a first time watch, recapturing that sense of wonder and discovery that you experienced on the first viewing. Everybody is perfectly cast, Sam Neill, Laura Dern, Jeff Goldblum and Richard Attenborough all excel, and the film meticulously keeps the pacing tight and always leaves a memorable impression no matter how many times you watch it. Certainly one for the ages, Spielberg's masterpiece manages to capture a thrill that few films have managed to capture and few in the future ever will. It was a real treat to witness and if you haven't seen
Jurassic Park
in a while, now's the perfect time to do so.
A+
Tenet (2020; Christopher Nolan)
John David Washington, Robert Pattinson and Elizabeth Debicki do their best to try and salvage a big-screen spectacle that is let down by its largely terrible exposition-heavy writing that renders the whole film a disappointing, overwrought experience that deafens audiences with its loud sound system to the point where the dialogue almost becomes non-eligible. There's virtually zero character development as Nolan solely relies on the charisma of the performers - Washington's character is so bland he's just referred to as "the protagonist" in the script, and whilst Nolan's complex narrative is well thought out, imaginative and compelling with high stakes that lead to an unforgettable finale that truly rivals
Inception
, I can't help but feel emotionally distanced and detached from Nolan's latest. But like with
Interstellar
it's something that requires multiple viewings to fully comprehend, and it's pretty much a requirement that you see it on the biggest screen possible. Read my review
here
.
D
Paris is Us (2019; Elisabeth Volger)
Elisabeth Volger's Netflix original is an arthouse movie that explores a turbulent relationship in Paris between the lead protagonists that unfortunately feels far too stale, never fully earning the development and character work that it needs to shine. The cinematography is the film's biggest draw as every shot of Paris is eye-catching even if the movie deliberately abstains from using the traditional landmarks, and whilst there isn't enough to carry the full 83 minutes, you can't help but admire the late-period Terrence Malick influences that echo
Song to Song
or
Knight of Cups
with a largely voiceover heavy narration guiding the way forward.
D
Following (1998; Christopher Nolan)
I watched this one because I wanted to complete Christopher Nolan's filmography and whilst I'm largely a fan of his overall,
The Following
didn't work for me. I just found it tepid and uninteresting, filmed in black and white which feels completely unnecessary. All of Nolan's trademarks are there from the get go and whilst there are signs of a talented director, like with
Tenet
, I was just left cold and couldn't bring myself to care about anything that was happening here in what amounted to a largely stale experience, a far cry from the visionary experiences of his peak like
The Prestige
and
Dunkirk
.
D-
The New Mutants (2020; Josh Boone)
An incomprehensible mess of epic proportions,
The New Mutants
is one of the worst films in the X-Men franchise so far, with Josh Boone's long delayed film not being worth the wait at all. The dialogue and screenplay itself is laughably bad, and every character comes across as more stereotypical than the next. It's a movie with no heart or sou; and feels torn between multiple genres without getting anything truly right, with a cast of actors that deserved so much better. I reviewed it in full
here
.
E-
My Favourite First Time Watches in August:
The Iron Giant
,
Babyteeth
,
Proxima
&
Calm with Horses
What did you watch last month? What are your thoughts on the films that I've reviewed above? What is your favourite Christopher Nolan film? Let me know in the comments below.