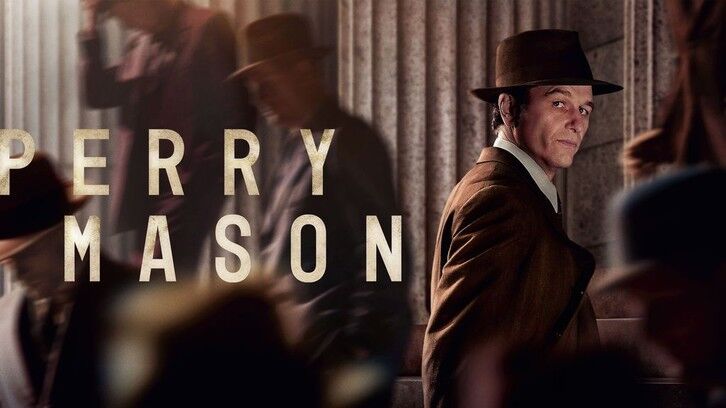 1.06 - "Chapter Six"
Written by Kevin J. Hynes
Directed by Deniz Gamze Ergüven
Reviewed by KathM

Wow. Just, wow.
I'm glad I decided to review these two chapters together. They encompass much of the courtroom drama from beginning to almost end, when you can just see Emily Dodson putting on her hat and walking out of the courtroom a free woman at the end of Chapter 8. Not quite yet, though. There are a lot more scenes before next Sunday's finale.
Last week we saw a lot of anger: Perry at Emily, Perry at himself, Sister Alice at her mother Birdy, Paul Drake with himself. Nearly everyone is either angry about someone or something, and it makes Perry's first few days as a newly-minted Attorney at Law all the more interesting. His first day, trying to follow D.A. Barnes's practiced opening statement puts Perry straight into the "hayseed" category.
Back at Chez McKeegan, Birdy is ready to fly. She knows Alice can't raise the dead, and she thinks Alice knows that she can't raise the dead. So Birdy has packed up and is ready to run, telling her daughter that it's time to start over. Doing what, exactly? It's not like Sister Alice isn't well-known. In a surprise move, Alice smacks her mother hard, which I get the feeling may have happened before. Emily Dodson continues to cling to Sister Alice like a life jacket, sure she'll be able to resurrect her son. Alice assures Emily that once she brings Charlie back the trial will be over: you can't go on trial for killing a son who isn't dead. Although I'd like to see D.A. Barnes trying to get the "evidence" disallowed, anyway. Della and Perry beg Emly to stay away from the increasingly unstable Alice, but we know she won't listen.
When Paul is on the stand he's afraid that Perry will bring up the dentures that he found, but fortunately, our new lawyer keeps his promise. He lets Paul speak about topics that are comfortable while making it clear that Ennis alone came on to such-and-such crime scene, or gave that order. Later Captain Morton gives Paul a nice wad of cash as payment for supporting the force and not telling everything he knows. Paul has a good think about it, then uses the money to send his wife and unborn child out of town. Good move, Paul. He goes to Perry and talks about his feelings as a black man who is supposed to uphold the law but isn't able to question or even cuff a white man. Perry commiserates with him, but he'll never know how Paul really feels.
And in a scene I am still unable to fully understand, Holcomb, Ennis's partner who had nothing to do with Charlie's kidnapping, shows up at Ennis's house and begins beating up one of the cars his crooked partner is trying to fix up. Holcomb knows now how vile Ennis is on the job, but instead of walking away or telling Ennis he's going to their captain to turn him in, Holcomb tells him that there better not be anyone left alive who can nail him. If there is, Holcomb wants them dead. Nice that they're on the same page now.
While stealing the leaders from the church, Della finds some real estate paperwork when she's stealing the ledger from the Assembly which links a check Goerge received from a shell company linked to the church. Looks like the Brotherhood is stealing money from the church to buy a substantial bunch of land. The owner is a man called Hicks, who Perry promptly visits. But when he opens the door, Hicks has a rifle pointed right at him. Is he Emily's lawyer? Hicks asks. If so, he's been expecting Perry to drop by.
1.07 - "Chapter Seven"
Written by Howard Korder
Directed by Tim Van Patten
Reviewed by KathM

As they amble through the woods Hicks tells Perry the land he's walking on was bought cheap by Herman Baggerly and Elder Seidel. They claim it was a village that would be used for the Olympics. They then set up a shell company with the help of Gannon and plan to make a killing when they sell the land. Underneath a Scarecrow (the one of Dorothy's little gang that needs a brain), Hicks, a former accountant for the church, digs deep and hands Perry his copies of the ledgers for the project.
Our little attorney that could is now cooking with gas. He calls Hicks to the stand the next day, who tells the jury that The Radiant Assembly of God ended up in debt by overextending themselves. They began writing checks to the church using the church's money so they could claim it as an asset, then bought a radio station for Sister Alice to prophesy on. But despite the fact that she was popular, she didn't bring in the money the church thought she would.
You have no proof! declares D.A. Barnes. At which point Perry produces the dusty ledgers that Hicks kept as insurance. So yeah, he has proof.
Now it's Herman Baggerly takes the stand to tell his tale. He was the one who bailed out the church when they needed money, but once the "Olympic village" plan dried up, so did he. No more money from the Baggerly coffers. Enter Ennis, George Gannon, and two additional men, one who worked with Ennis in Colorado, and just a few weeks later, his grandson is kidnapped for a ransom of $100,000. This is just about the amount the church needs to dig themselves out of their hole if you hadn't already figured that out. It's a bit of a risk, as there is a chance that Baggerly wouldn't give his illegitimate son the money, or that Matthew wouldn't ask him. But he did, and Baggerly paid. And Charlie died anyway.
How Charlie Died
Paul and Perry put things together and, with a quick chat with a maid at the hotel where Charlie was being held and a visit to the whorehouse Ennis visited/got protection money from, it's nearly clear. A visit to Virgil, who shows them the unknown Asian prostitute who died from a heroin overdose, tells us the rest.
When the kidnappers are in a hotel with Charlie waiting for the ransom, they can't get him to stop crying because he's hungry. Because this scene has to be as dark as possible, they come up with a brilliant idea to have Ennis bring one of the prostitutes from a whorehouse, the one who specializes in providing breast milk to her clients as a specialty. Unfortunately, she's a heroin addict, and the drugs in her system pass on to Charlie, who suffocates. Much to my horror, we find that Charlie Dodson essentially died from a heroin overdose. Virgil confirms that a baby with a lot of heroin in its system would suffocate, not knowing yet that he's confirmed the cause of death. I absolutely did not see this coming: it's more awful than I could ever have imagined. You have to hand it to the writers for creativity. And horror.
Alice is lost. When we see earlier in the episode that her mother traded her to random men for gas and food and shelter to get them on their way across the U.S. you can see how it damaged her. How the flashbacks have been haunting her this whole season. Remember when she and Emily were whispering in the jail cell about bad men? What was it that Alice said? "Mama was always there." I don't know where she's running to, and I doubt even she knows, but I hope she ends up safe.
So, I think I've covered everything. I think, given everything that happened. It looks like the case should be wrapped up, and that Emily should be freed. But will she be? That's the thing about this show, you never know what will happen.
Finale next Sunday!